Usher in the festive season with a jolly Thai feast filled with hearty food, light drinks and laughter! Blending Western festive favourites with Thai spices and Asian flavours; pairing classic roast staples with tangy fried rice and a sweet dessert.
Glorious roasts like turkey or roast beef are quintessential Christmas traditions; a must-have centrepiece of every holiday dining table. Each roast is thoughtfully prepared with quality produce and curated spices for a beautiful create that satiates guests and leaves them in awe. The culinary team at Blue Jasmine presents unique festive holiday fares specially curated and immaculately prepared.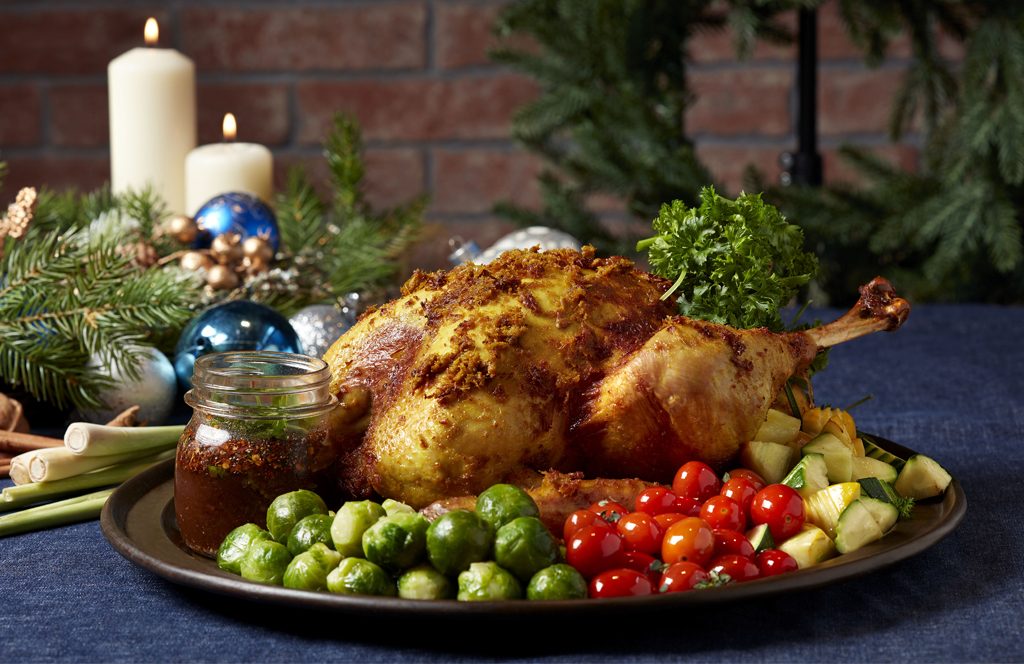 Blue Jasmine's rendition of the classic Christmas roast turkey is performed with a twist – the iconic Roast Turkey Esarn-style with Smoked Chilli Sauce is marinated in a rich aromatic homemade Esarn paste infused with a blend of galangal, lemongrass, coriander, turmeric and fish sauce, then twice roasted for a perfect cook and juicy tenderness. Paired with buttered vegetables and fresh cherry tomatoes, the turkey is served with our homemade smoked chilli sauce spiked with ground herbs.
For those who prefer a classic, Blue Jasmine's Classic Roast Beef with Pepper Sauce marinates an entire ribeye with fragrant spices such as garlic, thyme and coriander before roasting it to perfection. Accompanying the juicy and tender beef is a smokey homemade pepper sauce that completes the classic roast.
Sate your hearty festive appetites with the Festive Roast Turkey Set and Festive Roast Beef Set. Each set comes with Crabmeat Pineapple Fried Rice stir-fried Thai-style with plump crabmeat, pineapple, cashew nuts and spring onions, as well as traditional Thai Mango Sticky Rice that will definitely satiate hungry palates.
To celebrate the festivities, enjoy four complimentary bottles of Tiger Crystal with any order of the festive roast sets.
Blue Jasmine
10 Farrer Park Station Road, Park Hotel Farrer Park, Level 5, Singapore 217564
Tel: +65 6824 8851
Email: hello@bluejasmine.com.sg
Seating Capacity: 100 guests
Website: https://www.parkhotelgroup.com/en/farrerpark/blue-jasmine