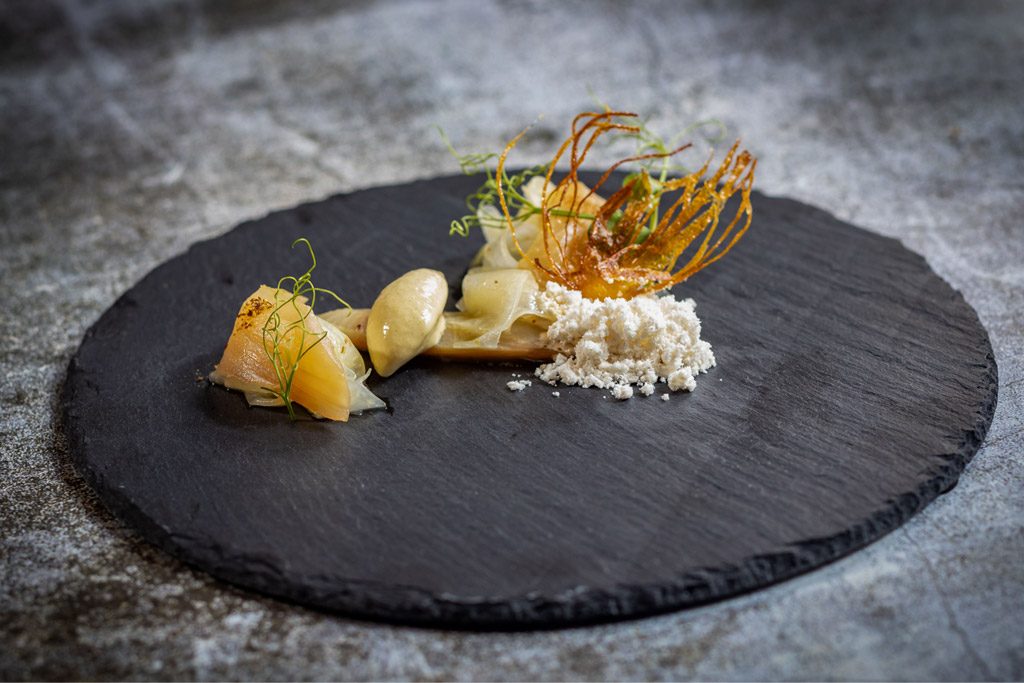 The newest brainchild of dynamic duo, Glen and Alex, first opened its doors in September 2020. Now, a year later, Avenue 87 is back with a facelift—a brand-new tasting menu and bar. The new tasting menu is available in 5 courses and 7 courses, features an array of nostalgic Asian favourites with a unique, modern flair.
Highlights from the tasting menu include: a snack trio of Kueh Pie Tee, Prawn Sphere and Camembert; followed by courses of Amberjack, Tofu, Monkey Head and Daikon; then the star of the show, the Beef Short Rib; and finally, ending off with desserts Coconut and Taro.
A key feature of this new and improved Avenue 87 is the addition of a speakeasy-esque bar, dubbed Lounge at Avenue 87. This sultry space exudes utter cool and relaxed vibes, complete with velvety dark greens and glossy finishes, perfect for lounging around with a few tipples after a long day at work.
Cocktail selections you can expect at the Lounge feature the likes of: a refreshing Botanic, a reimagined Cosmopolitan called Jambu, along with classics like Gin Fizz, Mango Daiquiri and Bourbon Sour.
Opening Hours
Mondays, Wednesdays to Saturdays
Lunch: 11:30am – 2:30pm
Dinner: 5:30pm – 10pm
Closed on Tuesdays, Sundays, and Public Holidays
Location
47 Amoy Street
Singapore 069873
Reservations
Telephone: +65 6970 5491
Email: info@avenue87.sg