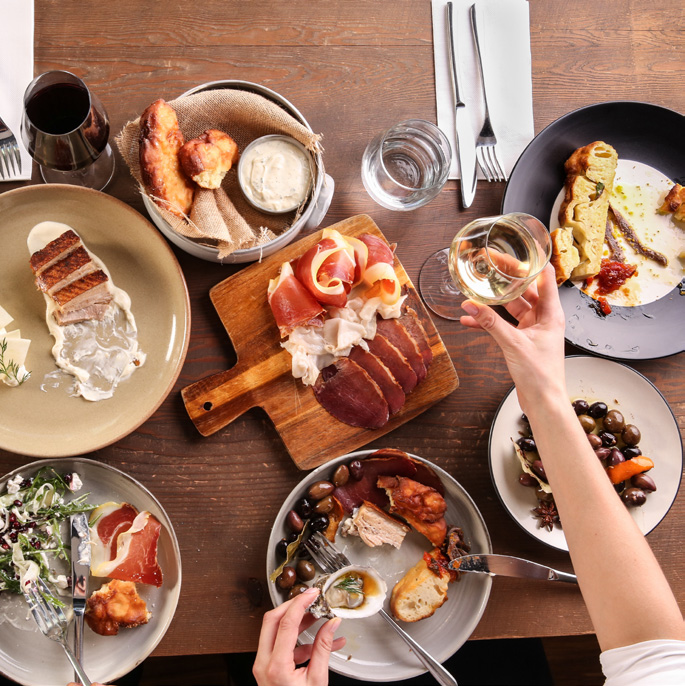 South Australia has a heart devoted to the art of eating and drinking well, with rolling vineyards, award-winning wines, unforgettable produce markets and year-round festivals celebrating the best food and wine.
WINE UNLIMITED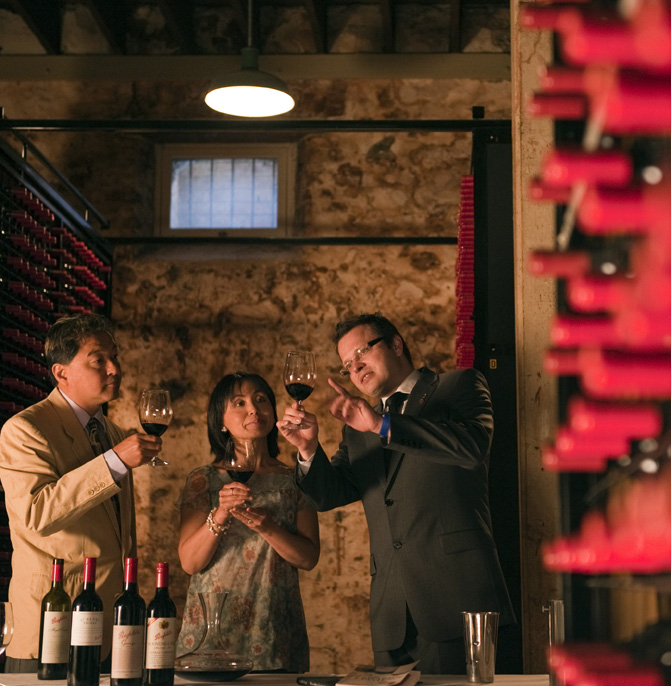 This is undoubtedly the wine capital of Australia, producing more than 60% of the country's wines. Many of the labels we consume in Singapore – such as Penfold's and Jacob's Creek come from South Australia's 18 wine regions. In fact, Penfolds was this year voted 'World's Most Admired Wine Brand' in Drinks International's annual poll of some 200 industry experts, and has won Wine & Spirits Magazine's 'Winery of the Year' award for the past 25 years. Jacob's Creek, meanwhile, is Australia's bestselling label.
Among the most well-known of the 18 wine regions are the Barossa Valley, McLaren Vale and Adelaide Hills, although the lesser known ones are just as worthy of consideration. There are hundreds of options to sample wines, enjoy hosted or customised winery tours, stay in very stylish vineyard accommodation and dine at the inhouse restaurants of wineries.
In fact, vineyard owners have upped the ante with the kinds of restaurants that operate on their premises. One of them is Fino, in the Seppeltsfield winery, one of the Barossa Valley's oldest, founded in 1851. Fino owners Sharon Romeo and David Swain source from the best local producers and had Fino's tableware, cutlery and tables made by local artisans from Jam Factory, also set in the winery.
Another is Harvest Kitchen, fronted by 2014 Masterchef Top 5 contestant Tracy Collins. Set next door to Artisans of Barossa, a cellar door that presents the wines of seven small winemakers (including Collins and her winemaker husband), Harvest Kitchen celebrates the best Barossa produce.
Savvy vineyard owners have, in reality, created 'villages' which house restaurants, craft and gift shops, artist studios and gardens that encourage a leisurely visit. Among these are Yalumba, founded in 1849 and Australia's oldest family-owned winery. It is one of only four in the world to make its own barrels. Carefully selected oak is crafted into barrels which are delicately toasted. The oak adds flavour, aroma and complexity to Yalumba's wine and is selected by wine maker Kevin "KG" Glastonbury.
Penfolds is home to the largest premium red wine barrel hall in the Southern Hemisphere, and its 'make your own blend' experience includes a visit to the winemaker's lab where visitors can blend their own wine to take home. Seppeltsfield offers visitors wines from their birth year, 100-year-old tawnies, beautiful picnic grounds and artists at work at the Jam Factory studios.
For a direct learning experience, visit the National Wine Centre of Australia. The country's largest tasting room lets visitors sample 120 different wines, thanks to state-of-the-art wine preservation and dispensing machines. Its Wined Bar serves a delicious tapas-style menu of regional produce, and the centre offers tours and classes for everyone from beginners to oenophiles seeking to advance their knowledge.
DINING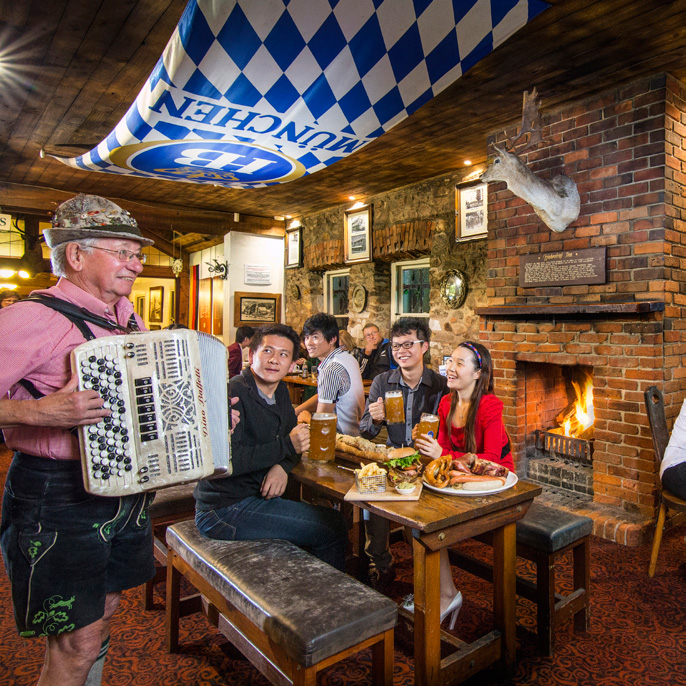 It was once claimed that a warren of streets in Adelaide boasted the highest concentration of food and beverage outlets in the Southern Hemisphere. Rising prices and other factors led to a dip in the fortunes of this scene for a while, but thankfully, good sense prevailed. Realising the need to keep young people living and working in the city, there was a big push to revitalise Adelaide and its inner city. Licensing laws were relaxed, new categories were created for small establishments and the cost of set-up was lowered. The result was almost immediate. Once-empty shops and warehouses all over the city were reincarnated as brand-new establishments, and Adelaide is clearly back in the saddle with bold new dining concepts, vibey wine bars, and boldly presented cafes and bistros.
Pick up a city map and head for the gastronomic centre, namely, areas around Gouger, Grote, Rundle, Leigh, Peel, Waymouth, Vardon and Ebenezer. Take your pick of everything from Serbian, tapas and African, to Afghan, Tex-Mex and Australian indigenous. Bars-with-food, shared-plate menus, communal dining, cocktail bars, wine bars, spaghetti bars the choices are endless and the vibe delightful.
MARKETS & PRODUCE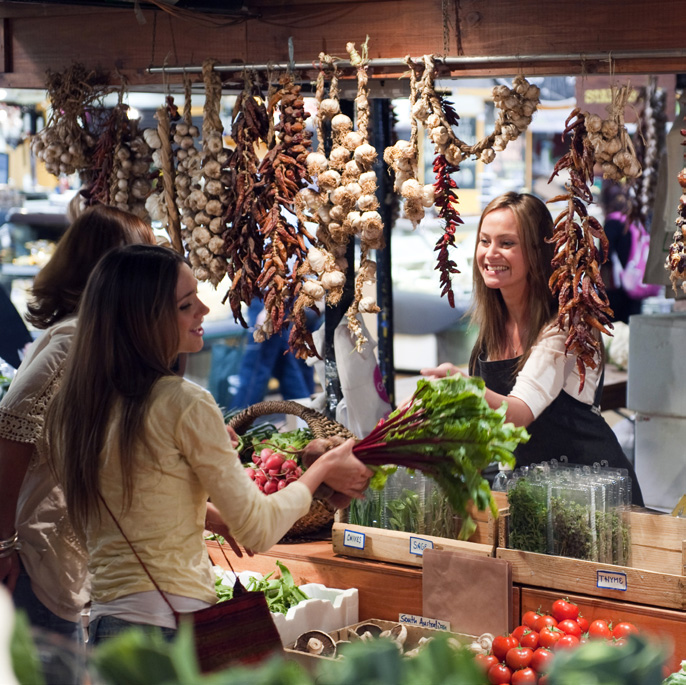 South Australia's produce can best be described as premium, thanks to mild but varied climates, excellent growing conditions and proximity to the sea. If you've touched down in Adelaide, your first stop must be the vast, colourful and aromatic Adelaide Central Market. This foodie heaven is the largest under-cover produce market in the Southern Hemisphere. It boasts about 80 stalls selling raw, cooked, preserved and smoked produce: meat, poultry, seafood, cheese, breads, vegetables, fruits, nuts, coffee and meals of every possible cuisine. It is indisputably the best food market in Australia, and clearly one of the best in the world.
The smells that fill the air are saliva-inducing, and visitors are spoilt for choice. Whether you are a foodie or not, this is a must-visit, for its delicious offerings as much as for people-watching while you dine, and the high likelihood of a lively conversation with, say, a vendor from a three-generation deli business or a young, high-energy barista from Lucia's Fine Food. Cooking demos, food-themed events and live music add to the siren call of this vast food hall.
An Adelaide institution since 1869, it is at the centre of a constellation of weekend and farmers' markets across the state, all celebrating the best of local produce. Among the smaller well-known markets are Adelaide Showground Farmers' Market, Wild at Hart and Market Shed on Holland. Some are permanent, others are temporary or only open on certain days so check online before you go.