Postage stamps may be losing their visibility in the Age of the Internet but they are far from going the way of the dodo bird. Stuck on the corner of an envelope, it seldom receives more than a cursory glance. Yet the humble postage stamp warrants closer scrutiny, for enclosed within it may be stories of a country's political and cultural history. Milestones are marked with stamps and they are a record of a country's significant turning points.
Storehouse of historical and cultural memories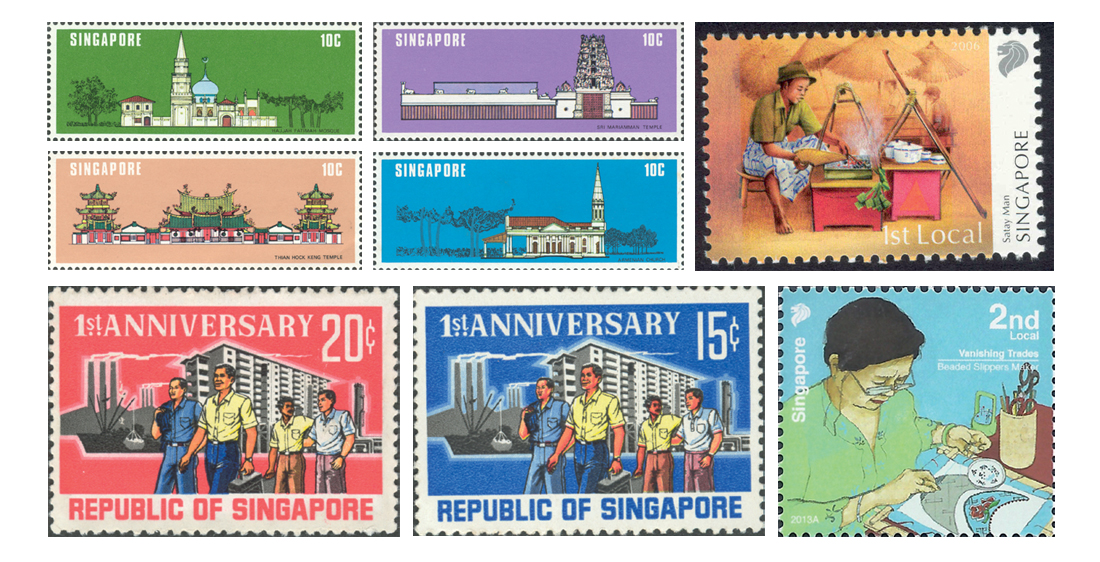 Commemorative stamps are commonly issued to mark significant events. As an independent member of the United Postal Union (UPU), Singapore issued her very first stamps in 1966 marking her first anniversary of independence.
The first set of definitives, Masks and Dances, was issued in 1968, aimed at promoting racial and cultural harmony during a time of racial unrest. With modernisation, the younger generation is losing touch with their cultural roots. Stamps depicting houses of worship and vanishing trades help immortalise and showcase Singapore's multicultural heritage.
The Singapore Philatelic Museum has stamps of local kueh (local cakes) like kueh dadar (a coconut-filled pancake), lapis sagu (a multi-coloured nine-layer cake) and ondeh-ondeh (chewy glutinous rice balls). Not just pretty to look at, they bring back fond memories for older folk while educating the young about local delicacies that are less commonly seen today.
A thing of beauty
The next time you buy a stamp, look closely. Conceptualising, designing and finally printing one can take as long as a year. The aesthetics of a stamp are often overlooked by consumers yet much thought is put into the creation of one.
Besides stamps which stand out for their rich colours or beautiful illustrations, the Singapore Philatelic Museum also houses a selection that are unusual for their concept or for the materials used. Among them is one that sings. A record stamp from Bhutan, it has native folk songs recorded on one side of a phonograph and can be played on a record player.
In 2004, SingPost issued stamps printed on felt to commemorate the 100- year anniversary of FIFA (Federation Internationale de Football). It used the flocking method which adds a velvet or suede-like texture to the surface. Check out also the wooden stamp from Djibouti. Printed in 1987 on a wood veneer, it is entitled "The fight against leprosy" to promote the country's anti-leprosy campaign.
In 2003, Night Creatures issued by SingPost had fluorescent ink applied on the eyes of the animals as well as the twinkling stars featured on the stamps. These features simulate the effect of the glistening eyes of the night creatures.
Another sparkly set of commemorative stamps in the collection are those by Austria's Swarovski crystal commemorative stamps, created in collaboration with the Austrian Post. Also in the collection are scented stamps printed using a varnish mix which exudes an aromatic scent.
It's a small world

Certain stamps reinforce the reality that the world is smaller than we think. For example, England's national playwright William Shakespeare has had stamps depicting his portrait or scenes from his plays issued by countries as far-flung as Gibraltar and Fujairah in the United Arab Emirates, demonstrating how revered he is around the world.
Another theme that has been widely embraced is the Chinese zodiac. Even Western countries like Australia and the US have issued stamps depicting the Year of the Monkey. Birds, spices, flora and fauna, the Olympics and iconic comics and movies like Peanuts, Tintin and Star Wars are also popular themes around the world.
A sign of solidarity
Countries, sometimes, take the opportunity to demonstrate goodwill by jointly issuing stamps. Among them are those jointly issued by Singapore and Thailand, as well as between Singapore and Vatican City.
A good investment
Wispy slips of paper they may be but rare stamps can ring in huge sums of money. In 2014, a British Guiana 1-cent magenta stamp fetched a whopping $9.5 million at a Sotheby's auction. Other stamps have been valued at hundreds of thousands of dollars.
There are an estimated 60 million rare stamp collectors globally – two-thirds of them are from Asia. And the numbers are climbing. Serious philatelists are drawn to rare stamps such as first-issue stamps or stamps with errors. The latter are prized as very few copies of them exist.
Invented by Sir Rowland Hill, the Penny Black is highly sought after by collectors as it is believed to be the first postal stamp used in a public postal system. It was issued by the United Kingdom and Ireland on 1 May 1840, and called the Penny Black because of its colour and face value. As 68 million such stamps were printed, it is readily available. However, Penny Black stamps which are in mint condition are in demand. One set of four stamps has fetched as much as £870 (S$1,550). A replica of the Penny Black is available at the Singapore Philatelic Museum.
Postage stamps with errors are also valued as very few copies of such stamps exist. As such, they often fetch large sums among collectors. An example is the Swedish Treskilling Yellow stamp which was sold for 2.875 million Swiss francs (then about $2.3 million) in 1996 and again auctioned off in 2010 for an undisclosed sum which was said by the auctioneer to be a higher price than any other rare stamp. The normal three-skilling stamp should be green whereas the eight-skilling stamp is yellow. Due to an unknown error in 1855, the three-skilling stamp, now known as the Treskilling Yellow stamp, came into existence. The only known copy was discovered by a schoolboy named George Wilhelm Baekman in 1883 when he was going through his grandfather's letters. It has since gone on to create world records for the sale of a postage stamp.
There are, of course, other reasons collectors are drawn to certain stamps. According to stampnews.com, in July 2016, a block of 50 Year of the Monkey stamps was auctioned for US$192,676. Despite being common – five million of them were printed – they were prized by collectors and non-collectors alike for the following signifiers of good luck a monkey, a red background and the number eight.
In esteemed company
Contrary to popular belief, stamp collecting is no mere schoolboy's hobby. There are ardent philatelists among royals, world leaders and celebrities. King George V of England is believed to have had one of the largest stamp collections in the world. In the US, President Franklin Delano Roosevelt was a famous philatelist whose stamp collection travelled everywhere with him, from prep school to Harvard and later to the White House. Singapore, too, has eminent philatelists like noted architect Koh Seow Chuan and businessmen Vikram Chand and Tay Peng Hian. Mr Chand's collection, Postage stamps of Mauritius from 1848 to 1859, is on loan to the British Library Philatelic Collection. Early Mauritian stamps are of significance as the island was the first country in the British Empire outside Britain to make postage stamps, with their 1d red (or orange) and 2d blue resembling Britain's Penny Black and Twopenny Blue. Both Mr Koh and Mr Tay hold the honour of being on the British Philatelic Federation's Roll of Distinguished Philatelists.