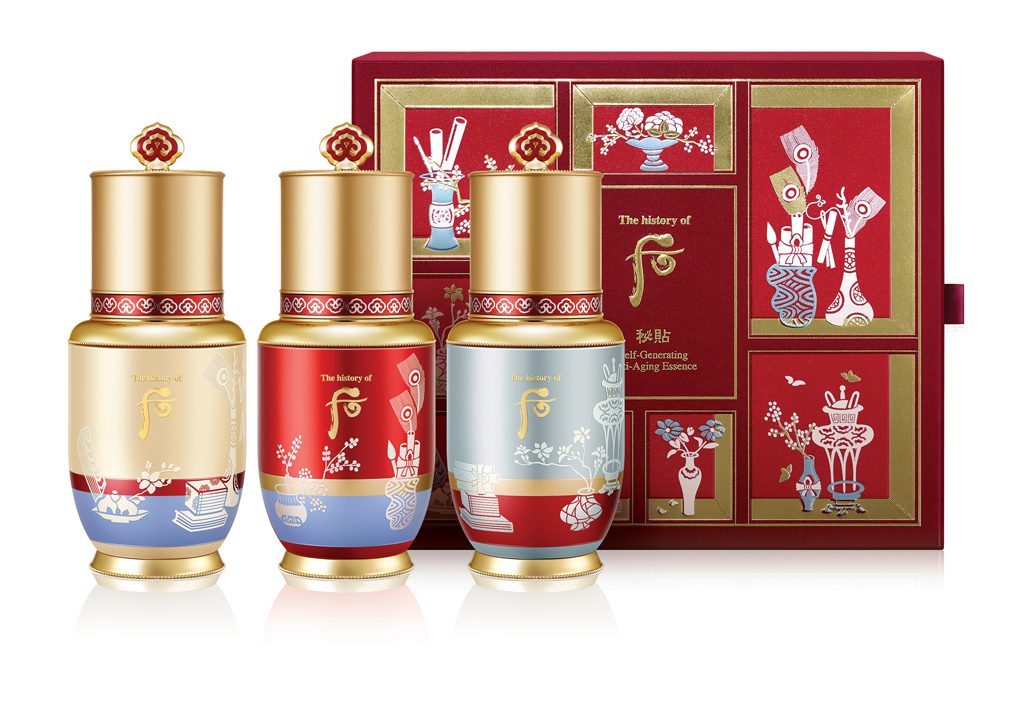 The History of Whoo ushers in the Lunar New Year by paying tribute to the Joseon Empress, through the introduction of a limited edition version of its signature Bichup Self Generating Anti-Aging Essence.
The Limited Edition Bichup Self Generating Anti-Aging Royal Appreciation Special Edition Trio Set has been masterfully and meticulously designed with inspiration from the Court Scholar Accoutrements from the Joseon Dynasty. It is, without exception, the perfect gift to bring in good tidings of the Lunar New Year to your loved ones.
The Royal Appreciation Special Edition Set
To honor King Jeongjo's love for the Scholar Accoutrements—paintings of objects that were considered part and parcel in a scholar's life—the Bichup Self Generating Anti-Aging Essence is repackaged into a charming bundle of three well-crafted, deluxe-sized bottles.
Each bottle is delicately painted with aesthetically pleasing hues of silver, red and gold—symbols of knowledge, honor and wealth respectively—and adorned with designs based off the Scholar Accoutrements, bringing the scholarly items in the painting to life.
While Stocks Last
As these exclusive sets are limited edition collections, there are only 150 pieces available in Singapore at the following The History of Whoo Beauty Counters:
Takashimaya Ngee Ann City Level 1
TANGS Tang Plaza Level 1
TANGS VivoCity Level 1
Honoring Royalty: The History of Whoo Way
The current Top Performing Luxury Brand in South Korea, The History of Whoo boldly reimagines the traditional beauty formulas once used by Eastern Royal Courts' Empresses, turning them into modern beauty products fit for today's modern Queen.