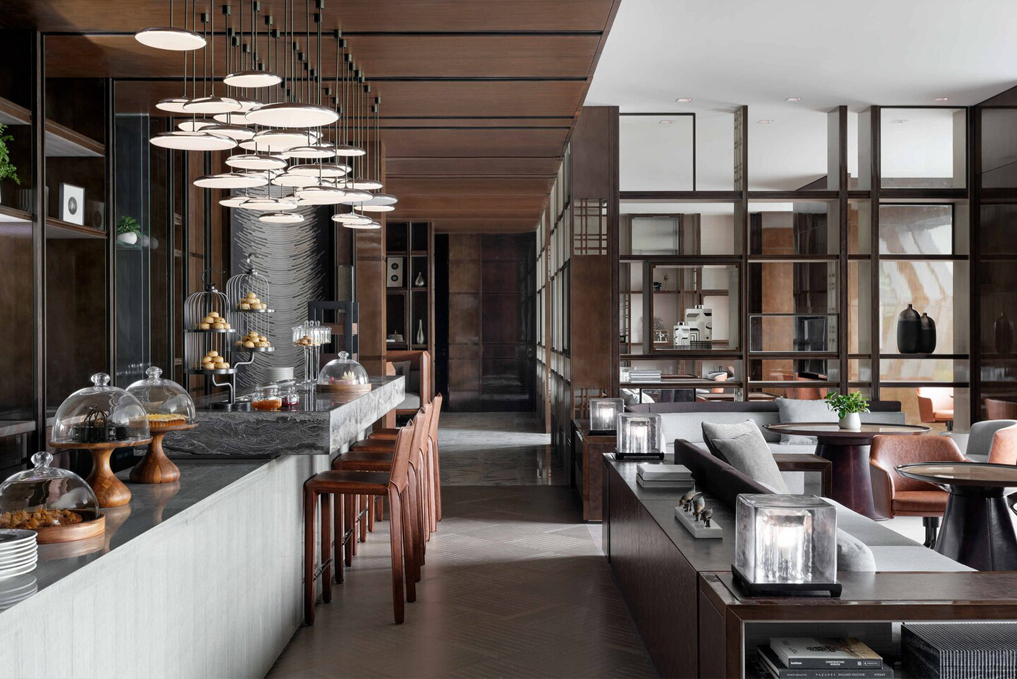 The creative minds at Hirsch Bedner Associates (HBA) has finished the design of the first ever JW Marriott Marquis Hotel in China, Shanghai Pudong. Using the nearby location of Huangpu River as an inspiration, the fourth JW Marriott hotel bestowed with the title of 'Marquis' is primarily centered around the idea of flowing waters, simulating a serene adventure back to the sights of nature.
The journey begins at the atrium lobby, where modest and minimalistic furniture give the illusion of vessels sailing through the waters, while seating areas outline the ripple designs to show the effect of stones disturbing a body of water. The atrium's windows bring in natural light and simultaneously shows the breathtaking sights of Huangpu River and Shanghai Bund.
Entering the right from the lobby brings guests to the tea lounge, a place that offers repose from the hustle and bustle of their day-to-day. Much like a riverbank, seats are placed on differing heights to offer a clear view to everyone. That may not be necessary to some guests however, as the abundant art and specific design of the floors removes supposed barriers from the interior and exterior to give way to one natural space.
If guests chose to go to the left instead, they will find themselves at the lift lobby. Back-lit glass walls showcase wondrous artistic designs that were created to give an image of the fading skyline before the guests. Each individual elevator has a 3D art piece which depicts the exquisite Huangpu River.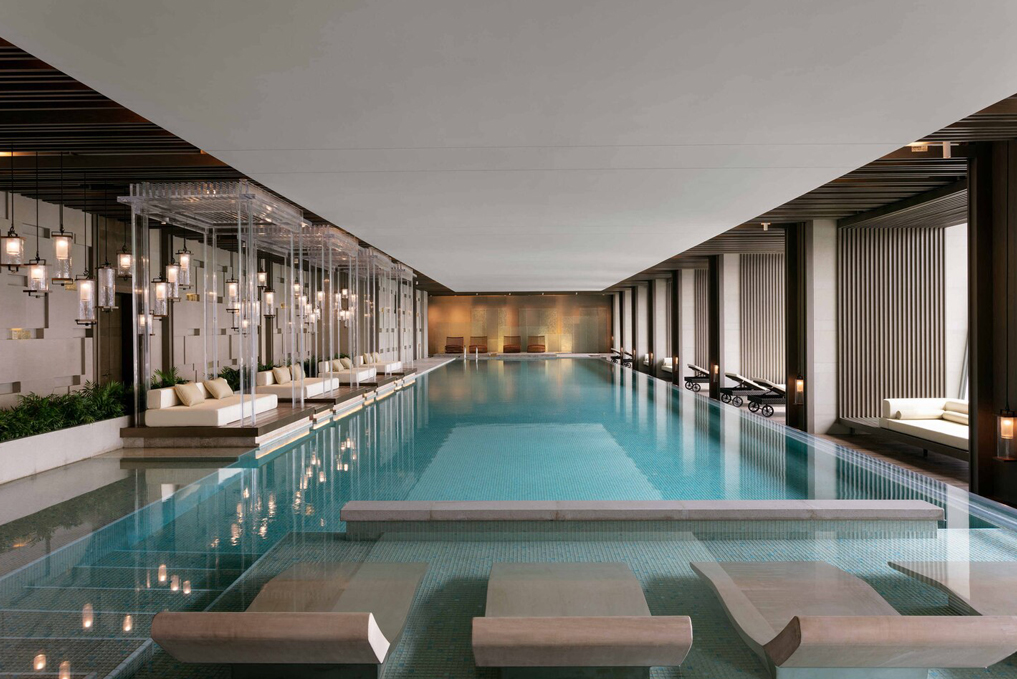 Another possible part of the guests' tour is the infinity pool and full-service spa, specifically designed to have its onlookers visually experience a waterfall connecting with the Huangpu River at its end. Those who look out the windows are rewarded by a realistic painting of the amazing river view. The spa greets its guests by cozy, natural and glittering lights with the usage of transparent water ripple effect textured glass as well as bubble glass.
The final stop: the guestroom, where guests can truly relax and be themselves. Beige-colored walls coupled with a ripple-patterned carpet that gives a nod to the Huangpu River captures the natural space where interior and exterior melt away. The marble, fabric, wood and glass are accentuated with colors that help with removing homesickness. Finally, the full-width curtain wall offers a bird's eye view and optimizing what it's like to soak in the present.
HBA is undisputed in the design industry for hospitality since 1965, having kept up with the ever-changing traveler's needs and wants. The company has been recognized and awarded on multiple occasions and currently boast a wide array of critically acclaimed projects.