The vast majority of people who cross paths with Dr Eric Hong may only know him as one thing – the cardiologist, and a well-established one to boot. But what led him to choose this high-intensity, high-stakes field, and excelling at it for over a decade? How does he juggle this demanding role with his other roles as a doting husband and father?
To find out, THIS Quarterly talks to Dr Eric Hong on what his guiding philosophy is, what sacrifices and compromises he's had to make, and where he finds the strength and inspiration to stay grounded and keep going.
Journey to Cardiology
It may come as no surprise that Dr Eric Hong comes from a family of medical professionals. As a result, the knowledge that this profession meant a life of hard work and long hours, often at the expense of family time, was never foreign to him.
In spite of having to give up much of his family time and personal downtime, especially when he was based overseas, he would be the first to say that he doesn't regret a thing.
---
"As long as you learn the trade, come back to your own society and use
the skills well, the sacrifices are well worth it."
For someone who's made a name for himself in the field of cardiology, it may come as a surprise that cardiology wasn't his original desired path. For the quietly passionate Dr Eric Hong, his medical journey actually began with an interest in several other medical speciality especially geriatric care before evolving into cardiology.
The candid doctor admits that he's "intrinsically impatient, no-nonsense person who wants results" fast, which is why acute cardiology suits him so well – in an acute heart attack where a patient has a blocked coronary artery, he can unblock that artery and save the patient's life immediately. Unlike most conditions in other disciplines, heart attacks are a "live event" where results to medical intervention can be instantaneous and a matter of life and death.

Not one to rest on his laurels, however, the moment Dr Eric Hong set his mind on cardiology, he soon branched further into highly advanced sub-specialties in cardiology: interventional cardiology and non-invasive cardiac imaging, specifically multimodal imaging (MMI).
In fact, Dr Eric Hong was the first Singaporean to be accepted into two clinical fellowship programmes at the prestigious Harvard Medical School's Brigham & Women's Hospital. All these training has served him well when he finally returned to Singapore, he helped set up to deliver a 24/7 acute cardiology service for heart attack patients and anchored the MMI service at various hospitals

The Art of Doctoring
No man is an island, and even for a respected name in the field, Dr Eric Hong has many people to give thanks to for all the valuable lessons not taught in schools. He recalls one man in particular who left a deep impression on him:
"During Christmas in some societies, some people leave their parents with their suitcases at the emergency room. Sometimes, homeless people come in. Others do it because they can't afford the heating at home. In one hospital I trained at, the hospital admin staffs were trying to get clinicians to chase these patients out – but there was no place for them to go. Yet ,one of the physicians I trained under would continue to examine every one of these patients from head to toe meticulously.
One day, I asked him why he went through these lengthy examinations. He told me that this was how you respect the patients and give them dignity, in a situation where some hospital staff made them feel very much unwanted during this season of fellowship and gathering. That was doctoring, and others were condemning him because these patients were taking up beds which could be converted to private beds.
The lesson was that our role is to comfort and be doctors. In medicine , there are many situations where things are not so black and white, but many shades of grey. It was about one doctor upholding the morale of these patients who were old and/or homeless in winter. Years later, I heard that the hospital administrators served him a early retirement to leave, there was a road march to reinstate him." There are many colleagues I look up to and continue to feel inspired.

Guiding Philosophy
Dr Eric Hong believes in adopting a holistic approach in treating patients, with the aim of reducing the excessive reliance on pill-popping and not losing the art of therapeutic medicine. This belief comes with a practical concern as well: "Ordering lots of tests for no apparent reason just raises health costs." We order test to answer questions to the individual needs.
"Communication is key, and modifying your communication to get a patient's co-operation and compliance" can sometimes be the simplest and most life-saving measure. Soothing a patient's nerves and gaining his or her trust can go a long way. An ex school swimmer and school tennis player, he remains a keen sportsman who exercises regularly with running, tennis and working out in the gym. He believes that by staying fit, he serves to motivate and inspire the patients he sees to adopt a healthier lifestyle and reduce pill burden at the same time.
Many survivors of heart attack patients actually feel healthier after adopting a active lifestyle compared to the days before their cardiac event.
It is clear that Dr Eric Hong's approach simply boils down to good, common sense: "As a doctor, you treat people the way you would want your family to be treated."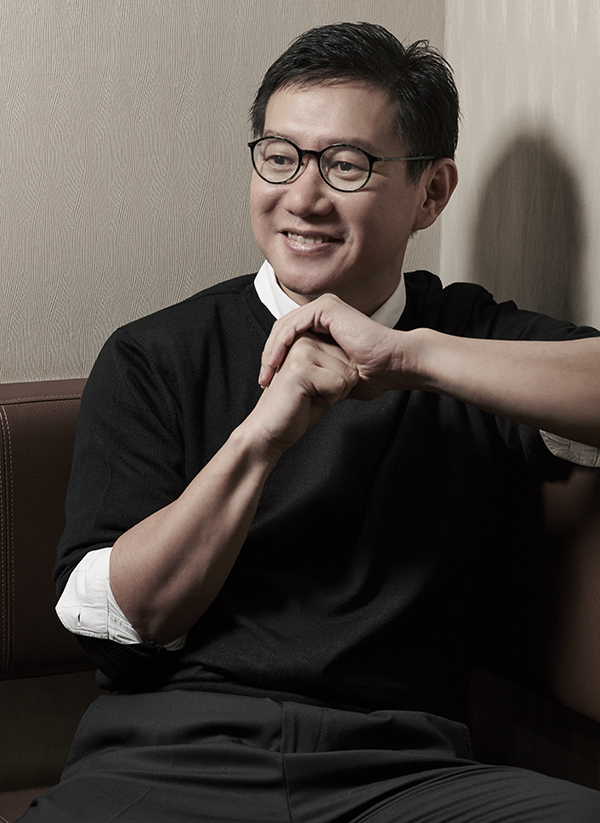 ---
"As a doctor, you treat people the way you would want
your family to be treated."

Support and Sacrifice
Dr Eric Hong never fails to credit his spouse for helping him thrive amidst a packed and stressful schedule. His wife is ophthalmologist Dr Leo Seo Wei, who also practices at Mount Elizabeth Medical Centre. With both husband and wife's hectic work schedules, working in the same hospital and profession has helped a great deal in understanding the demands of each other's jobs. His gratitude is clear: "She has never complained. I count my blessings in the sense of who I am, what I am doing and also because of her support."
Time is a luxury for most doctors, but it is especially so for Dr Eric Hong, an interventional cardiologist, as he can be called in for an emergency at any moment. "I may have to drop everything and go. There have been many times when I couldn't turn up for my family members", he says grimly.
Yet, even when faced with numerous disruptions in his personal life, Dr Eric Hong continues to plough on in the fast-paced field of cardiology, where even a few minutes of delayed medical intervention could prove fatal. One can certainly sense the amount of dedication he has towards his mission of saving lives; and his family's unwavering support has no doubt gone a long way in keeping him grounded and fulfilled.
Giving Back to Society
A few years ago, the devoted medical couple piloted a social project together – a health mentorship programme for less privileged children (aged 14 and 15) in neighbourhood schools. "The whole idea is to give these kids an opportunity to be exposed to what we do as doctors. So during the June exposure with us. The objective is to inspire them – to tell them that as long as there is hard work, they can get somewhere."
Why target this age group? "This is the time where they are still studying but sometimes at this age, they may lose sight of why they are studying. When that happens, they may fall by the wayside."
Through social initiatives and their own work ethic, the couple hopes to inspire and motivate people around to help others in their own capacities. Dr Hong also believes that it is important set an example for their children to help themselves, their family, and contribute back to the wider community in the future.
Dr Eric Hong affirms, "I know what I want of my children – I don't want them to grow up to be spoilt brats. I want them to earn their keep, stay hungry to learn new things and value what they have, and I want them to be able to work hard, to be able to take some knocks, and to get up, and not take life for granted. They need to know there are a lot of people out there who are less privileged, so they don't just live a sheltered life where they think opportunities are just laid out for them."
As a general rule in life, Dr Hong advises, "Try to multitask, make the best of what you have and have realistic expectations." And above all else, count your blessings, says Dr Eric Hong. "Life is a circle. You help people when you can, and when you need help, you'll receive help."
"Life is a circle. You help people when you can,
and when you need help, you'll receive help."
– Dr Eric Hong