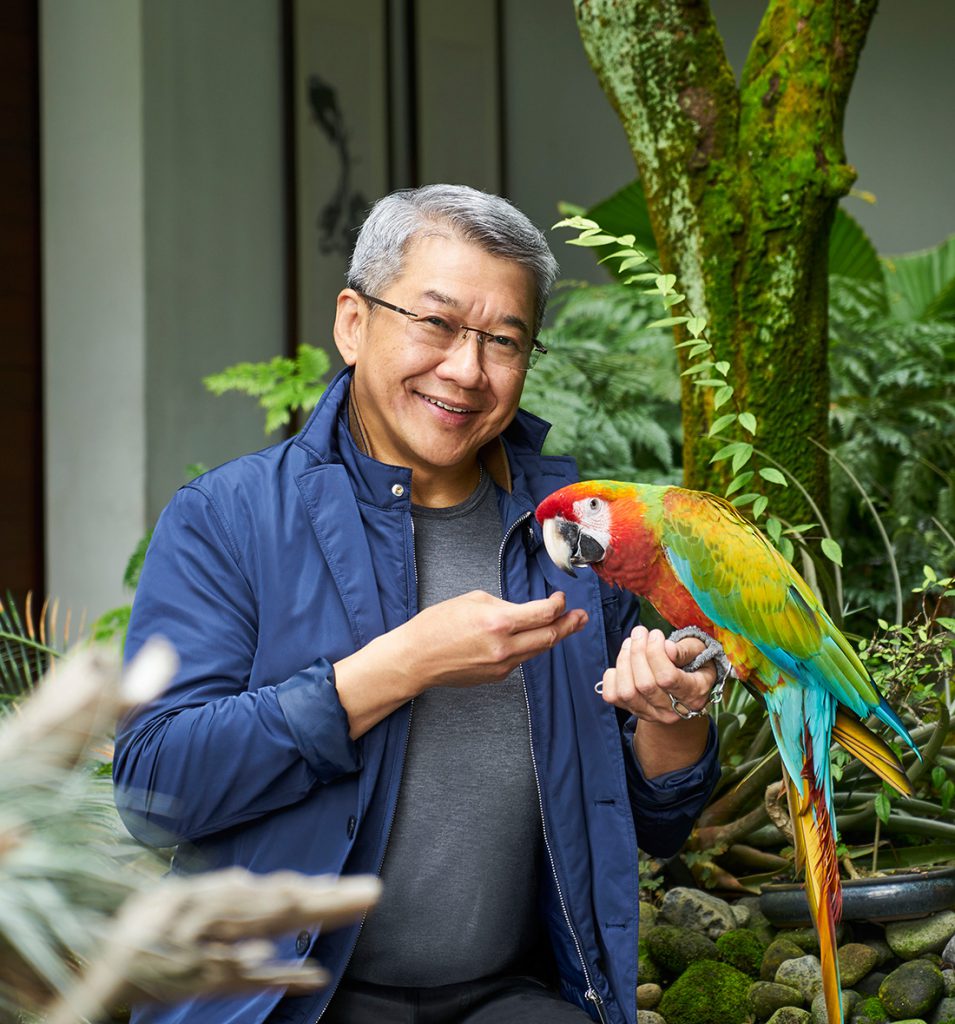 ENT Surgeon Dr Lau Chee Chong is certainly a truly all-rounded character – not one to be solely defined by his profession, Dr Lau is also a doting husband and father, professional fencer, great cook, keen fish and bird collector, exotic plant lover, and more. THIS Quarterly finds out more about the man himself and his remarkable personal and professional journey over the past few decades.
Boyhood and the Pursuit of Medicine
As someone who grew up paying more attention to sports and other activities that fascinate energetic young boys, Dr Lau Chee Chong could hardly imagine that he would one day become an ENT Specialist with a thriving solo practice known even beyond Singapore's shores.
Dr Lau reminisced, "When I was a schoolboy, I never really thought about what I wanted to do when I was older. I was having too much fun being carefree – cycling around, discovering quarries and fishing ponds, flying kites and catching spiders. I looked ahead only to the next day, and then only to wonder whether it was going to rain!"
So what made him buckle down to focus on his studies? "It was my father who wanted me to become a doctor," admits Dr Lau. That was not surprising, considering the older Mr Lau was a director of a medical supply company with many contacts with the medical profession. Dr Lau remembers him as a quintessential Chinese gentleman. "He would tell us, 'Saving lives, healing people – it's honourable and meaningful work'," says Dr Lau.
Due to his love and respect for his father, Dr Lau made the decision to concentrate on his studies with a steady goal in mind – to embark on the medical path. Dr Lau was also quick to add that he did not harbour any resentment. "What I didn't realise then was that, in pushing me towards medicine, my father had chosen exactly the right career for me," he reflected. "Being a doctor is everything he predicted, and I cannot imagine any other job as satisfying. Thank you, Dad!"

Passion for ENT
So what attracted Dr Lau to specialize in ENT? He shares, "ENT is a fascinating field, with a wide variety of conditions." He adds that he is intrigued by how the ears, nose, throat, head and neck all interact and affect each other and other parts of the body.
Furthermore, ENT comprises both surgical and non-surgical aspects. "I enjoy the challenges of surgery and like seeing the rapid results. On the other hand, I also like having a lot of interaction with my patients. So ENT gives me the best of both worlds."
Another factor that affected his choice was the better work-life balance that ENT offers – it is a specialty with much less emergencies. "Most of the cases are elective. I can schedule patients for surgery, leaving time for myself and for my family."
This does not mean Dr Lau has his foot off the pedal, however. He channels much of his spare time into upgrading his skills and keeping up with rapid advances in medical technology. "I attend at least two major ENT conferences or congresses a year in order to upgrade my knowledge and skills. I also read a great deal of medical journals."
Although this makes him sound like a stern and serious man, Dr Lau quickly bursts that illusion, saying, "I love to laugh. Actually, having a bit of fun and laughter is an important part of my practice, thank goodness." He explained, "When patients are relaxed, they are more cooperative for examination and procedures. They also open up and share more details with me, which helps in my diagnosis and treatment planning."
Career Highlights
With over 20 years of experience in the field, Dr Lau worked extensively in the United Kingdom (UK) before returning to Singapore and setting down roots here with his family. In the UK, he worked at several renowned hospitals, such as the Great Ormond Street Hospital for Children and the Royal National Throat, Nose & Ear Hospital in London. Upon his return, he served at the Singapore General Hospital and was appointed to the Subordinate Courts' Medical Expert Panel, before striking it out on his own at Mount Elizabeth Medical Centre with a full-service ENT practice.
Family Man and a Swashbuckling Family
This may come as a surprise to many, but Dr Lau is one of Singapore's most successful veteran (over-40) fencers, proudly donning the colours of Singapore's national team. "Fencing," he shares, "is like operating – with a very long scalpel. It's hard to imagine another sport which can simultaneously challenge your mind, body, instincts and training. Everything needs to come together perfectly in a split second. It's a fascinating and intense sport."
Dr Lau won an individual bronze medal for sabre in the 2012 Commonwealth Veteran Fencing Championships and anchored the Singapore team to a bronze finish in the team event. Not only that, he was also the 2012 Taipei Open Masters individual sabre champion. Pair an intense sport to an already busy medical schedule, and you will find the disciplined Dr Lau training up to six times a week before major competitions.
Individual fulfilment aside, the true reason why Dr Lau cherishes fencing so much has got to be his two lovely daughters fencing alongside him – Ysien, 20, and Ywen, 18. Not only did the two young women manage to blaze a trail of academic excellence throughout their schooling years, they are also highly accomplished fencers. In fact, both girls were called up to the national team at the tender age of 12.
Ysien was the Asian Junior (U-20) bronze medallist in the Women's Foil in 2015 and a quarter-finalist in the Asian Youth Games. Ywen was 16 when she won Southeast Asia's first fencing World Championship title for Women's Sabre Cadet (U-17). In 2017, not only was she named Singapore's Sportsgirl of the Year, she also won the Gold medal in the women's individual sabre event at the SEA Games in Kuala Lumpur.
Completing and supporting the driven family team, is Cynthia – Dr Lau's wife – who multitasks as team manager, travel agent, videographer, driver and head cheerleader! Filled with admiration and gratitude, Dr Lau was sure to give credit where due. "She's the real reason why I have time to do the work that I love, the activities that interest me and still spend a lot of time with my wonderful family. Without her, it would have been impossible to find the time. She is a great wife and a great mother, very capable, charming and selfless; the girls and I always come first for her. She's amazing."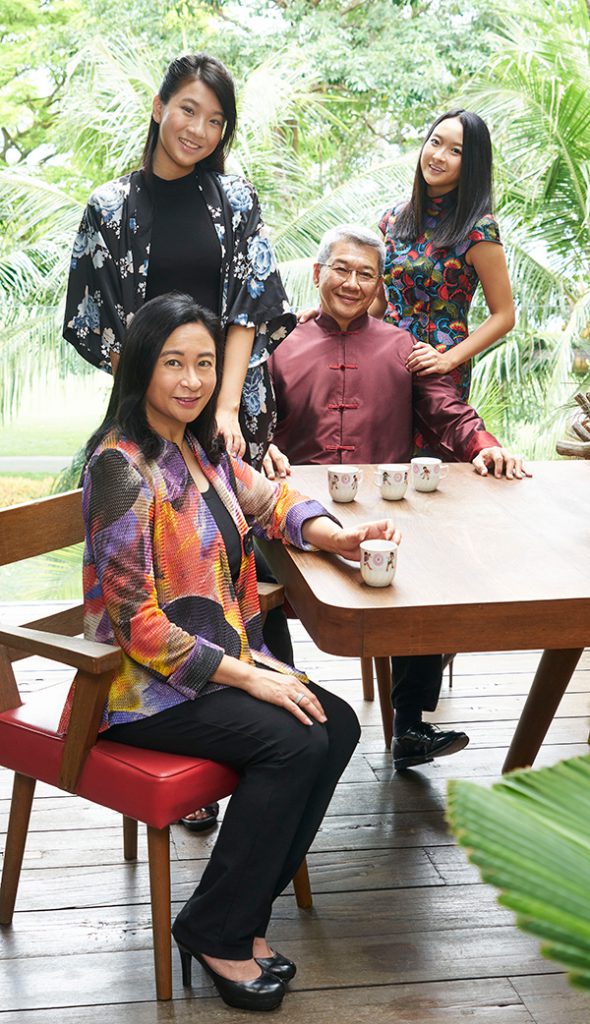 Guiding Philosophy in Medicine and in Life
Dr Lau makes it a point to see all his patients as though they are family. "I like to ask myself, 'What would I decide if this were my daughter or father or grandma or brother?' I think this is the best way to care for my patients as it provides the same level of satisfaction as healing someone who is part of my family," he explains. "It's a wonderful feeling to be able to heal. The greatest reward is a happy and healthy patient."
And although Dr Lau is a doctor and his wife Cynthia was a lawyer, they have no interest pushing their daughters to follow their path. "We encourage our girls to choose their own paths and we are happy to support them if they need more time to find out what those paths are. The only requirement is that they strive to be the best at whatever they choose to be. We humans spend so much of our lives working, so it's important that we find work that we really love and can satisfy us intellectually and emotionally."