'Mild-mannered', 'genial', 'soft-spoken' and 'a man of many hats' — these are a few things you will observe of A/Prof Leong Keng Hong when you meet him for the first time. However, those descriptors clearly did not apply when THIS Quarterly chats up with him on his passion for Rheumatology, hobbies, and contributions to the society.
The Field of Rheumatology
The medical speciality of rheumatology only started in the 1960s. "Rheumatology is very young," he clarifies. It is a discipline that is the internal medicine counterpart of orthopaedic surgery, and is concerned with the health of the bones, joints and connective tissues. Although there are about 100 different conditions that fall under a rheumatologist's purview, A/Prof Leong's clinic sees mostly patients with autoimmune diseases such as rheumatoid arthritis and lupus, the No. 1 and No. 2 conditions he treats most frequently.
Just because he deals with bones and joints doesn't mean that all his patients are old folks experiencing wear and tear. "Rheumatology does not affect only the older generation, more than half of my patients are young adults and even teenagers," A/Prof Leong points out.
According to A/Prof Leong, autoimmune diseases have no cures but tend to settle down over time. He lamented that many of his patients with autoimmune diseases resort to inadequate and inappropriate treatment, which often leads to disastrous consequences. Where there is treatment available to alleviate symptoms, it must be done aggressively to mitigate the overall damage by the time the disease burns out. A/Prof Leong predicts that targeted therapy will be the next big thing in rheumatology.

What's the attraction?
The desire to pursue medicine has been in him since he was a child growing up in No. 51 Club Street. "I've always wanted to be a doctor because people close to me have had a lot of very severe diseases; in retrospect, most of them had autoimmune diseases."
"There were two things that attracted me to rheumatology," A/Prof Leong states.
The first is that rheumatological conditions tend to affect multiple organs and systems. "Even rheumatoid arthritis affects your eyes, your lungs, etc," he elaborates. This is interesting for him because "there is still a breadth of internal medicine you need to be familiar with". This is different from other specialities that focus on one-organ systems only.
The second thing is that rheumatology is linked to immunology. Targeted therapies in oncology have similarities to what rheumatology does. "So cancer and autoimmunity are like two sides of the same coin; the mechanisms that control both are very similar and that is very interesting to me," he says.
"I was also attracted to rheumatology because of Lupus. It's a challenging disease to diagnose as this autoimmune disease can affect any part of the body," he added. A good combination of clinical skills and basic medical sciences involved in treating this disorder appealed to him.
Since then, he has never looked back. A/Prof Leong considered he was truly blessed when he was offered the appropriate specialty at the right time, is extremely grateful to be given the opportunity to be trained in rheumatology.
A charitable man
Besides heading his own clinic at Gleneagles Medical Centre, A/Prof Leong contributes to many other charitable causes related to his interests. The founder and ex-president of the Osteoporosis Society (Singapore) is now mostly involved in the Lupus Association Singapore. In 1990, he initiated Lupus Association Singapore (LAS) with another doctor and a group of patients. Ever since, he continues to play a significant role in this charity organization. He has been Vice President since its inception and finds fulfilment in his committed involvement. "I feel that the hallmark of a good doctor goes beyond simply treating patients. There is no point in having the best treatment or medicine available if the patient doesn't understand it and shuns it because of certain misconceptions. With the Lupus Association, we engage past patients to share their treatment experiences. Patients tend to believe fellow sufferers' advice more than their doctors," said A/Prof Leong with a laugh. "So it's good to have this kind of sharing and flow of information, which will empower patients to face the disease and the treatment's temporary side effects, such as the swelling of the face."
The charitable man who finds happiness lending a hand to those in need, is also actively involved in the Singapore Action Group of Elders (SAGE) Counselling Centre and does voluntary work overseas.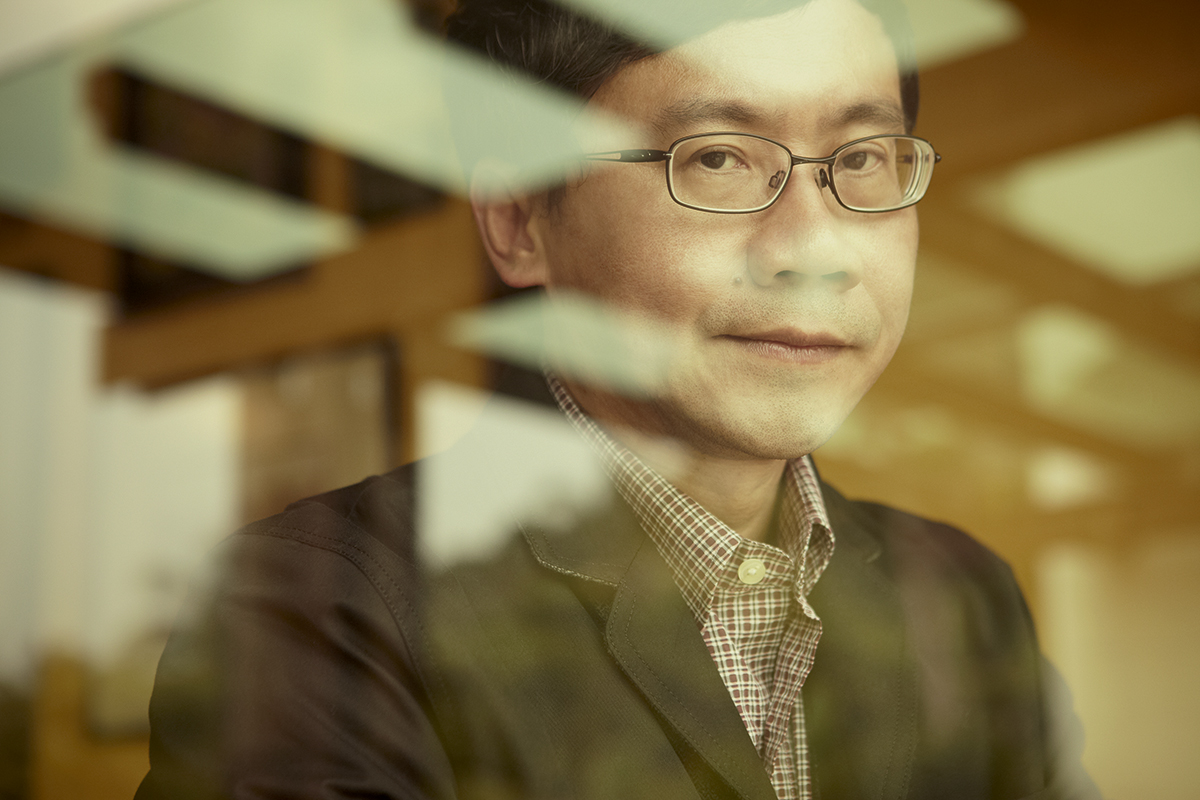 Music plays a big part
When he's not busy with his medical practice or helping others in social work, he involves himself in many other interests. He also has a black belt in aikido and considers travelling as one of his greatest interests.
But his volume rose a notch, his gestures became more energetic and passion burned bright in his eyes when he opened up about a particular topic – Music. Every once in a while, the studious rheumatologist must let his hair down and follow the beat of his drums. He sat behind the drums and picked up the drumsticks, the room quickly resounded with the catchy rhythms that bring out life in the lazy afternoon.
"Yes, I play the drums. Recently, I got involved in my brother's band, Wild Ginger. We play once a month at Tanah Merah Country Club," reveals the 58-year-old medical specialist. "Actually, the band's music is slightly old for me, but I can adapt!"
A/Prof Leong emphasises that he is a self-taught musician; while he is confident of providing the beat for the pop and evergreen tunes in Wild Ginger's repertoire, he feels his musical foundation isn't firm enough to tackle genres such as jazz, which demands more complicated rhythms from the drums.
Musically inclined since his teenage years, he also plays with a band in his church, Chapel of Christ our Hope. "My church caters to families with severe autism," he shares. "As it is an autism-friendly church, some of the members with autism are noise-sensitive, so sometimes I play the cajon [a box drum] instead."
When he is not making music, A/Prof Leong is listening to it. "Music is a big part of my life," he states. "I like classical music and go watch the SSO [Singapore Symphony Orchestra], but my musical taste is very varied." He cites jazz fusion bands Spyro Gyra and Casiopeia, Mandopop queen A-Mei as well as Japanese R&B singer Utada Hikaru as just a small sampling of artistes he has on his playlist.