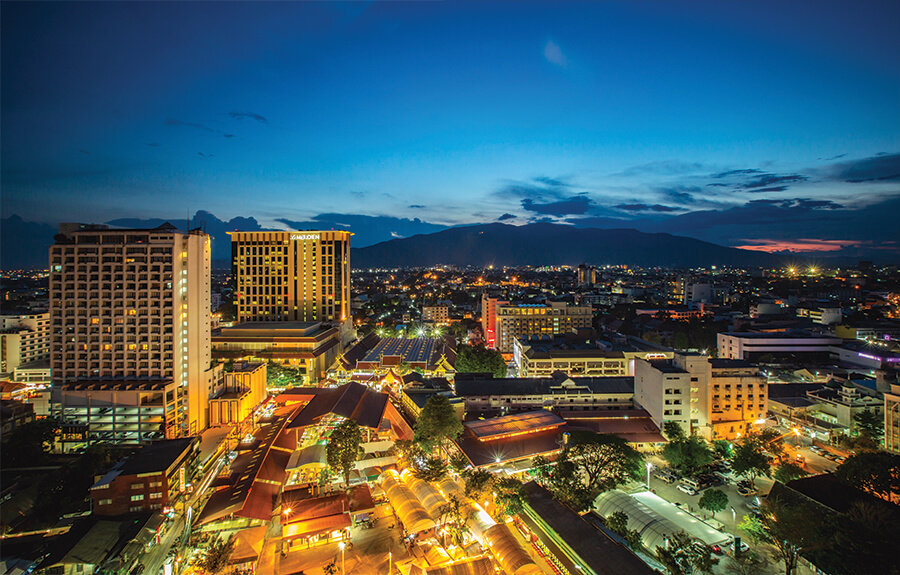 Blessed with majestic mountains and a climate cooler than Bangkok's, Chiang Mai is great for those who love a laid-back adventure. While modernisation is slowly transforming this northern Thai city, its distinct flavour of street vendors, night markets and magnificent temples remains robust.
Day 1
Stop 1: Warorot Market
Jump into the action by visiting Warorot Market for a wide selection of local snacks, fresh produce and inexpensive goods. The food section is akin to a huge open kitchen where vendors chop, cook and serve all kinds of delicacies, such as kaeng hang le (northern Thai curry), sai oua (grilled northern Thai sausage) and chilli dips. As the crowd here is mostly made up of Thais, it is a great place to experience the local way of life.
Stop 2: Wat Phra That Doi Suthep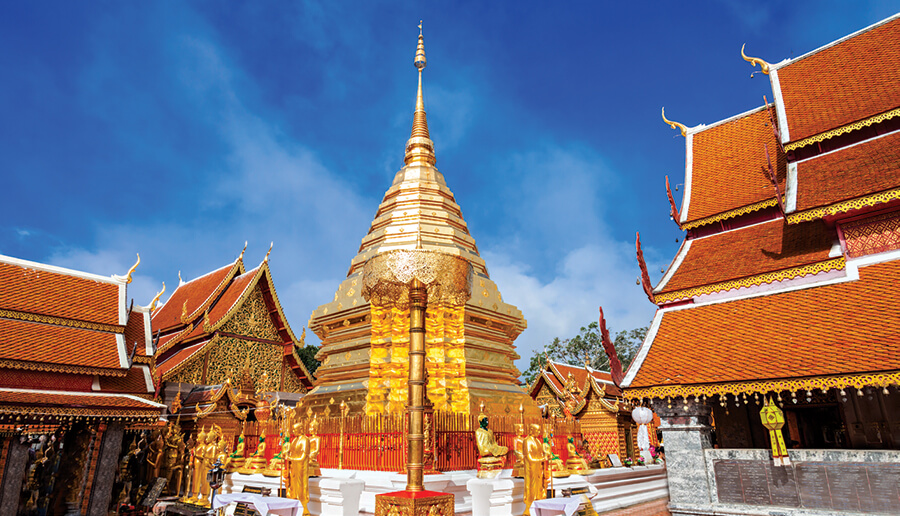 Dating back to the 14th century and still functioning as a monastery, Wat Phra That Doi Suthep is located 15km outside the Old City. Situated near the summit of Doi Suthep (Mount Suthep), you can reach the gilded temple complex by climbing 309 steps up the Naga Serpent Staircase or riding a cable car. After checking out the glittering towers and shrines, make your way to the far side of the complex for some breathtaking views of Chiang Mai and the lush vegetation below.
Stop 3: Huay Kaew Waterfall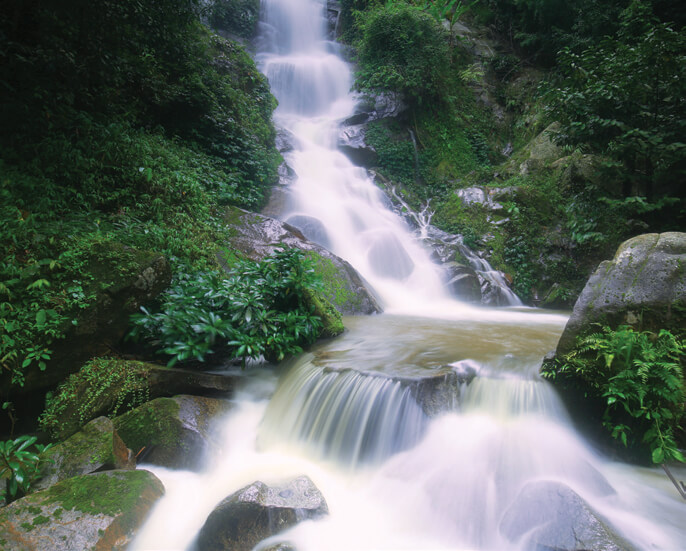 At the foot of Doi Suthep sits Doi Suthep-Pui National Park, where you can make an easy trek to Huay Kaew Waterfall and refresh your senses after visiting the majestic temple. The waterfall, often surrounded by beautiful butterflies, is strongest from July to November.
Stop 4: Nimmanhaemin Road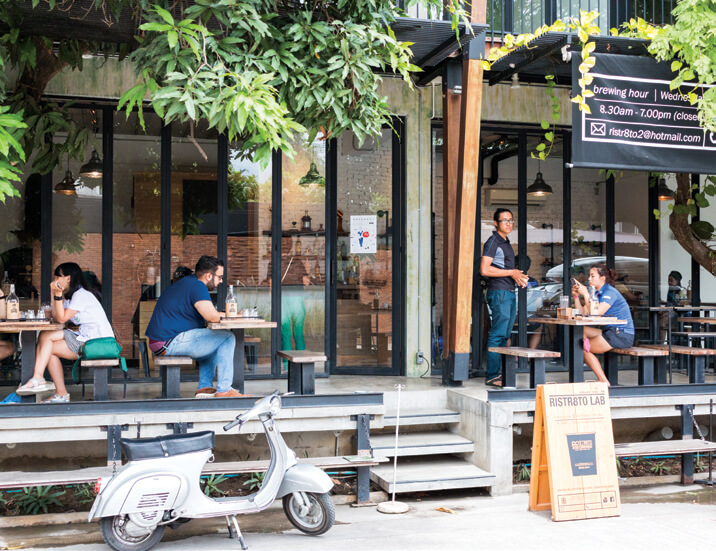 Take a walk down Nimmanhaemin Road, where a burgeoning population of digital nomads and creatives has given the district a new breath of life. Coffee aficionados should check out Ristr8to, for its world championship-winning latte art; those who crave for an afternoon tipple can find theirs at Beer Republic, while artsy ones will appreciate the exhibitions and installations at Gallery Seescape. Also in the neighbourhood is Khao Soi Mae Sai, a highly rated eatery that specialises in the iconic khao soi (a coconut milk-based curry served with chicken or beef, boiled egg noodles and deep fried crispy noodles). No one goes home without trying this flavoursome dish in Chiang Mai.
Stop 5: Baan Kang Wat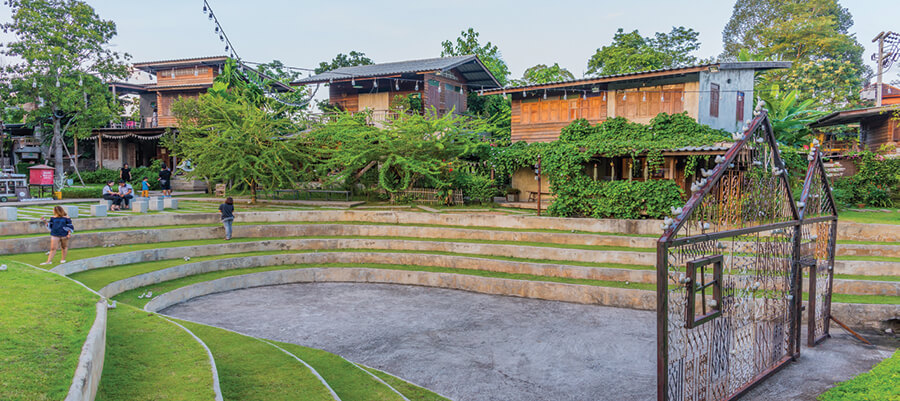 For a change in scenery and pace, head to Baan Kang Wat, an up-and-coming artists' village that embodies Chiang Mai's thriving arts scene, just minutes away from the city's busiest streets. It is teeming with boutiques where you can stock up on handmade and sustainable products by local artists. There are also galleries and studios such as Nok Pha Nit Studio, which offers weekly workshops on ceramics and wood, and Luang Phabang Café, which conducts yoga classes.
Each shophouse is designed to highlight both traditional and modern Thai architectural elements and is distinct from one another. Exhibitions, movie screenings and other events are regularly held at the outdoor amphitheatre. Conclude the artsy-craftsy afternoon with strong-bodied coffee from The Old Chiang Mai Café & Espresso Bar.
Stop 6: Green Bamboo Massage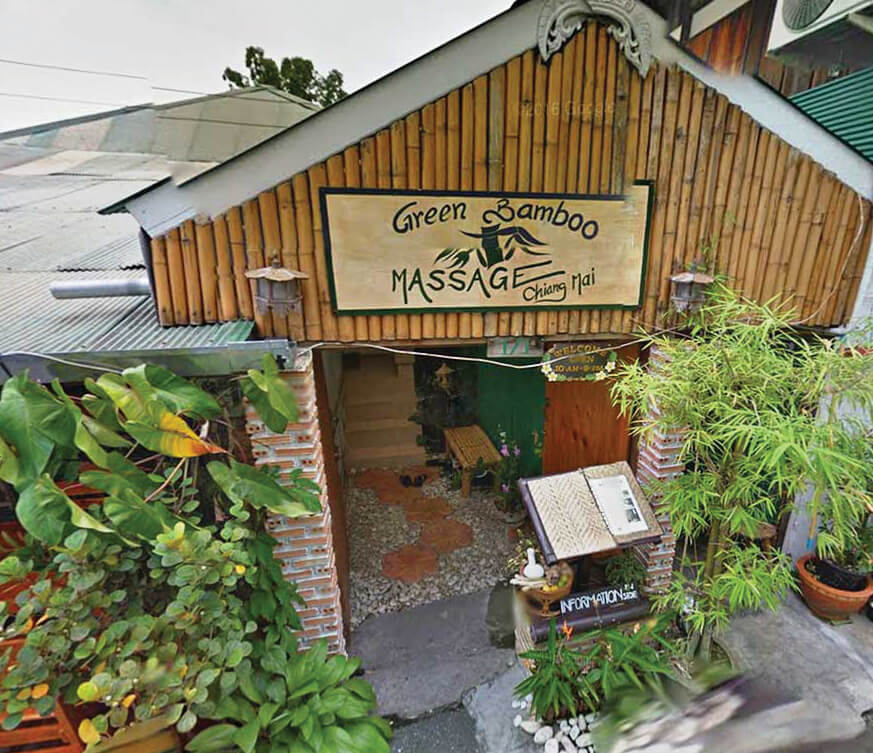 In the Land of Smiles, the best way to unwind is with a quality, authentic Thai massage. A family-run establishment, Green Bamboo Massage is famed for its tranquil atmosphere, skilled therapists and eco-friendly concept. The organic oils and products used and sold here are sourced from fair trade businesses — even the walls are constructed with sustainable wood.
You can choose from its signature Tok Sen Lanna Thai massage, traditional Thai massage and Thai yoga massage. Round off the experience with a pampering treat such as facial, body wrap and scrub.
Stop 7: Chiang Mai Night Bazaar and Chiang Mai University Night Market
Every night, vendors line Chang Klan Road to sell all sorts of goods, including T-shirts, stuffed toys, bedding and jewellery. You will also find numerous street food stalls, bars and massage outlets around Chiang Mai Night Bazaar. As it is always crowded, you can expect a lively atmosphere from sundown till midnight.
If touristy markets are not your cup of tea, head to Kad Na Mor (Chiang Mai University Night Market) at Huay Khao Road, situated across the street from the university entrance. Here, you can shop for trendy clothes and accessories. There is also a huge area brimming with mookata (Thai barbecue-cum-steamboat) restaurants, where you can eat to your heart's content for a very reasonable price.
Day 2
Stop 1: Wat Phra Singh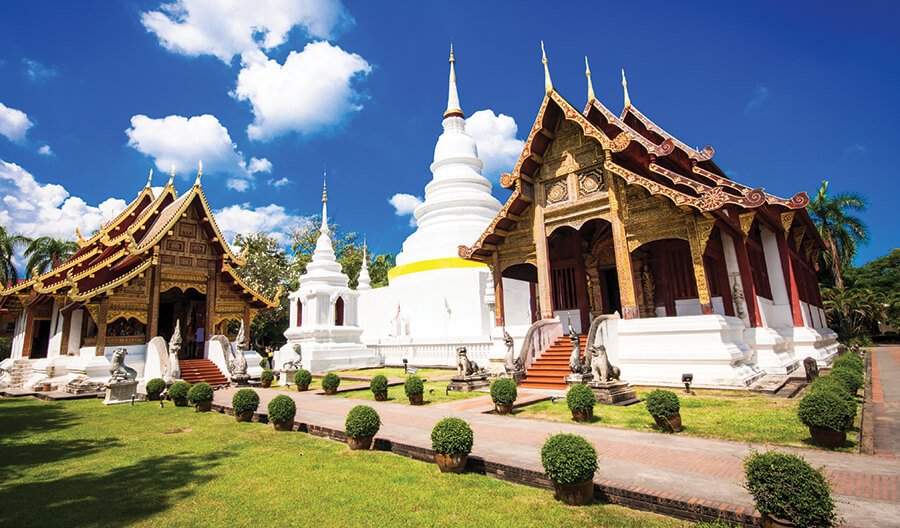 There are more than 300 temples in Chiang Mai, and some of the most impressive are situated within the city's historic walls. Located in the heart of the Old City, Wat Phra Singh is renowned for its Lanna art, which dates back to the 14th century and recently experienced a revival. It is also the venue for many important Buddhist ceremonies.
Stop 2: Wat Pha Lat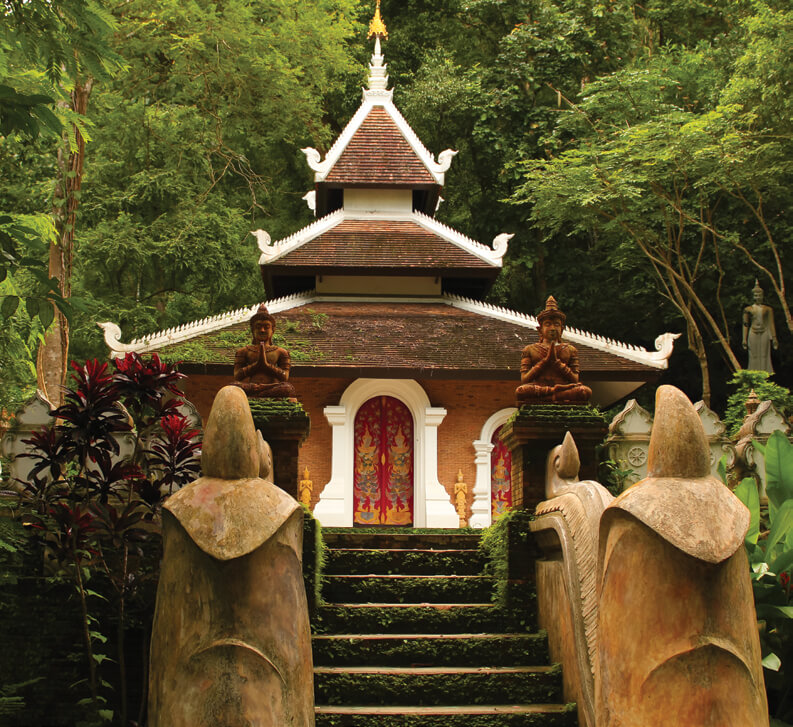 Channelling an entirely different feel from other temples, Wat Pha Lat can only be reached by hiking, which makes the crowd here far thinner. Your 30- to 40-minute hike on the Pilgrim's Path will be rewarded with a fascinating scene of bamboo forests, chirping birds, trickling waterfall, and monks performing their everyday activities. Take your time to wander around, snap a few photos, and simply soak up the idyllic atmosphere.
Stop 3: Wat Chedi Luang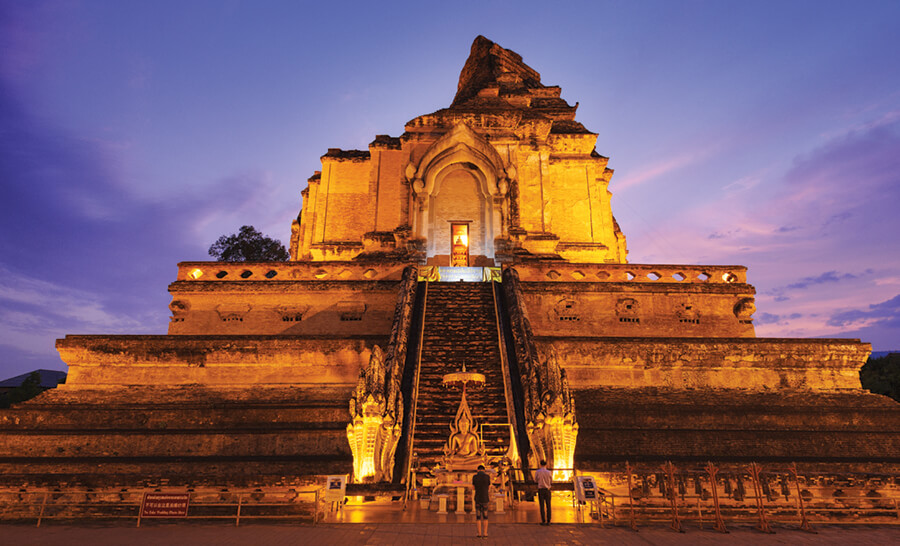 While monks are a common sight in Chiang Mai, you can also sign up for a "Monk Chat" programme, a unique and enriching experience to learn about their lifestyle and beliefs. There are several temples that offer this opportunity, one of which is the 600-year-old Wat Chedi Luang. During the session, you are allowed to speak to the monks about almost any aspect of life — make sure to wear appropriate attire that covers your shoulders and legs. Not only will the chat satiate your curiosity, it seeks to offer you new insights and broaden your perspective.
Stop 4: Muay Thai Match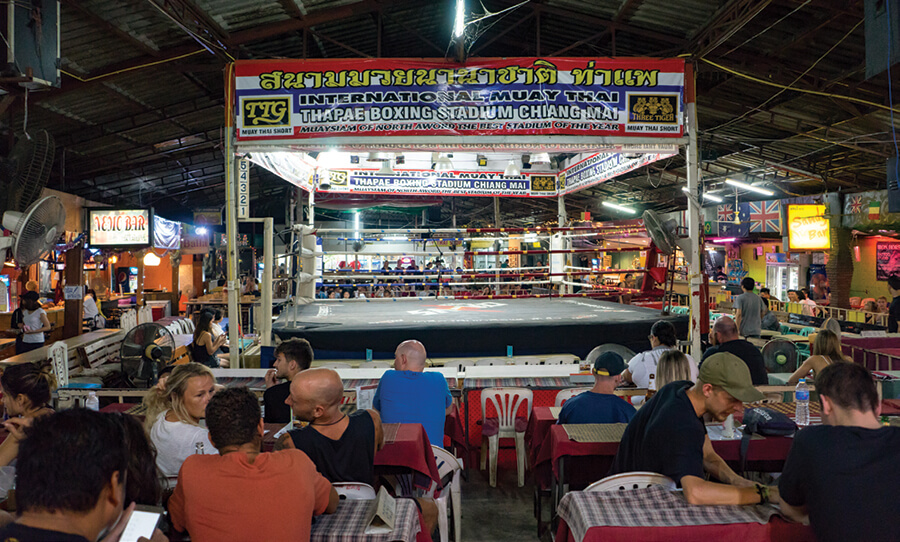 Muay Thai (Thai boxing) is the national sport of Thailand, and Chiang Mai is famous for these matches. In the city centre, you will encounter people handing out flyers to draw crowds to these fights. You can pay more for ringside seats or choose a standing ticket. For a taste of the action, pop in at Kawila Boxing Stadium or Thapae Boxing Stadium.
Stop 5: Night Markets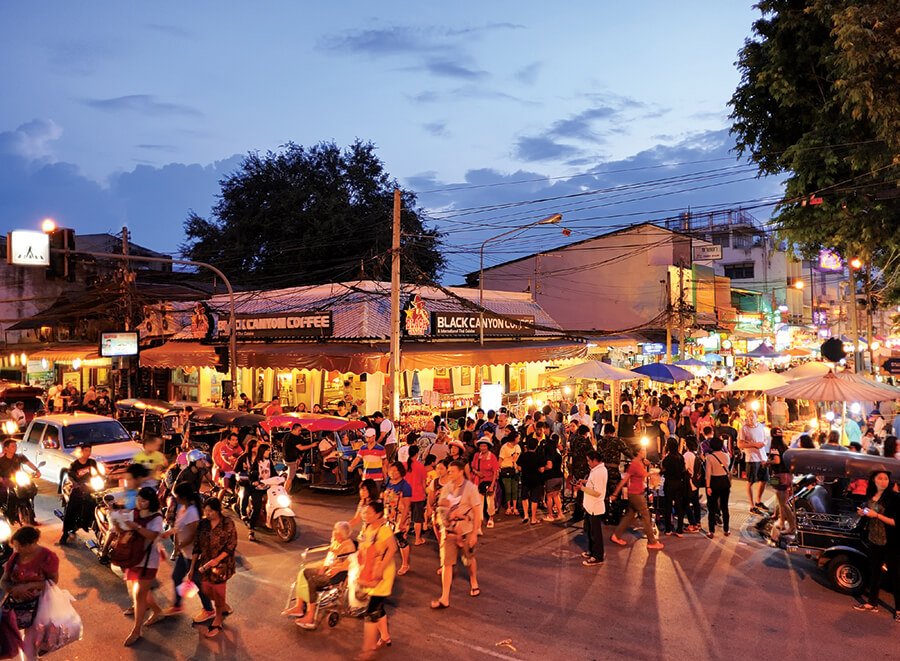 If you are visiting over the weekend, two-night markets you shouldn't miss are Saturday Night Walking Street Market and Sunday Market. The former is a good place to pick up souvenirs, while the latter is known for quality handicrafts and local products of silk, paper, ceramic, glass and more. Both markets are lined with food stalls to provide sustenance as you shop, as well as street entertainers to rev up the vibe.
Day 3
Stop 1: Terracotta Arts Garden
Surrounded by a high brick wall, the Terracotta Arts Garden is an assembly of cobblestone pathways, moss-covered statues and clay sculptures. It also features the melody of trickling water and tweeting birds, which combine to exude an otherworldly ambience. In it is a cafe Clay Studio Coffee, which offers both indoor and outdoor seating. Tune in to the sounds of nature as you sip on a cup of hot latte (or Thai iced tea when the weather is unforgiving) and dig into a plate of mango sticky rice. This oasis will make you forget that you are in a city.
Stop 2: Chiang Mai Grand Canyon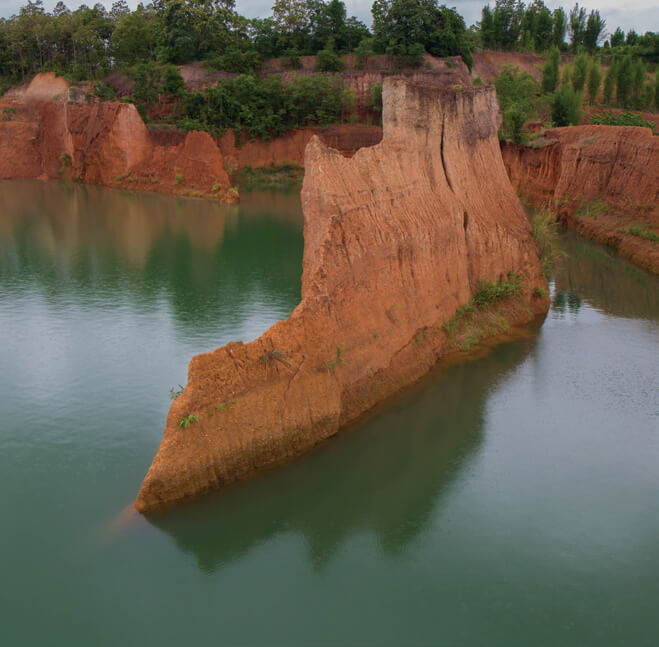 After a relaxing morning, make the best of your last day in the city by going off the beaten track. A 40-minute drive from town, Chiang Mai Grand Canyon is formed by the remnants of an old quarry where fresh water has been trapped, creating an emerald pool believed to be 40m deep. Although no longer a secret destination, it is still relatively unknown to mainstream tourists.
There is a water park in the middle of this natural wonder, complete with inflatable platforms and tubes. Spend the afternoon swimming, sunbathing and cliff jumping! Start with the smaller jumps and work your way up the orange cliffs. If you don't fancy extreme sports, chill at the cliff tops, take in the view of the valley, and watch daredevils around you take the plunge. Life jackets are available for rent, while food and drinks can be purchased from the cafe.
Stop 3: Charoenrat Road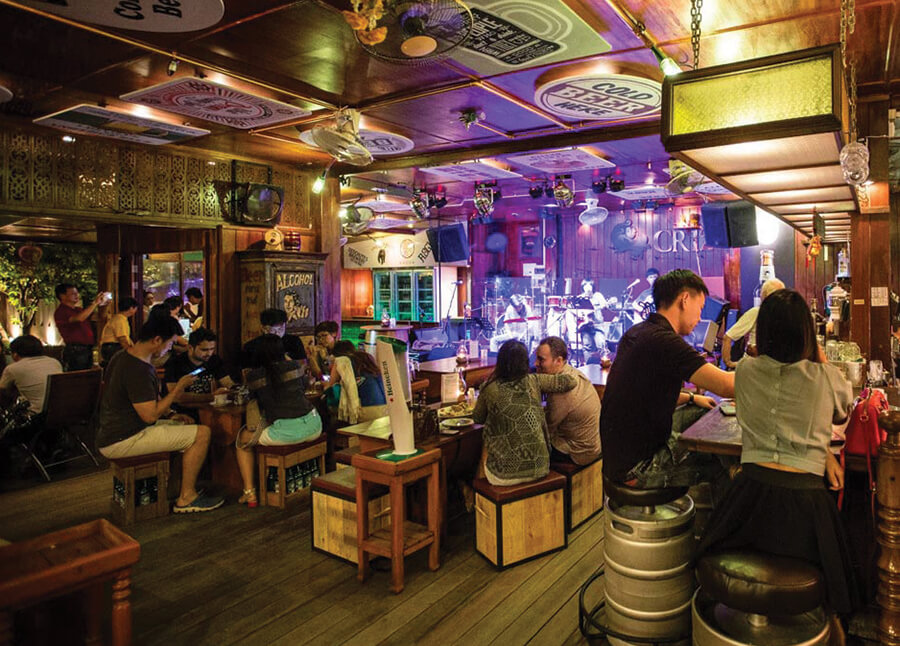 There's no better way to wrap up an activity-filled day than with a hearty dinner. At Charoenrat Road, you will find The Gallery, a romantic riverside restaurant-cum-art gallery that fuses culture and cuisine. The eatery has attracted big-name visitors such as Hillary Clinton, and is noteworthy for its curries and khao soi. Another dining option here is The Riverside Bar & Restaurant, which supplies awesome views of the Ping River. With a good selection of wines and spirits, the bar is particularly popular with younger diners.
TOP 5 EATS
KHAO SOI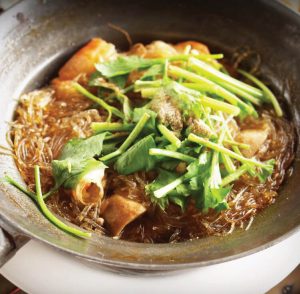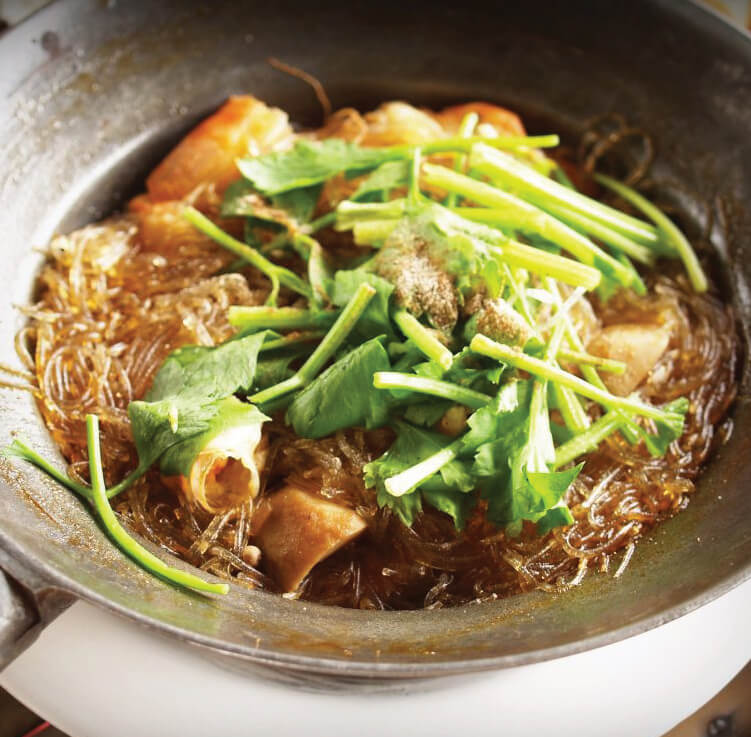 We recommend: Khao Soi Mae Sai, Khao Soi Wulai, Khao Soi Arak
NORTHERN THAI FOOD
We recommend: Khao Kha Moo Chang Phueak (for Thai-style braised pork leg), Huen Phen Restaurant (for kanom jeen nam ngiaw or spicy noodle soup), Mae Hia Fresh Market (for sai oua or northern Thai sausage), Huen Muan Jai (for gaeng hunglay or northern Thai Pork Curry)
FOR A GOOD CAUSE
We recommend: Free Bird Cafe, Pun Pun Restaurant
BARS AND RESTAURANTS
We recommend: Nakara Jardin, The Mellowship, Xanadu Pub & Restaurant
UNIQUE CAFÉS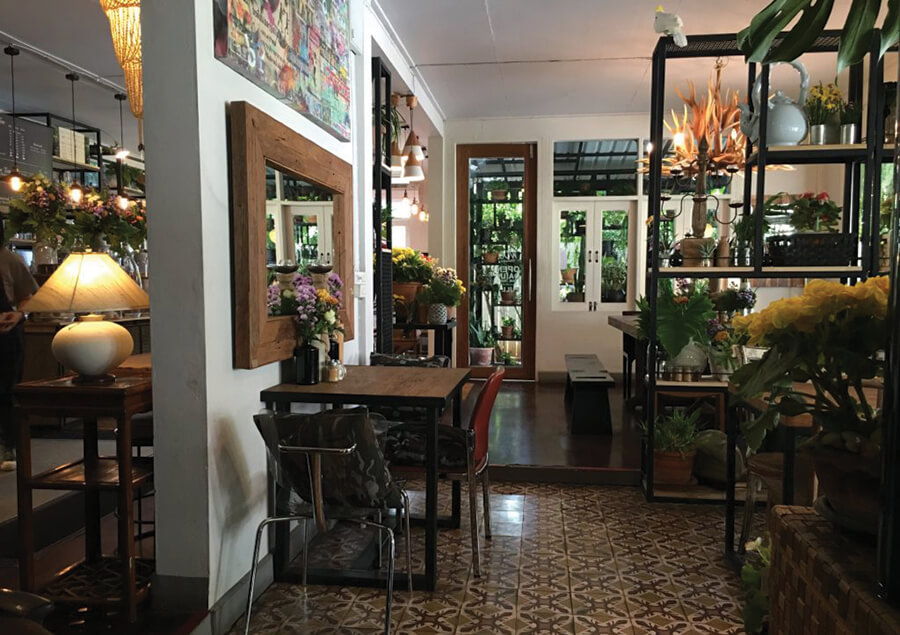 We recommend: The Barn: Eatery & Design, Woo Cafe, Art Gallery & Lifestyle Shop, Chom Cafe & Restaurant
TOP 5 MUST-DOS
INDULGE IN THAI MASSAGE
You can't visit Thailand and not luxuriate in a massage. While Chiang Mai is swamped with massage parlours, check out these establishments, where your money will be well-spent: Kiriya Spa Vana, Fah Lanna Spa, Cheeva Spa
HAIL A SONGTHAEW
Instead of tuk tuk, the most common vehicle in Chiang Mai is the songthaew (which means "two rows") — a red truck with two long bench seats that serves as a shared taxi. Not only does it reduce carbon footprint, it is an interesting and inexpensive way to experience the local way of life.
RIDE A ZIP LINE
Adrenaline junkies will be pleased to know that there are many opportunities to discover Chiang Mai from above the trees. Do your research, choose your high-flying adventure and book in advance. Recommended companies include Eagle Track Zipline, Flight of the Gibbon, Dragon Flight Chiang Mai and Pongyang Jungle Coaster & Zipline.
SEE ELEPHANTS THE RESPONSIBLE WAY
It is not uncommon for elephant parks to call themselves "sanctuaries" without being truly kind to the gentle giants. If you would like to support elephant protection and conservation, visit Elephant Parade Land. Here, you can visit the museum and see where life-sized baby elephant statues are made. There are smaller versions you can purchase as a meaningful souvenir.
ATTEND A FESTIVAL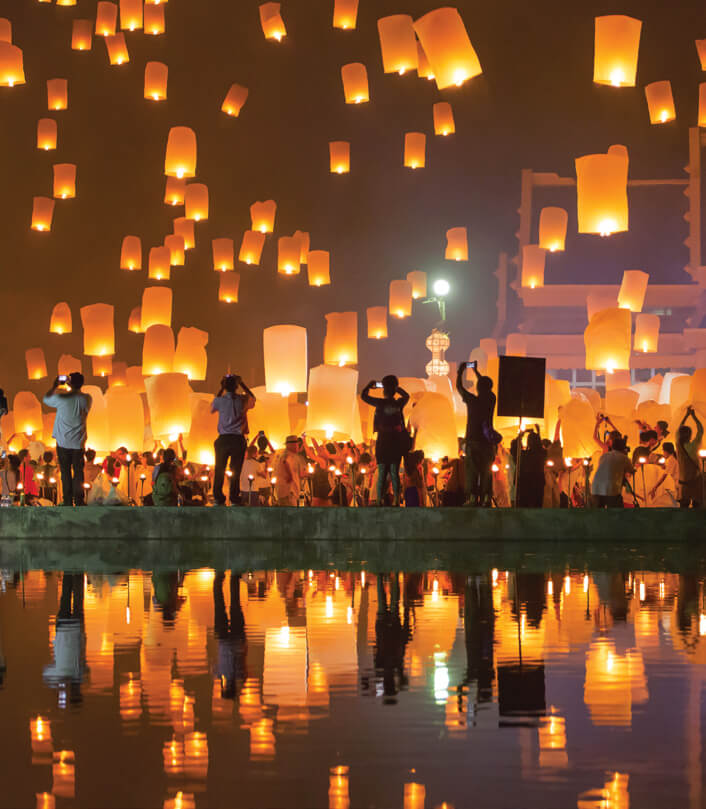 If you are visiting Chiang Mai in November, join in the Loi Krathong and Yi Peng festivities, which take place around the same time. Waterways will be decorated with floating banana-leaf containers (krathong) filled with flowers and candles, while candle-lit paper lanterns illuminate the sky.