Less than a three-hour flight from Singapore is Kota Kinabalu, a destination in East Malaysia that covers all aspects a modern traveller may seek — nature, cultural heritage, good food, and plenty of life.
Day 1
Stop 1
Sutera Harbour Resort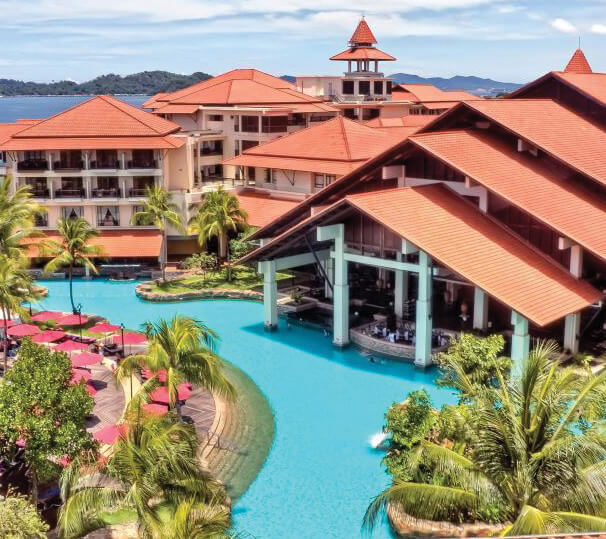 After a 10-minute ride from the airport, check yourself into the luxurious Sutera Harbour Resort, which has two hotels: The Pacific and The Magellan. A sea-facing suite at either will bestow you with lavish amenities and a breath-taking view of the South China Sea. This is the first resort in Malaysia to have its own auxiliary police unit approved by the Royal Malaysia Police. With 21 years of history, this integrated property is equipped with such a comprehensive range of services and facilities that you can have an exhilarating vacation without ever leaving the premises! More on this later.
Stop 2
Gaya Street
You may be tempted to laze around in the comfy room, but to make the best of your stay, head out and explore the many activities available. Hotel guests have free access to the internal and external shuttle bus services that bring you to various facilities within the complex and hotspots in town respectively. The first order of business is none other than filling your tummy. Take a 15-minute ride to Gaya Street, located in the Central Business District. Kedai Kopi Yee Fung, a popular breakfast joint among the locals, serves delicious Malaysian favourites at affordable prices. Its speciality is curry laksa, with a generous portion of prawns and shredded chicken to complement the thin noodles, drenched in rich curry-based soup. Also highly recommended is the claypot chicken rice. On Sunday mornings, the road is closed for the Gaya Street Sunday Market, where you can shop for items ranging from batik sarongs and antiques to handicrafts and fresh flowers.
Stop 3
For the adventurous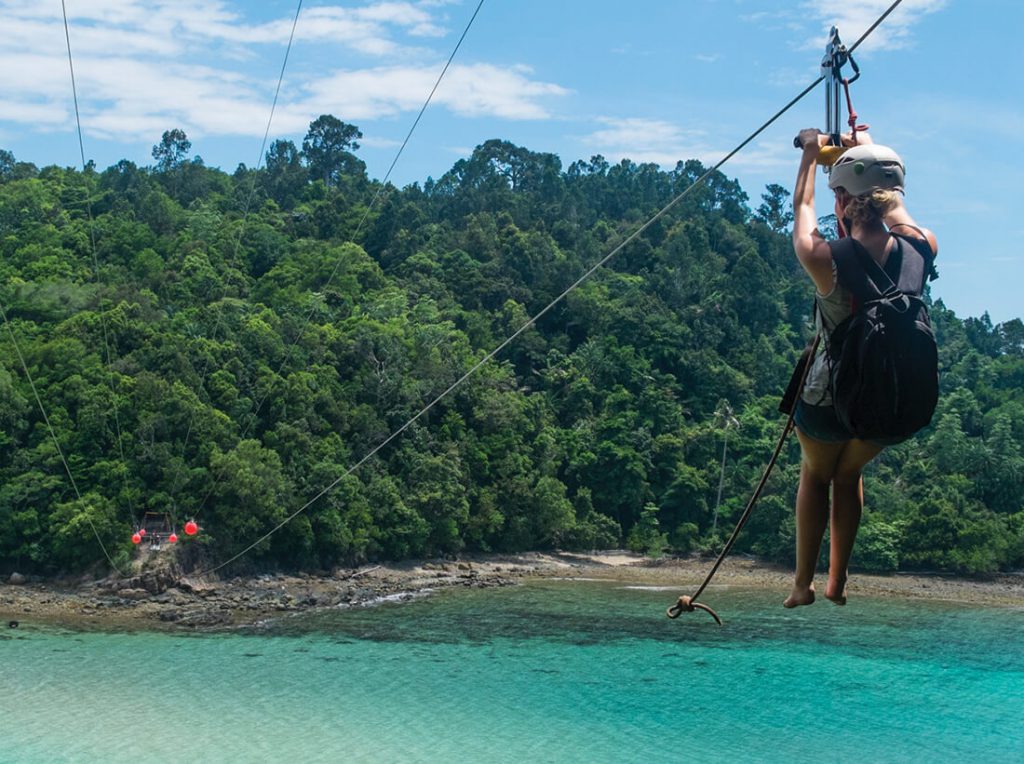 At Sutera Harbour's private jetty, you can sign up for numerous adrenaline-pumping activities, such as island-hopping tours, diving and snorkelling trips, and water sports such as jet-skiing, wakeboarding and sea kayaking. A 10-minute boat ride will take you to the Tunku Abdul Rahman Marine Park, which consists of five islands — Manukan, Sapi, Sulug, Gaya and Mamutik — where you can partake in thrilling water activities, or simply sit back and relax. Alternatively, you can visit the Borneo Reef World, the world's second largest pontoon and Southeast Asia's biggest. The centre offers family-friendly attractions, including sea walking, glass-bottom boats, and an Underwater Observatory Aquarium.
Stop 4
Sunset cruise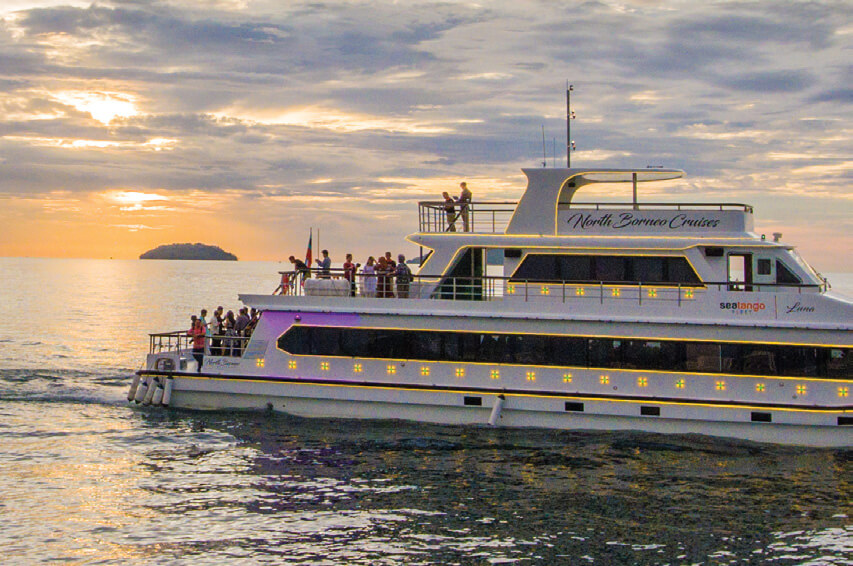 Don't miss the chance to witness the city's famed sunset scenery by joining a two-hour cruise. Your evening unfolds along the sun-tinged sea, sailing past islands and water villages that dot Sabah's west coast. You are free to wander around the vessel; watch the day turn to dusk before your eyes, let the sea breeze tickle your face, and listen to the healing sounds of ceaseless waves. With all your senses rejuvenated, return to the dining area and be entertained by a line-up of performances while you sink your teeth into Sabah's culinary delights. As the stars come out to play, Kota Kinabalu's coastline comes alive with dazzling night lights. The boat will glide across The Waterfront as you indulge in dessert or a glass of wine to celebrate this moment.
Stop 5
The Waterfront
For a dose of Kota Kinabalu's nightlife, head to The Waterfront, a prominent hangout among locals and tourists. About 300m-long, the boardwalk is lined with F&B outlets and pubs that open till late. Tasty bar bites, friendly servers, and an engaging live band make the Kuta Bistro a popular choice.
Day 2
Stop 1
Tamparuli
While time does not allow for ascending the majestic Mount Kinabalu, you can still admire its grandeur by joining a day tour to the Kinabalu National Park. Local operators such as Amazing Borneo Tours provide a selection of tours that are led by experienced guides to ensure a safe and enriching trip. The first part of the itinerary typically includes a drive through scenic landscapes and lush paddy fields laced with rustic villages. You will soon arrive at the first pit stop, Tamparuli, where you can walk on the Jambatan Tamparuli suspension bridge, then immerse in the unpolished charm of the town's traditional markets and aged shophouses.
Stop 2
Pekan Nabalu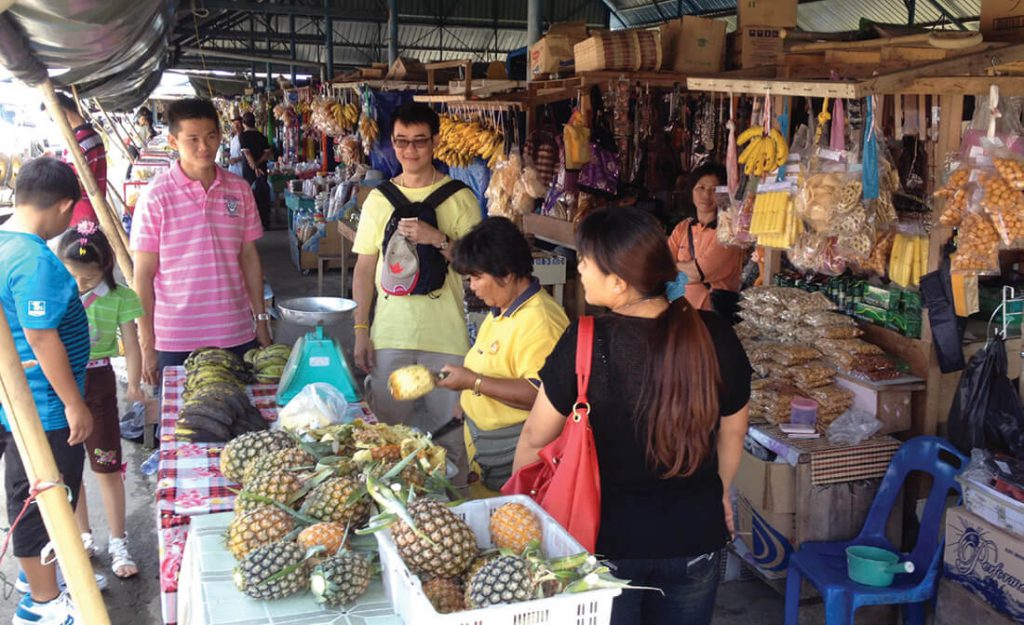 Your journey continues along the winding roads of Crocker Range till the next stop at Pekan Nabalu. Perched on the hillside, this town offers a superb vantage point for an unobstructed view of Mount Kinabalu and its surrounding landscape. On a clear day, the viewing platform is a great spot to snap a selfie with the magnificent mountain! Take time to check out the Nabalu Handicraft Market, where natives gather to sell local produce, seasonal fruits, and handmade souvenirs such as beaded bags and stationery. Don't leave without getting some fresh, sweet pineapples and delicious goreng pisang hot off the wok.
Stop 3
Kinabalu National Park
Upon arrival at the Kinabalu National Park, Malaysia's first UNESCO World Heritage Site, the drop-in temperature is noticeable. This 754sqkm park is 1,500m above sea level, with the 4,095m-high Mount Kinabalu as its centrepiece. The mountain is the 20th most prominent mountain in the world, and its cloud-hugging peaks are truly a sight to behold. Enjoy the crisp, clean air as you proceed for a guided walking trail in the Botanical Garden. The park hosts an estimated 4,500 species of plants, including 77 species of orchid that are endemic, as well as 289 species of bird and 290 types of butterfly. After learning about the flora and fauna in this area, head for a satisfying buffet lunch.
Stop 4
Canopy Treetop Walk
Here is your opportunity to take in the sights and sounds of a 100-million-year-old rainforest from a bird's-eye view. A 20-minute hike is needed to reach the Canopy Treetop Walk, which comprises a series of suspension bridges measuring 175m in total length and 60m above exuberant foliage. Keep a lookout for some unique feathered beauties along the way. Besides trekking through the trails, you can also revel in a sulphur bath at the Poring Hot Spring. Set within a manicured garden, the open-air hot spring comes with public and private tubs for you to soak up the mineral-rich natural goodness.
Stop 5
Rafflesia viewing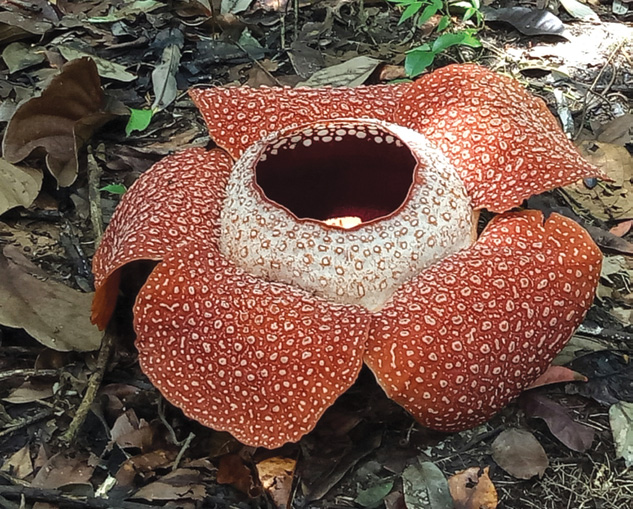 If luck is on your side, you will be able to catch a glimpse of the largest flower in the world, Rafflesia arnoldii — the flower seen on the RM10 note. It can grow up to 100cm in diameter but has a lifespan of only five to seven days, making a sighting particularly precious. Be warned — it has a pungent odour of decaying flesh — 'corpse flower' is its apt nickname!
Stop 6
Signal Hill Observatory Tower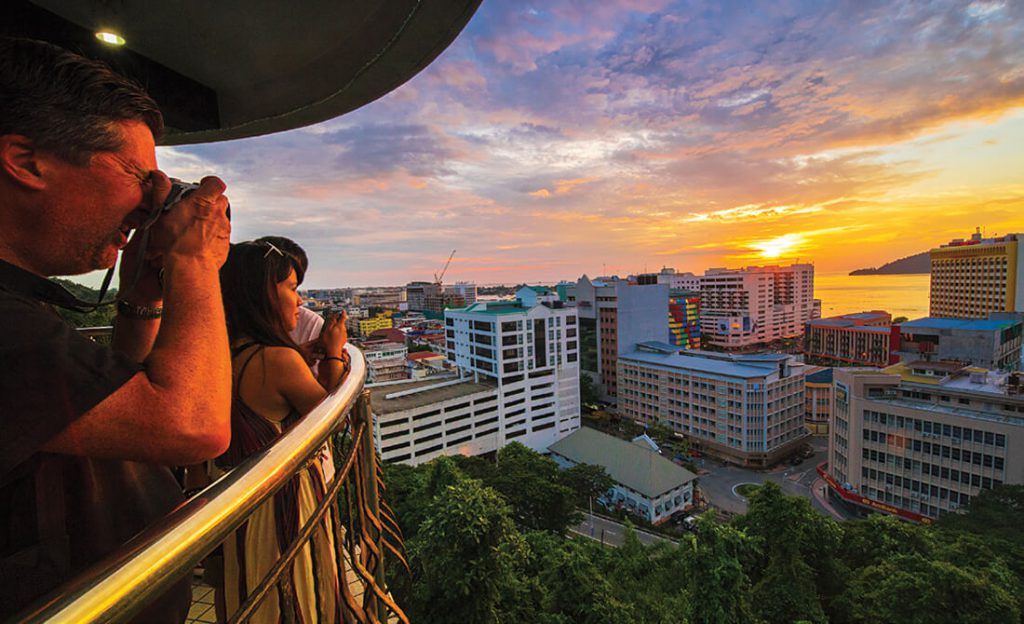 Signal Hill is the highest point in Kota Kinabalu, and its airy observatory deck is one of the best places to get a panoramic view of the city, a view that extends from rows of buildings to the outlying islands and beyond.
Stop 7
Welcome Seafood Restaurant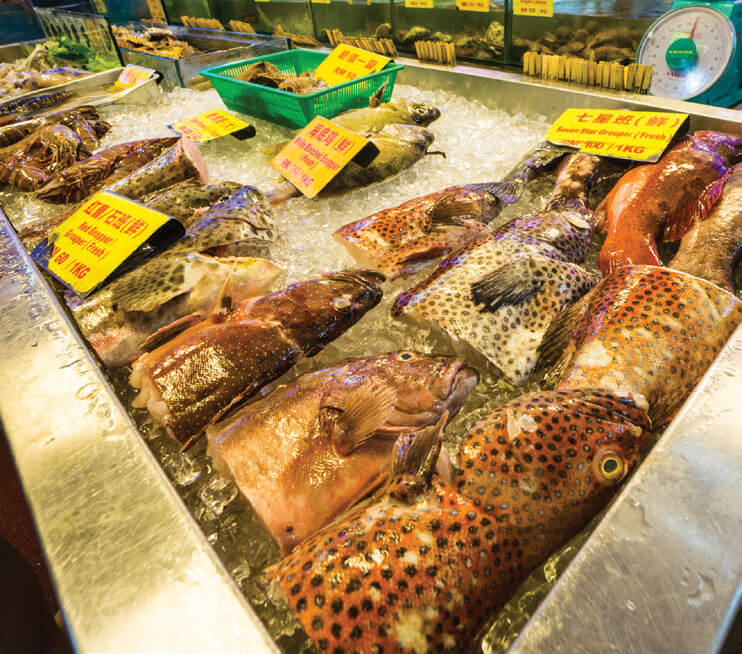 A short drive to the Jalan Asia City brings you to Welcome Seafood Restaurant, a homegrown establishment that has delighted local and foreign diners for over 13 years. Pick from an array of live seafood and have them cooked your favourite way. Signature dishes include kam heong ('golden fragrance' in Cantonese) crabs, garlic butter prawns and steamed soya sauce fish. The scrumptious taste of fresh crustaceans — all served at economical prices (you can get a table full of seafood dishes for less than S$100) — will leave you craving for more. After dinner, stroll down the block of shops selling local products. The Taluwang ice cream potong — which comes in flavours such as durian, avocado and cempedak — is the perfect end to your meal.
Day 3
Stop 1
City centre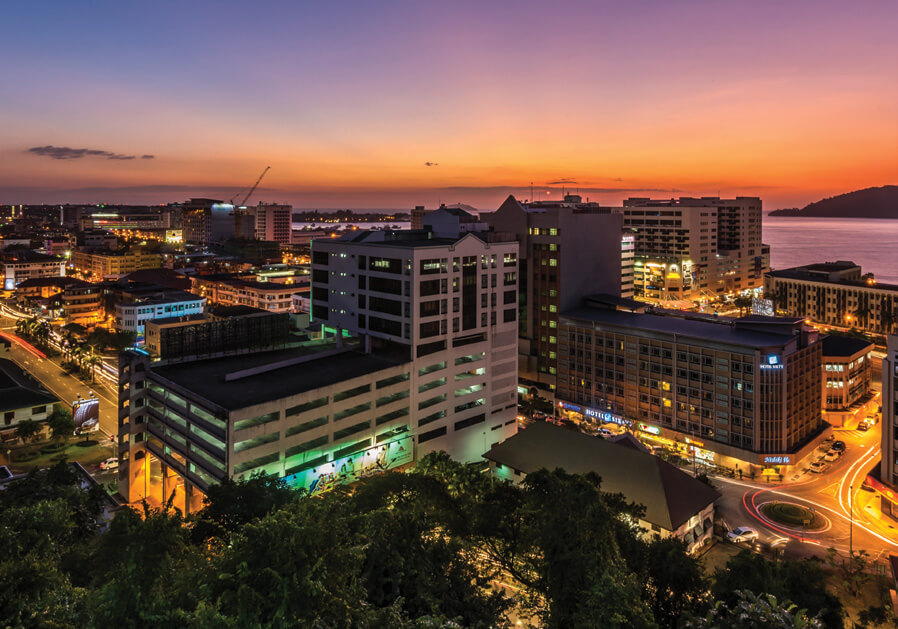 This morning, explore the budding cafe scene in the quiet alley of Lorong Dewan. You can find several hip eateries — such as Nook Cafe and Woo! — with tastefully designed interiors and Western style breakfast and artisanal coffee. Even in swanky malls such as the Imago Shopping Mall and Wisma Merdeka, prices are relatively low due to the currency exchange rate, making retail therapy here a steal; so don't forget to score some great buys!
Stop 2
North Borneo Railway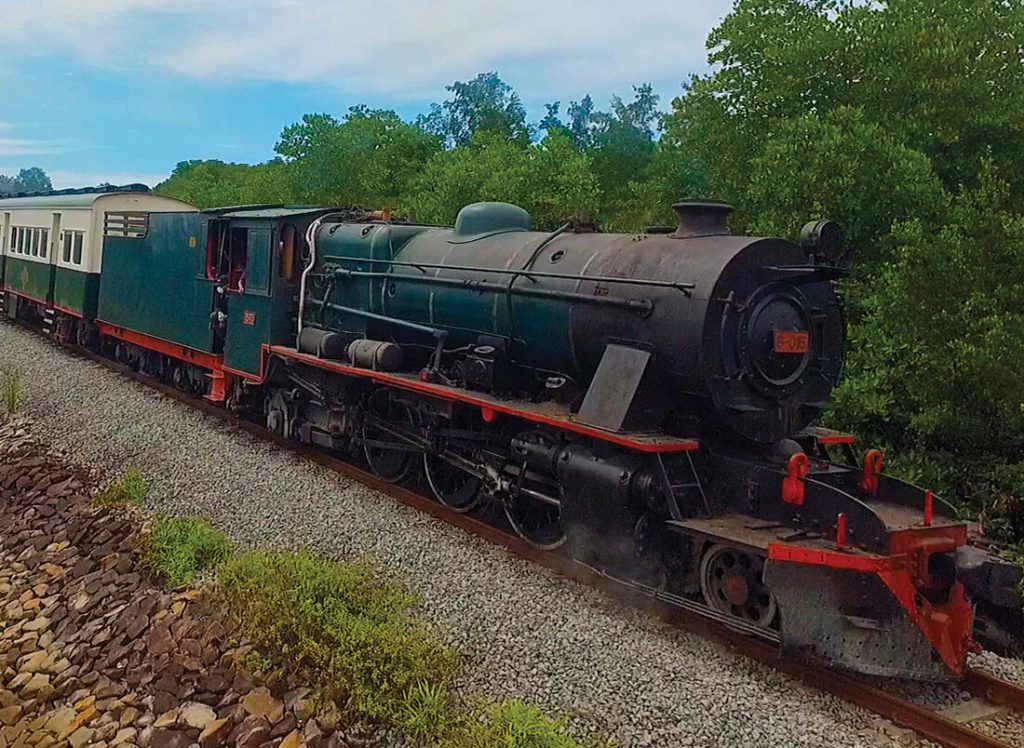 If you happen to visit on Wednesday or Saturday, one activity you shouldn't skip is the North Borneo Railway. A joint project by Sutera Harbour Resort and Sabah State Railway Department, it features the state's oldest running steam locomotive, which has been refurbished to recreate the ambience of rail travel in the 1900s. Passing through villages, coastal towns, rubber plantations, paddy fields, and rainforests, the journey lets you rediscover a bygone era and the heart of Borneo. The train runs for about 60km from Kota Kinabalu to Papar, with a few stops in between. A colonial-style tiffin lunch is served during the return trip.
Stop 3
Mari Mari Cultural Village
A 25-minute drive from the city will bring you to Mari Mari Cultural Village, an interactive 'museum' set in a remote rainforest that showcases the history of five indigenous tribes — Dusun, Rungus, Lundayeh, Bajau and Murut. A guide leads you through a trail that covers the different tribe houses and shares stories of how the rural natives used to live. In each house, performers demonstrate how people hunted, cooked and made fire. You can also sample homemade snacks, try the Murut blowpipe, and get a free henna tattoo. If you are wondering why the guides and performers are so passionate and knowledgeable, that's because most of them are descendants of the tribes and see their job as a way to preserve their culture and tradition. The fun and meaningful tour concludes with a splendid group performance, where guests may be invited on stage to join the bamboo dance. Before bidding farewell to your guide, dig into the hearty spread in the canteen.