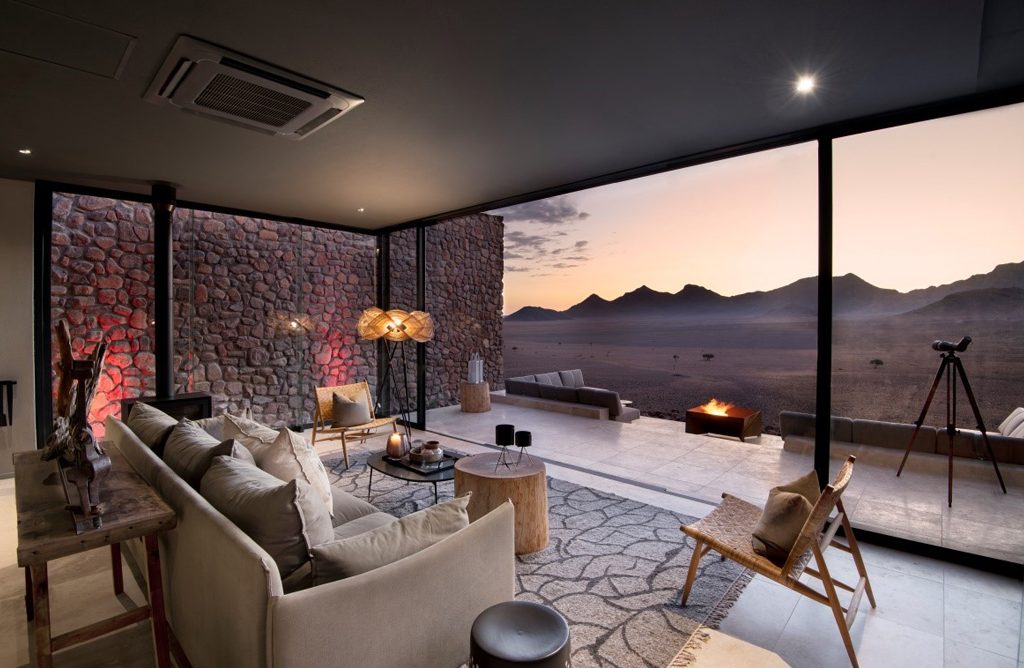 From conservation-led travel company andBeyond comes the andBeyond Sossusvlei Private Desert Reserve a newly refurbished collection of lodges in the heart of the coastal Namib Desert in Namibia, South Africa.
Namib, which means a vast place in the local Khoekhoe language, spans more than 2,000km along the Atlantic coastline, and andBeyond set out to create a unique lodging experience for travellers without imposing on the desert environment. The result? 11 beautiful glass-and-steel pavilions that camouflage perfectly into the vast wilderness.
To provide guests with an unrestricted view of nature in its full glory, each lodge features floor-to-ceiling glass panels prominently, reinforced with prefabricated steel. There is also a skylight above each bed so you can sleep under the stars. At the guest area, the use of natural elements like existing sand and rock as building materials further strengthens the sense of place.
Sustainability has always been at the heart of andBeyond. Here, almost all amenities are powered by the solar panels placed ingeniously on top of the wide roof shade, including the air conditioning, outdoor rain shower and private plunge pool.
Plus, the lodge also offers a range of specially-curated experiences for travellers, including hot air balloon flights, stargazing at a state-of-the-art observatory, desert safari tour, dune dining and more.
andBeyond Sossusvlei Desert Lodge reopened in mid-October 2019 and is now accepting reservations. Suite rates start from NAD 9,265 (approximately SGD856) per night per person sharing.