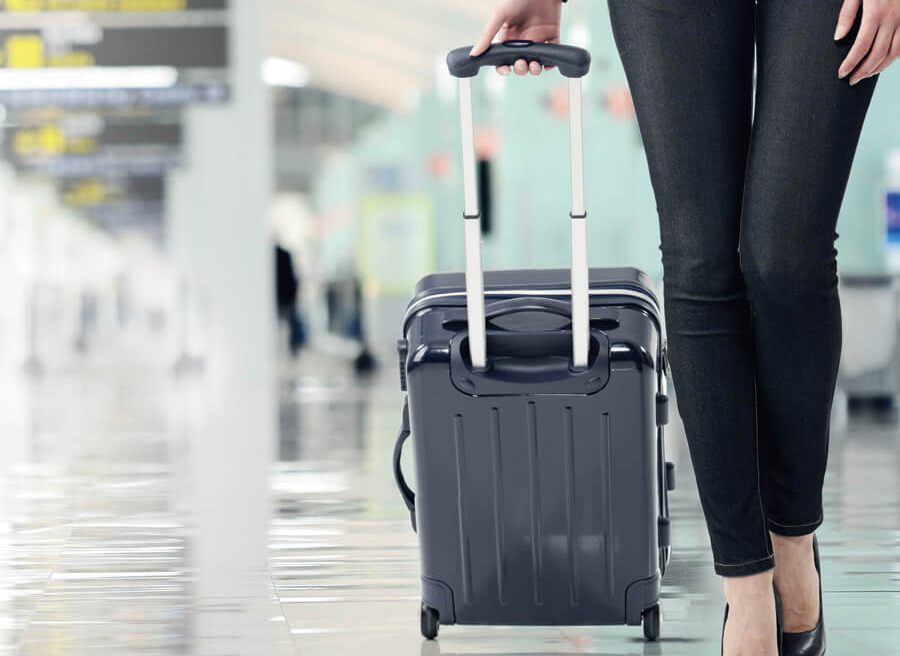 Travelling light is the first step to a good trip. It allows you to walk or use public transport without breaking a sweat or straining your arms, helps save on costly airport transfers and taxis, and actually makes you feel like moving, detouring and making spontaneous decisions.
DRAW UP A LIST


Before you start packing, make a list of what you want to bring along. Write by categories: underwear, inner wear, tops, pants, sportswear, shoes and socks, toiletries, miscellaneous. Then slash the number of items on it because, more often than not, you will need less than you think. Don't plan for the worst-case wardrobe scenarios — as long as clothes can be washed or laundered, there will be no problem. Pack only what you have planned for, knowing that in a crunch, you can always buy on the go.

MAKE YOUR CLOTHES WORK HARDER


Have a rough idea of your itinerary and whether you are likely to need one or two outfits a day, every day. Many people plan on two outfits per day but end up using one.Decide on a colour scheme. Mix and match outfits according to this scheme so that clothes are doing double and triple duty. You can get more mileage out of pants than tops, so don't pack as many pairs of pants as you do shirts.To make your clothes work harder, pack items that can double up. For example, a pair of black jeans will take you from day to night when you swop the T-shirt for a dressy top. Wrap or shift dresses take on a similar double duty when you throw on an elegant scarf or a necklace. Pack enough for one week and plan to do laundry for travel periods longer than that.

LAYER, LAYER AND LAYER


Travelling to a cold region? Rather than stuffing your luggage with bulky winter gear, such as a down parka or heavy overcoat, go for multiple thin layers, such as thermal shirts and lightweight wool sweaters that trap body heat just as efficiently. Finish with a light, waterproof windbreaker to stay dry in case of rain or snow.Wearing layers also means you have more clothing options to modify your style and outfits, and you can put on or remove layers when the temperature changes.

PUT YOUR BEST FOOT FORWARD


Pack only two pairs of shoes at most and make one of them comfortable all-purpose footwear, such as stylish sneakers that will allow you to walk all day but are fancy enough to let you into more formal places like restaurants. If you need an extra pair of footwear like heavy boots, wear the bulkier pair on the way to your destination so they don't take up a chunk of your luggage space. Ditto if you really need a heavy coat.

KEEP IT SMALL


Most hotels provide toiletries, so bring only essentials such as customised skin care or cosmetics. Bring travel-sized quantities by transferring the products into mini containers, which you can obtain from most beauty or travel stores. Most hotels also provide hairdryers and towels, so leave those at home.

ONE ITEM, MULTIPLE WAYS


Pack items that serve more than one purpose so that you carry fewer things. A sarong, for instance, is more than just a wrap skirt. It also serves as scarf, makeshift bag, light blanket, towel and curtain.A tablet can function as an e-reader, music player, personal computer and camera. Better yet, use your mobile phone and reduce your luggage weight even further.Vaseline is another item that serves many purposes: it can be used as a lip balm and moisturiser, to smooth out hair or eyebrows, and even to lubricate squeaky luggage wheels.

ROLL UP YOUR SLEEVES


Now that you've settled on what you're bringing, decide how to make them all fit into the luggage. Here's how to save space:

FOLDING


The standard way of packing clothes is to fold them into square or rectangular shapes, then piling them up. This method is useful for shirts and other formal tops, pants and coats.Ensure all buttons are fastened, smooth out wrinkles and place the shirt face-down on a flat surface. Fold the shirt at the shoulders, bringing the sleeves to lie straight on the shirt, before folding up the bottom third and overlapping that with the top third. To minimise wrinkles or prevent creases from forming, place another piece of garment like a folded T-shirt in between the folds of the shirt.

ROLLING


This method saves on lots of space and cuts down wrinkles. It is useful for clothes that don't wrinkle easily, such as T-shirts, shorts, socks, sleepwear, and sweatshirts and sweatpants.Before you start rolling, smooth out the garment first to ensure no or few creases form. For T-shirts and tops, fold sleeves into the body, then fold the top into half before rolling. For heavier garments like pants, fold one leg over the other and fold in half again before rolling. Dresses and skirts should be folded lengthwise before being rolled up. Coats and jackets should be zipped up and again, folded in half, with sleeves tucked away. Roll them from the bottom to the top tightly.
OTHER SMART PACKING TIPS
Place rolled or folded clothes into a vacuum compression bag, then squeeze the air out before you clasp it close.
If you're packing shoes, don't waste the space inside. Use it to store socks, underwear and small, fragile items so you can find them easily when you're unpacking.
In your hand luggage, it is advisable to bring a set of clothing and other necessities in case your baggage is delayed or lost during the journey.