Here are ideas on how to pack smartly to create more space in your suitcase so you can travel like a pro, be it for business or pleasure.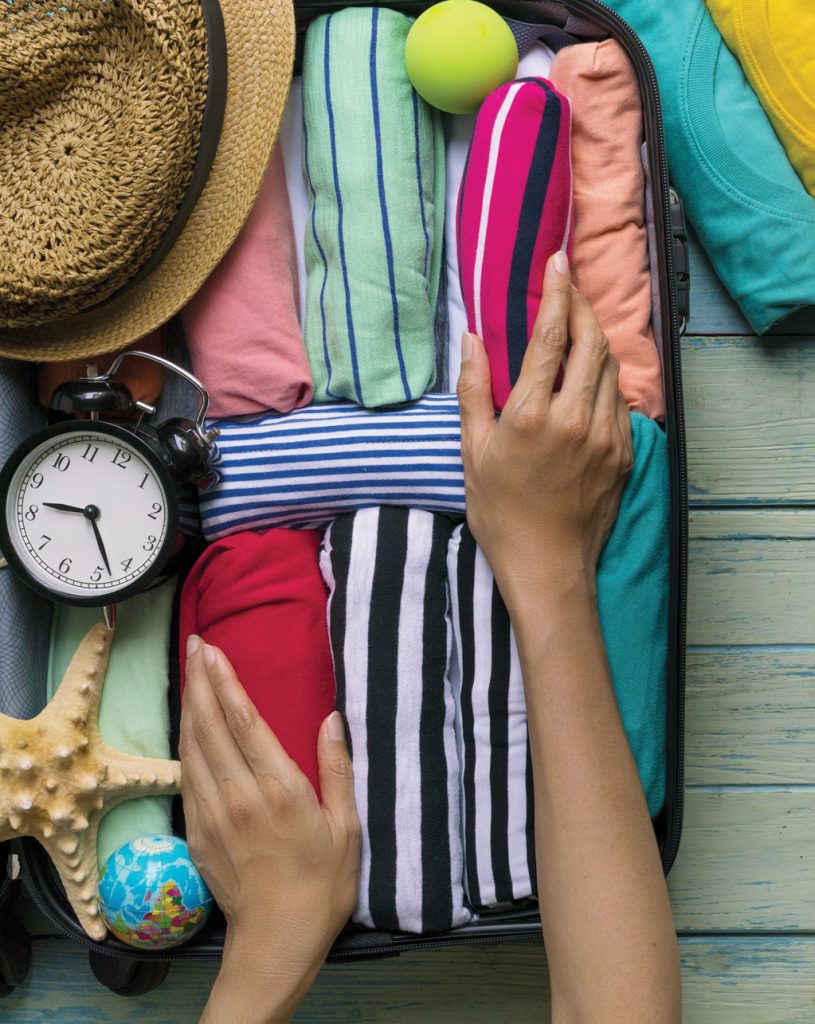 Whether you are an ardent globe trekker or first-time traveller, whether you are packing for a tropical weekend getaway or an extended sabbatical in a temperate zone, ensuring that you have packed all you need and in the right manner makes all the difference between a pleasant dream and shocking nightmare.
One of the most common packing hacks is rolling instead of folding, but is that all there is to create space in your suitcase?
PLAN AND LIST
While a packing list may not be necessary for return trips to familiar locations, it prevents the need to repeatedly check whether an item has been placed into your luggage. Plan your daily attire according to your itinerary, so bring only appropriate garments required for each activity. List daily necessities, such as a toothbrush, and climate appropriate items such as swimwear and suntan lotion for water adventures you have planned. Then check off your list as you pack items into your luggage.
LAY IT OUT AND ROLL IT IN
Laying all your items out allows you to see what goes where, and if you really need them on the trip. This allows you to visually evaluate your ensembles to avoid any fashion faux pas and/or unnecessary items. Start by placing heavy and bulky items into your suitcase first before filling out remaining spaces and corners with soft and small items such as socks and scarves that have been rolled up.
FOLD INTO PACKING CUBES OR ORGANISER POUCHES
These fabric cases come in various sizes. Some have mesh panels and transparent sides so you can immediately see its contents and easily differentiate between garments, toiletries and electronics. The lightweight organisers hold your garments in place securely and may come with multiple zips for different compartments so you can split day from night wear or clean from dirty clothes. Fold your garments flat within the cubes, which compact contents within its shape when zipped.
ORGANISE AND PROTECT WITH ZIPLOC BAGS
Organise your toiletries and knick-knacks into Ziploc bags. By international travel laws, liquids with a volume above 100ml must be packed in a see-through Ziploc bag in your hand-carry bag. Doing the same for other items makes sense. Allocating your items into separate Ziploc bags makes it easier to locate items such as phone chargers and house keys. These Ziploc bags can then be slipped into irregular spaces within the luggage. Should leaks and spills occur, they will be confined within these bags.
BRING FOLDABLE TOTE BAGS
You never know what treasures you may encounter on your trip. What if your suitcase can't fit all your shopping? Be prepared to create more space by packing a foldable tote bag or two. They can be unfolded and used as hand-carry items on board the flight. Such spare carriers are ideal for delicate and precious items that you prefer to handcarry rather than risk them getting squashed within your check-in luggage. They also double as roomy shopping bags on your trip. Bringing your own shopping bags is also a step towards eco-conscious living, reducing the need for plastic grocery bags.
REMOVE AIR WITH COMPRESSION OR VACUUM BAGS
These space savers are especially useful when travelling to temperate countries. Winterwear — thick jacket, ski pants, wool scarf — practically needs a suitcase of its own! By packing these cold-weather items in compression bags and then vacuum-sealing them, you can reclaim more than half the space in your suitcase. These bags are also great for linens and pillows if you insist on bringing your personal set for your trip.
SHOWER CAPS OR DRAWSTRING BAGS FOR SHOES
Wrap the soles of your shoes in a shower cap or pack your shoes in soft drawstring shoe bags to prevent dirt from soiling the clothes in your suitcase. Roll and stuff your socks into your shoes to cut down on packing space required. Store your slippers sole-to-sole in a waterproof bag before slotting it along the sides of your suitcase.
STORE YOUR BLING IN PILL CASES OR ACRYLIC BOXES WITH COMPARTMENTS
Keep accessories and jewellery — such as necklaces, earrings and rings — in a clear box with compartments. This not only prevents your bling from getting entangled, you can also keep track of them with a single glance. For delicate pieces, wrap them in a silk sheet or thin silk bag before placing them in their compartments. Mix and match different styles and balance statement pieces (to dress up a plain outfit) with classics (to complement a vibrant one).