Ever since the world learnt about this ruggedly beautiful country's Happiness Index, fascination among travellers has grown.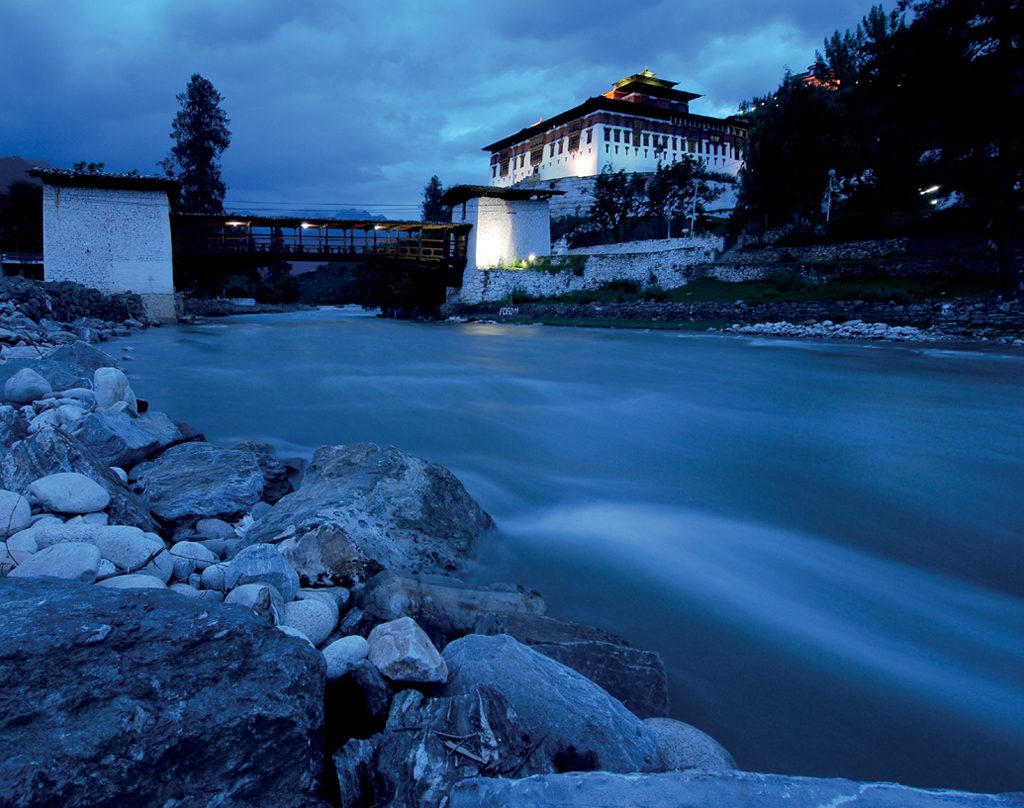 If I didn't know any better, I'd say this was a movie set. I am standing inside a dimly lit hallway, watching a scene that seems incongruous in this day and age. On a nearby wall, Buddhist prayer wheels spin incessantly to an endless stream of worshippers. Head-shaven monks stand at a doorway, their crimson robes contrasting with the dark wooden panels of this centuries-old temple. The scent of incense hangs heavy in the air, and I watch as devotees bow to a gilded statue of the Buddha. Prayers are offered; mantras are recited. Outside, life unfolds against a stunning backdrop of terraced rice fields and distant mountains. This setting is exotic in every sense of the word.
I've barely spent two hours in Bhutan, and already I am taken in by its unspoiled character. Located on a tiny of those few, special places that has taken a curious approach to development. We've heard about its deeply rooted Buddhist faith, and the cautious way this longisolated nation is opening to the outside world. Bhutan's unique outlook is best summed up in its much talked-about Gross National Happiness Index – a term the country uses to measure its advancement in quality of life.
A place this unusual simply begs to be explored – I just had to come here to take a look. Bhutan's tourism policy dictates a US$250-per-night tariff during high season (which runs from March to May and September to November), and a US$200- per-night tariff for the low season. This cost exludes the US$40 visa processing fee, but includes food, threestar lodging, land transport and guide service. These are provided by Bhutanese government accredited travel agencies like DrukAsia (www. drukasia.com).
A typical seven-day peak season itinerary adds up to around SGD$2,500 with airfare excluded. This comes with astrip of land between India and China, this kingdom is one minimum accommodation standard of three stars at spacious traditional-style lodges. Backpacking is simply not an option in Bhutan – but with annual tourist numbers barely reaching 50,000, even package tourists don't see much of their kind in these parts.
With such little time to spare, I get on with the tour. My guide, a big Bhutanese guy named Chencho, brings me to the nine-centuries-old Changangkha temple where I get my first taste of the local culture. Afterwards we head off to the main street of the capital Thimphu to get a feel of the city life.
"We call this area 'Hongkong Street' because it's always busy here," comments Chencho as he points to rows of shops traversing several blocks. Here the similarities end, however – instead of skyscrapers and neon signs, Thimphu's CBD features earth-walled buildings adorned with traditional wooden frontages. With very few street lamps and just one traffic light, the neighbourhood feels more like a bustling frontier town than a national capital.
The following days find us all over the countryside. Bhutan's attraction lies in its well-preserved culture, this being most evident in its many dzongs – ancient fortresses that serve as administrative and religious centres. Here, commoners, monks and government officials mingle amidst exquisite traditional architecture. There are also the humble little temples that dot the countryside. In the district of Punakha (a threehour drive from Thimphu), I saunter along rice fields and sleepy villages towards the Chimi Lhakhang, a building dedicated to a beloved saint, the "Divine Madman" Drukpa Kunley, whose unusual philosophy defies the notion of abstaining Buddhist holy men. Known as "The Saint of 5,000 Women", he is said to have used sex as a way to help devotees achieve enlightenment. In fact, Kunley's "Flaming Thunderbolt of Wisdom" – a huge phallus with eyes – is a cherished emblem seen on walls and doorways throughout the country.
It is in situations like these that having a guide really proves a bonus. Chencho is like a reliable local friend, explaining aspects of his culture that I would otherwise have misunderstood. He is also an excellent translator during conversations with the locals, his input offering valuable insights into a culture I barely know.
Interesting as this trip may have been, none of what I've seen so far compares to my final destination.
Among The Clouds
A few kilometres north of Paro town stands the Taktsang Palphug. Built on a cliff some 3,000 feet above the surrounding countryside (roughly 10,000 feet above sea level), this ancient monastery is accessible only via a robust two-hour trek.
With Chencho leading, I trudge up the steep slope, stopping regularly to catch my breath in the thin mountain air. The knee-busting hike takes us from pine forest to rock face, the trail dotted with shrines and lookout points.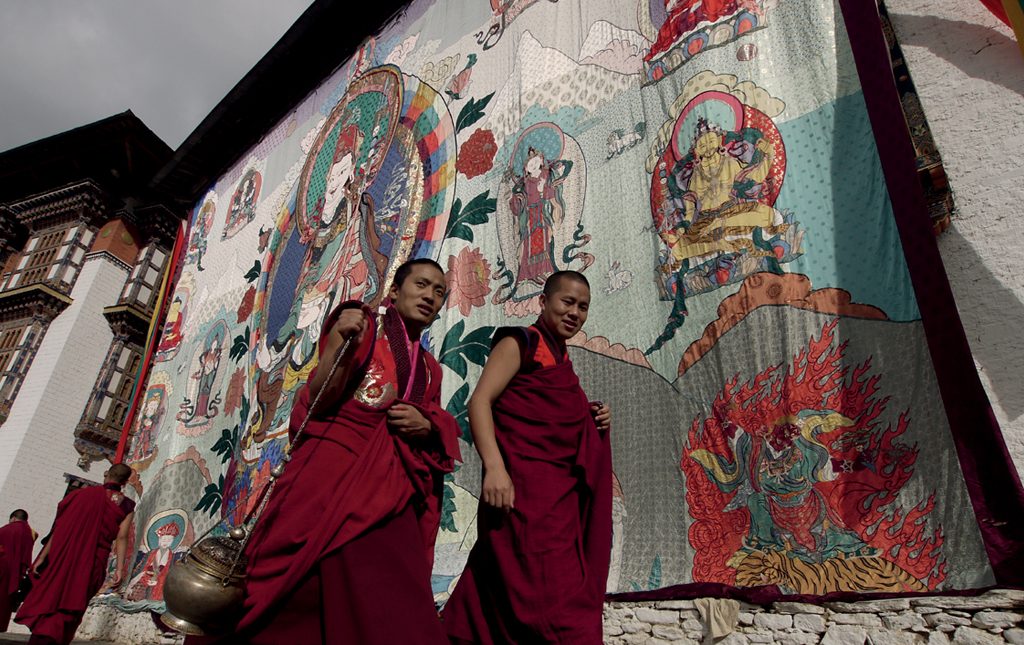 By the time we reach the monastery I am thoroughly winded, yet elated at reaching Bhutan's most venerated landmark. Prayer flags flutter in the breeze as I look down at the picturesque valley below.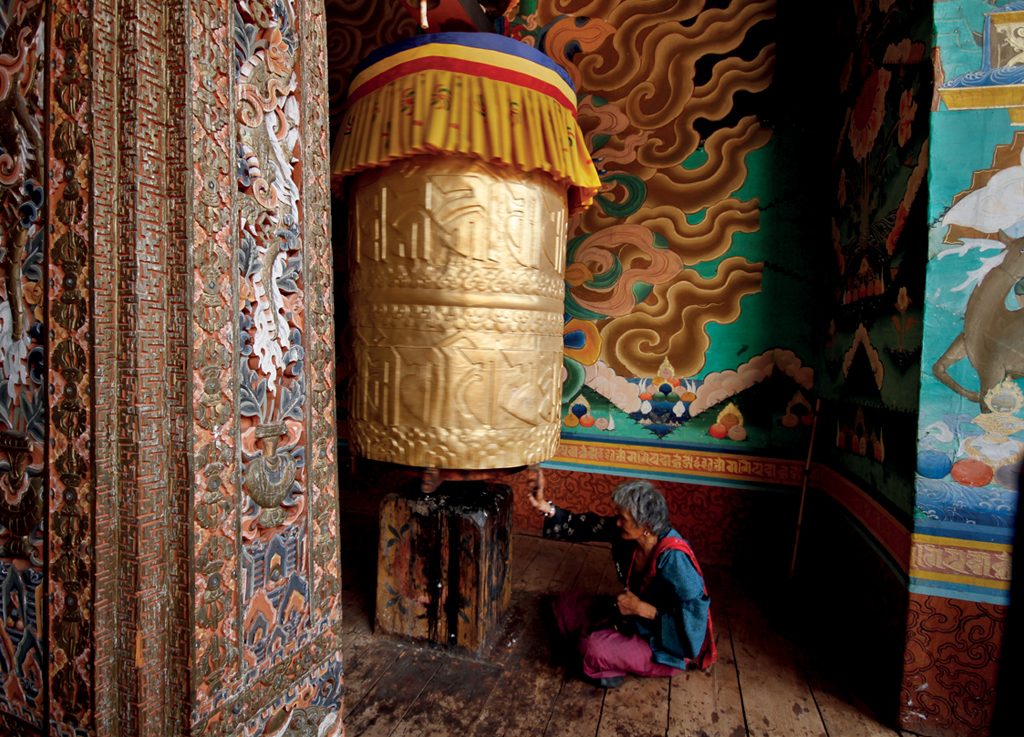 To my side I see a flash of crimson as a pair of monks appears. Behind me I hear the sound of spinning prayer wheels. Once again I smell incense in the air. A place like this doesn't need a tourist come-on. Bhutan works its magic simply by being itself.
6 BEST VISITOR EXPERIENCES
1. IMMERSE YOURSELF IN THE LOCAL CULTURE

Cultural immersion in Bhutan is a wonderfully authentic experience, thanks to the centuries that this kingdom has spent in isolation. In fact, tourism only got here less than four decades ago. On these streets, traditional dress remains the preferred attire. Native Dzongka architecture still graces every building, and Buddhism colours just about every aspect of life. Concerns about the erosion of Bhutanese values have led to a government-imposed dress code for working attire (only the male gho and female kira dresses are allowed for official duties), and a ban on non-traditional forms of architecture. Despite this, one can occasionally glimpse t-shirts and jeans worn by young Bhutanese on weekends.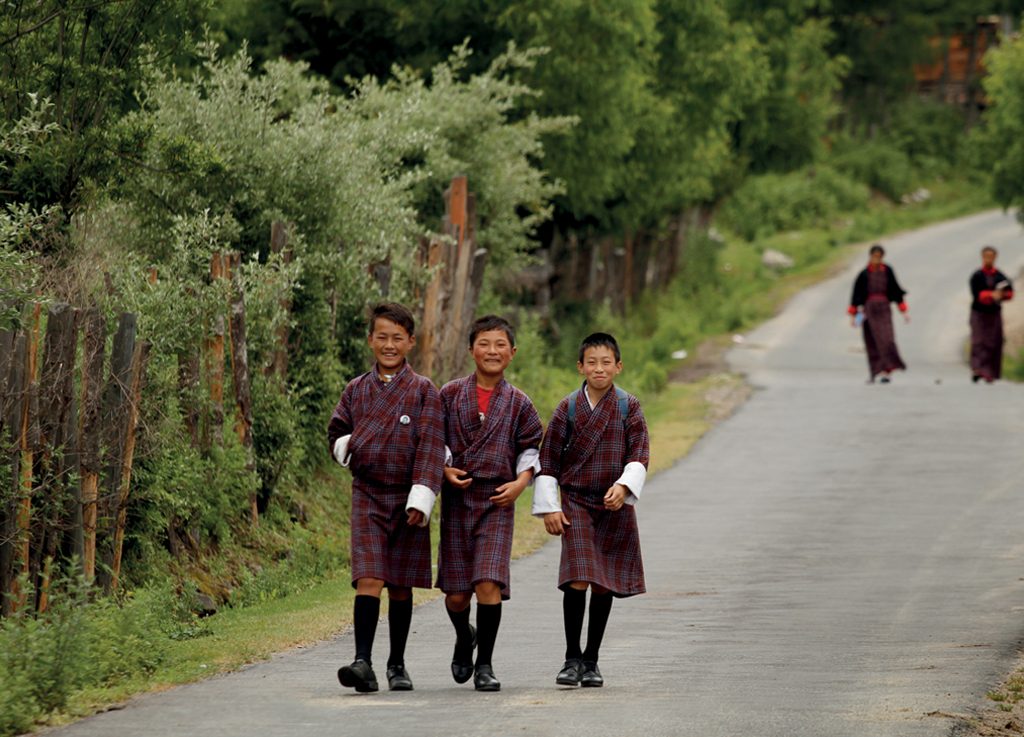 2. TREK TO THE TIGER'S NEST

Outdoor enthusiast or not, no visitor should leave Bhutan without making the trek to the Taktsang Palphug, aka the "Tiger's Nest". Situated on the edge of a cliff, some 3,000 feet high above the ricefields of Paro, this 320-year-old monastery is considered one of the kingdom's most sacred religious sites. To get here, you'll need to trek two hours through thin mountain air. The trail winds through pine forests and past ancient Buddhist shrines adorned with endless lines of prayer flags. Smiling pilgrims and stunning landscape views accompany every step.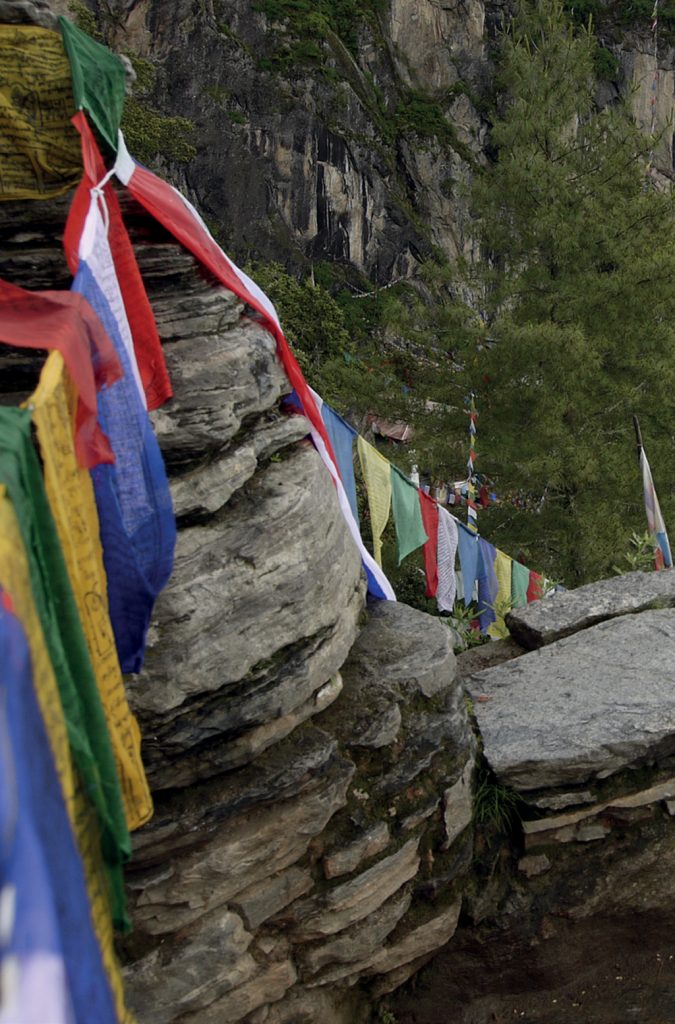 3. VISIT THE DIVINE MADMAN

The town of Punakha is home to one of the most unusual shrines in Buddhism. The Chimi Lhakhang is dedicated to Drukpa Kinley, a Buddhist saint known for his rather unconventional approach to religion. You'll know what this means when you see the murals and carvings depicting a phallus. Sex was his way of blessing devotees, and by making love to over 5,000 women in his lifetime, he is believed to have helped them all attain enlightenment. Cheekiness aside, though, the Chimi Lhakhang is more than just a village shrine – it's a pilgrimage site for those wishing to bear children.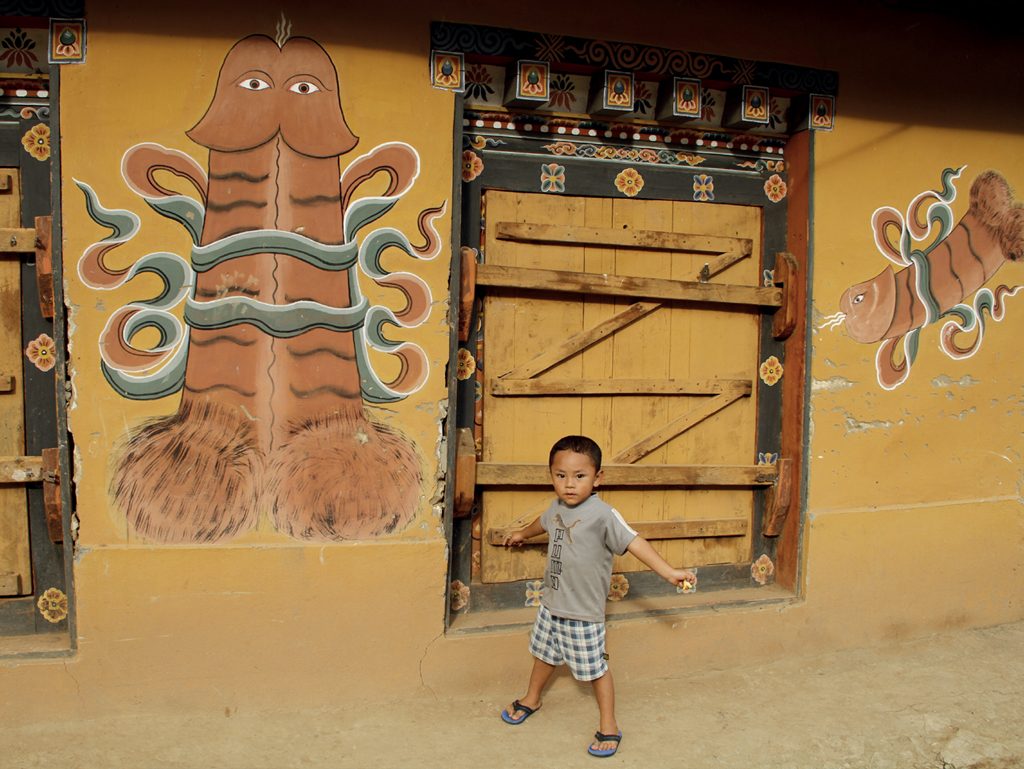 4. SAMPLE THE CREAMY, SPICY EMMA DATSHI

The Bhutanese like their food spicy, and this is best seen (or tasted) in their fondness for emma datshi an insanely hot delicacy of chillies stir-fried with native cheese. It's their de facto national dish; a source of cultural pride and a mainstay in every meal. The first taste is always fiery, but get past the spice and it becomes easy to appreciate the creamy, salty, somewhat fruity flavour. Paired with the native red rice it becomes a satisfying meal. If you can't take the heat you can instead go for the equally cheesy shamu datshi, which uses mushrooms instead of chilli.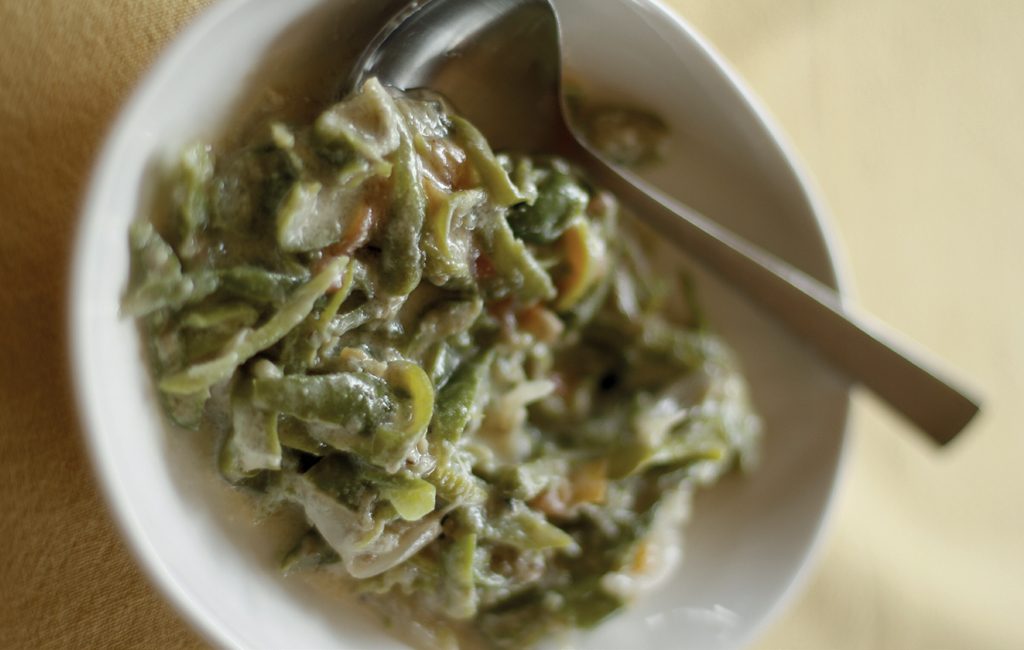 5. GO FOR A NIGHT OUT AT THE LOCAL DRAYANG

Western-style bars may have already made their appearance in the main cities of Thimphu and Paro, but for most Bhutanese, evening entertainment still means one thing: a visit to the local drayang. These homegrown nightclubs come complete with disco balls and flickering lights set amidst simple wooden interiors. The entertainment works on a per-song basis you choose from a stable of inhouse talents, and then pay them to perform onstage. The going rate is BTN60 for every tune. Grab a bottle of Druk Lager and kick back to watch them belt out your requests in the local language. The music and the moves will no doubt be new to you, but this will be a fun, fascinating night out unlike anything you've ever experienced.
6. ATTEND A TSECHU

Bhutan on ordinary days is fascinating enough, but it becomes even more exotic during a tsechu. These local religious festivals are held annually in each of the country's 20 districts, and feature ancient Cham masked dances at the courtyards of the local dzongs. The festivities are a burst of local colour, with everyone present in full traditional dress, mingling with the resident monks, policemen and government officials. The climax of these four-day celebrations happens on the final day with the unfurling of a huge thongdrel – a sacred painting of Buddhist imagery on cloth.