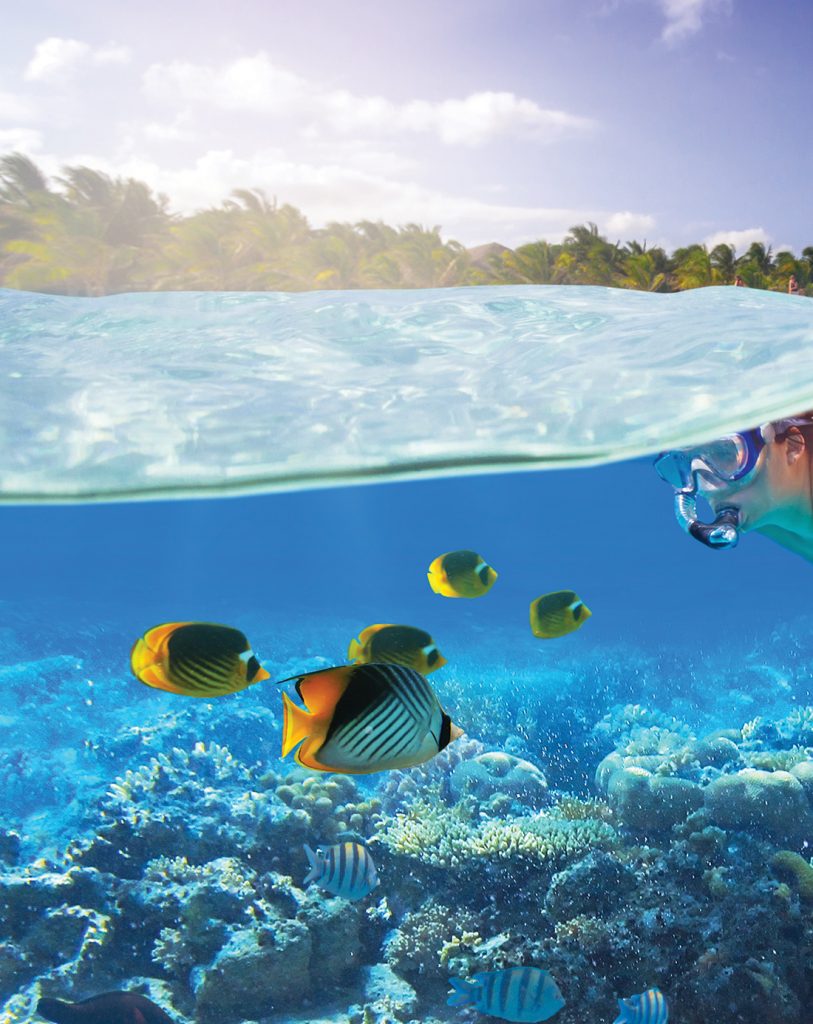 Exploring coral reefs and swimming with dolphins are all fine and dandy, but if you're hankering for something out-of-the-ordinary, you may wish to try posting a letter or savouring a gourmet meal underwater instead.
You probably learnt in primary school that water covers 70% of our planet's surface. This vast coverage means that the seas play an important role in regulating our climate and weather patterns because they transport heat from the equator to the poles. That's not the only thing they do. According to the US-based National Oceanic and Atmospheric Administration, the seas are also responsible for:
Producing over half of the world's oxygen and storing 50 times more carbon dioxide than our atmosphere
Providing us with sustenance, such as seafood and other ingredients that are used in peanut butter, soymilk and more
Helping us combat medical conditions —chemicals in marine life are being used in medicinal products to treat bacterial infections, tumours, Alzheimer's disease, and lung cancer
While these are sobering reasons to respect the seas and the marine organisms that call them home, there's a fun aspect too. After all, who can resist going on a cruise or scuba diving? If you're experiencing some 'been there, done that' blues, then it's time to sit up and pay attention to some of the more unusual ways to enjoy this aquatic wonder.
The Floating Venice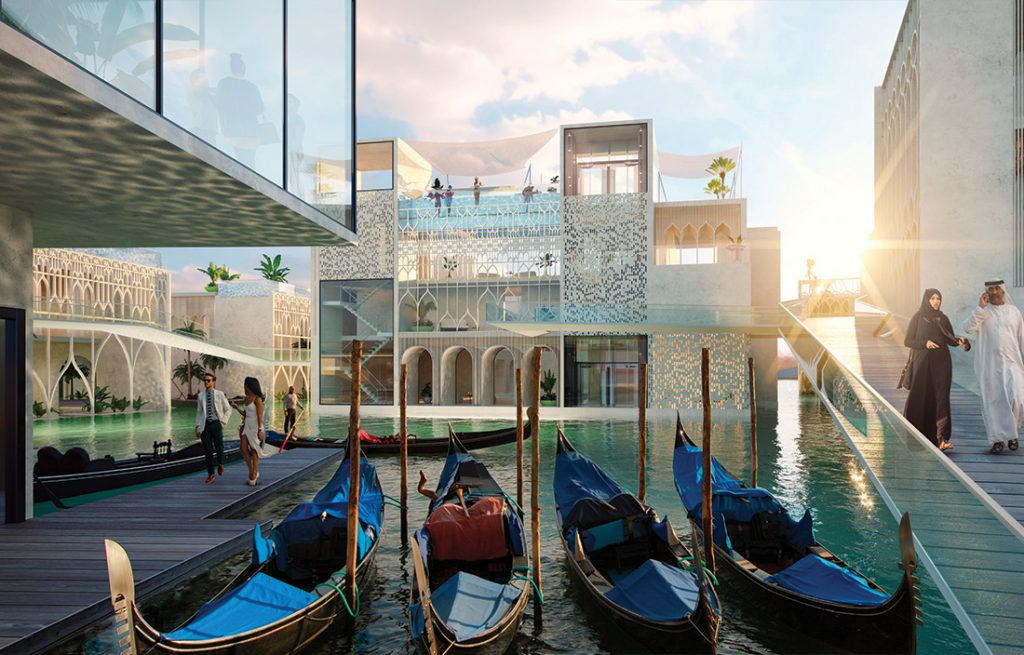 There is a unique luxury resort being built 4km off the shores of Dubai as part of The Heart of Europe islands in the massive The World development. Called The Floating Venice, it offers you the best of both worlds — a luxurious lifestyle above and below the waves!
When it's completed in roughly two years' time, the resort will have four levels, one of which will be underwater. All guests will have a chance to experience the submerged deck, as this is where the check-in lobby is located. There'll be a range of 414 bespoke cabins to choose from, including some located at the underwater level for those who would like to enjoy views of the surrounding coral reefs while gondolas float by overhead.
The Venetian lifestyle will, of course, be a hallmark of this resort. The Italian city's rich culture and traditions will be celebrated through a series of year-long festivals, while artisans will showcase their skills and wares at the shops and boutiques scattered throughout. In addition, the architecture of the entire resort will reflect the classic themes of elegant facades and magnificent palaces that make Venice one of the world's most romantic cities.
Coupled with an underwater floating spa, a collection of 12 restaurants and bars located above and below the sea, and 24 pools — some with acrylic bases to give swimmers amazing views of the coral reefs below — The Floating Venice is bound to be a highlight on any Dubai itinerary.
Ithaa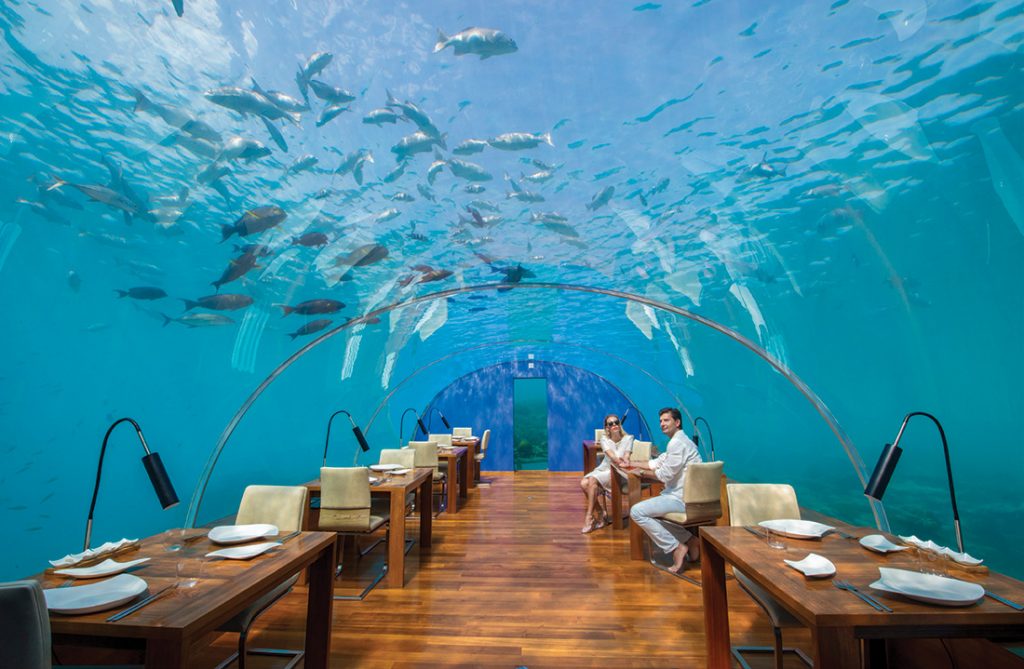 Now that your appetite has been whetted, how about popping over to Ithaa, the world's first and only all-glass undersea restaurant, located at Conrad Maldives Rangali Island? Open for lunch and dinner, this award-winning restaurant serves European cuisine 5m below the surface, with 180-degree panoramic views of colourful coral gardens and sea life.
With a name that means 'mother of pearl' in the local Dhivehi language, it's no surprise that the restaurant was rated "the most beautiful restaurant in the world" by the New York Daily News in 2014. More recently, at the 2017 World Luxury Restaurant Awards, Ithaa was bestowed three titles: Global Restaurant of the Year, Luxury Unique Experience, and Luxury Resort Restaurant.
With such a stunning aquatic setting, the menu here is filled with the most extravagant treasures from the sea, such as oscietra caviar, reef lobster, sea snails, and the freshest oysters. It's the perfect venue to celebrate a special memory with a loved one. For a more romantic atmosphere, book a table for dinner rather than lunch — the restaurant does not accept child diners after dark.
Utter Inn
If you're looking for accommodation that's more down-to-earth, there is the Utter Inn, located in Västerås, Sweden. Although luxury is not a word you would associate with this spot, it is exclusive: there is only one room in this inn, and it contains just two twin beds and a table. The unusual thing is that the window looks out into the waters of Lake Mälaren as it is located 10 feet underwater!
The entrance to the room is via what looks like a little red-and-white hut floating on waters of the lake. The inn can be accessed only by boat — which adds to the sense of exclusivity. Besides swimming and fishing, you also are encouraged to canoe to an uninhabited island located nearby. And while this place does not have any F&B outlet, you only need to place an order and food will be delivered. If this experience has convinced you that life underwater is for you, why not consider building your own home beneath the waves? Check out the story on the next page.
Vanuatu Post Office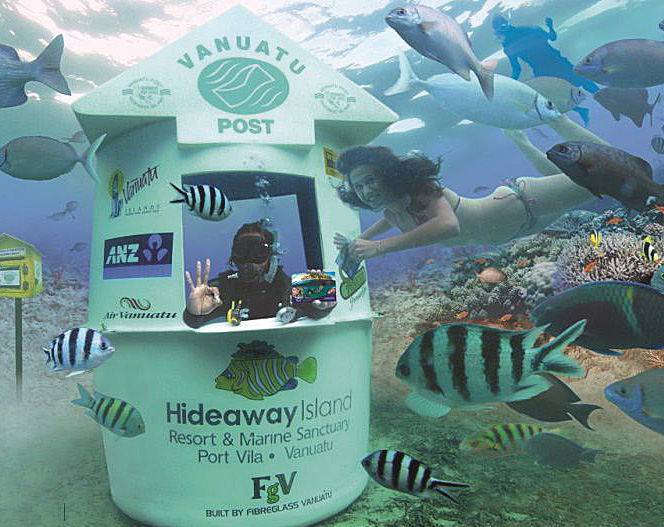 The final stop in our whirlwind underwater spree is definitely the most unique: the Vanuatu Post Office. Situated 3m below the surface in Vanuatu's Hideaway Island marine sanctuary, this submerged post office allows divers and snorkellers to post waterproof postcards, which will be embossed with a special device as proof of where they were sent from.
This post office opened for business in May 2003. If there are staff manning the post office, a special flag will be raised on a float above the site. For your convenience, opening hours are also posted on the beach of Hideaway Island.