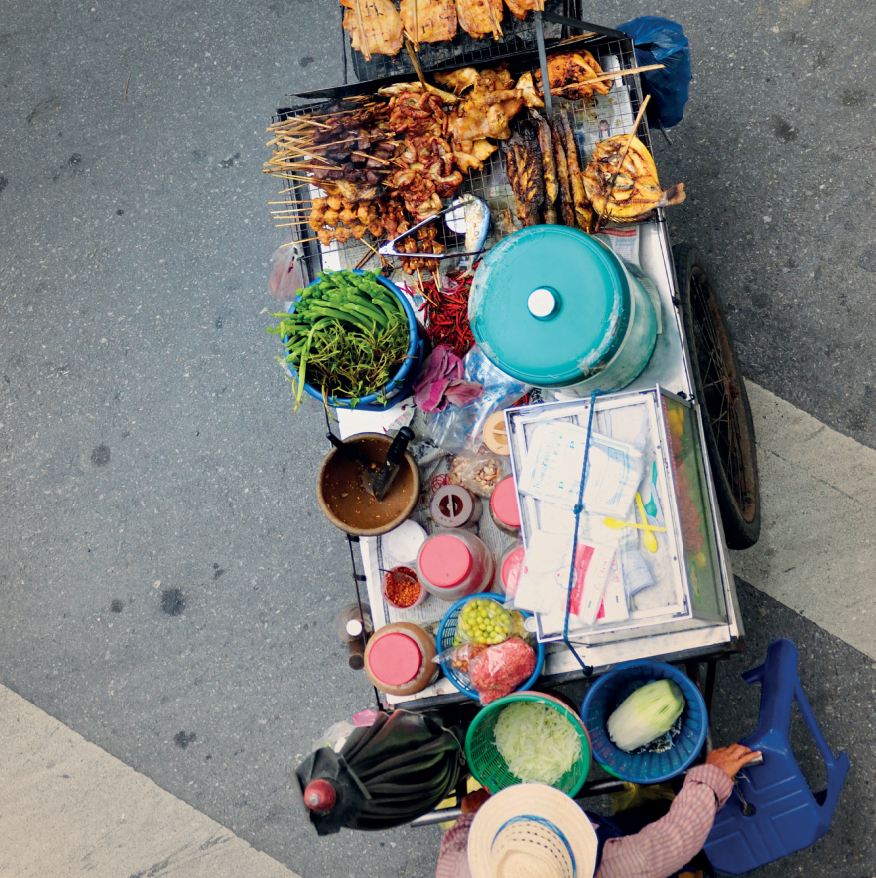 What is the best way to taste a country's heritage and earns your bragging rights? Street food! We list some must-try options from around Southeast Asia.
HANOI, VIETNAM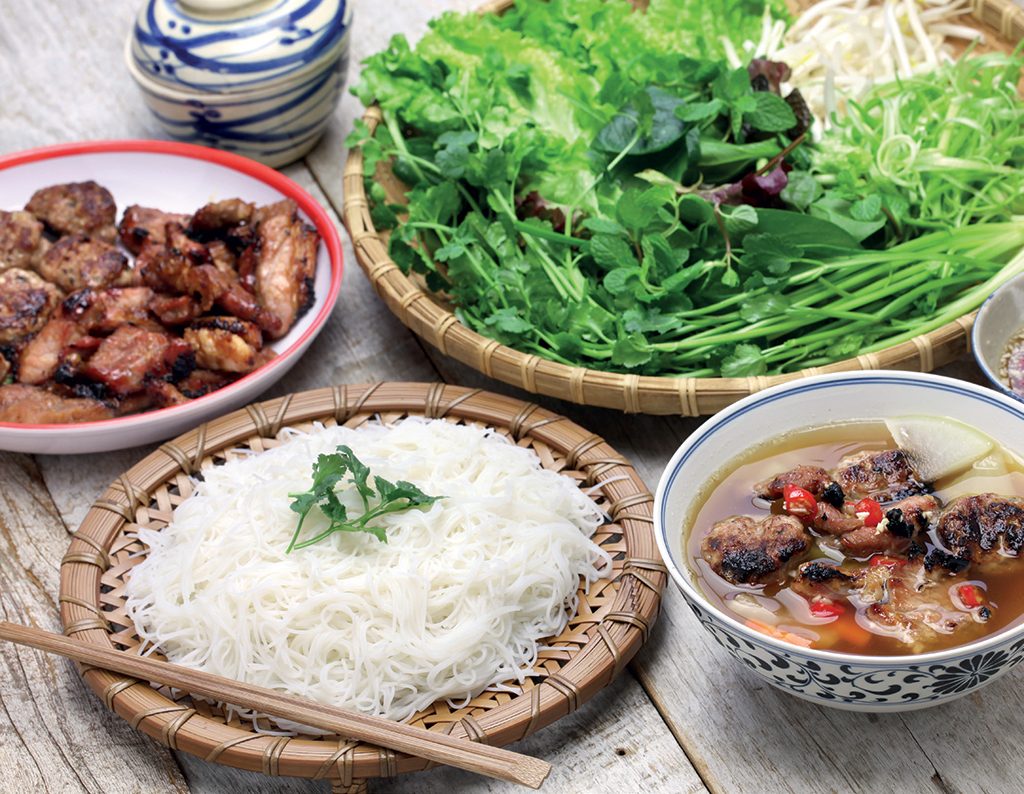 Hanoi is known as one of the world's best food cities and you will understand why when you encounter street food hawkers everywhere. Sitting on tiny stools on the pavement only adds to the down-to-earth experience!
Must-try:
Pho
Vietnam's signature dish of rice noodles in beef or chicken soup topped with meat and plenty of fresh herbs may look simple, but its appearance belies the deep and complex flavours in the soup, the result of a long and elaborate cooking process.
Where: Pho Vui, 25 Hang Giay, Old Quarter
Bun cha
Pork patties and slices of pork belly are grilled over coals until smoky, then served in a cold broth of fish sauce, vinegar, sugar and lime. Dip the accompanying rice vermicelli in the broth and top your bowl liberally with cut garlic and chilli. This dish usually comes with deep-fried spring rolls.
Where: Dac Kim, 1 Hang Manh, Hang Gai, Old Quarter
Coffee
The French introduced coffee to Vietnam, but the locals gave it their own twist. Coarsely ground beans are put in a phin filter, and hot water poured over it, with the resulting coffee slowly dripping into a cup below. Most Vietnamese sip their coffee with condensed milk, although the brew has taken on variations, with the addition of yoghurt, egg or even fruit.
Where: Cafe Pho Co, 11 Hang Gai, Old Quarter
BANGKOK, THAILAND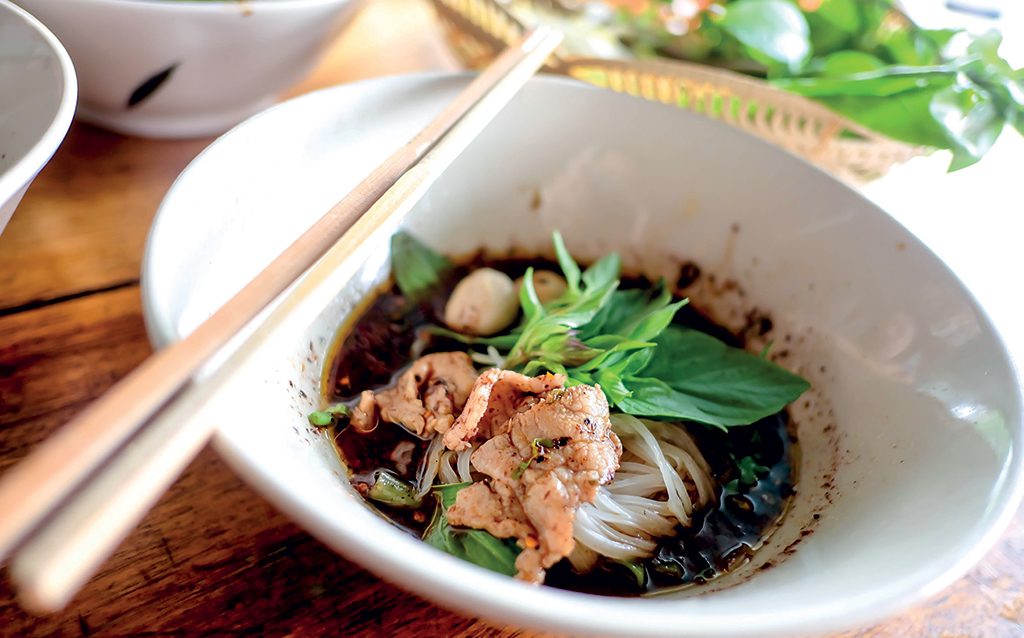 Street food stalls in Bangkok can range from streetside food carts to a cluster of stalls in a local market. No matter; you can stay well-fed in Bangkok just by nibbling on street food.
Must-try:
Kway teow ruea
Traditionally sold from boats, it is now a popular street food in Bangkok. Each bowl of rice noodles and meat comes in a soup that is enriched with pig's blood, garlic and other spices. Portions are tiny, so you can try variations.
Where: Boat Noodle Alley, Victory Monument, Ratchathewi district
Som tam
This refreshing salad combines shredded, unripe green papaya, garlic, chilli and peanuts, and sometimes comes with dried shrimps or rice noodles. It is sour, sweet, salty and spicy all at once, and promises to be addictive.
Where: Som Tam Nua, 392/14 Siam Square Soi 5, Rama 1 Road
Khanom krok
This dessert is made of coconut pudding balls, moulded from a batter of flour, coconut cream and sugar, cooked over a charcoal fire. Chopped spring onions are sandwiched between two halves of the pudding, lending it a pungent surprise.
Where: Or Tor Kor Market, Kamphaeng Phet Road, across the road from Chatuchak Weekend Market
MANILA, THE PHILIPPINES
Walk down Manila's busy streets and you are bound to bump into a vendor shouting to draw in customers. Besides savoury snacks, cold drinks and desserts are also popular, perfect for battling Manila's heat.
Must-try:
Tsitsaron
These deep-fried salted pork rinds are a popular snack eaten with vinegar and sliced chillies or pickled green papaya and, of course, beer (sold separately!).
Where: Stalls along Quintin Paredes Street, Binondo
Sago't gulaman
A dessert of tapioca balls, cubes of agar-agar, sugar syrup and crushed ice, this offers you plenty to chew on while helping you to cool down.
Where: Mesa, G/F Main Mall, Arcade, SM Mall of Asia Blvd, Central Business Park, Pasay City
Balut
It takes guts to nibble on this quintessential Manila street food of duck embryo cooked in its shell: crack it open and you will find an almost fully formed baby duck, feathers and all, to be eaten whole with chilli, garlic and vinegar. Those who dare will be rewarded with a mouthful that is crunchy and mushy, and which tastes of egg and duck all at once.
Where: Crisostomo, 2/F Eastwood Mall-Veranda, E Rodriguez Jr Ave, Bagumbayan, Quezon City
PHNOM PENH, CAMBODIA
Cambodians snack all day long, and the capital's plethora of street food hawkers are there to meet this need.
Must-try:
Nom banh chok (Khmer noodles)
This popular breakfast of rice noodles in a fish gravy topped with bean sprouts, banana flower, cucumber and herbs is unofficially known as Cambodia's national dish. It is sold by women who carry the ingredients around in baskets hanging from a pole across their shoulders.
Where: Russian Market, Street 440, Phnom Penh
Bai sach chrouk
Another popular Cambodian breakfast, this consists of rice topped with sliced pork marinated in coconut milk or garlic and grilled over coals. It comes with pickled cucumber, carrot and ginger, and a bowl of chicken soup that you can
YANGON, MYANMAR Downtown Yangon is a delicious chaos of street food, with temporary carts and makeshift eateries spilling onto the sidewalks, selling dishes that represent the different ethnic groups of Myanmar. drink on its own, or — like the locals — sip with every mouthful of rice.
Where: Kandal Market, Street 5, Phnom Penh
Num sang khya l'peou
This is an impressive-looking dessert of hollowed pumpkin filled with egg that's beaten with palm sugar and coconut milk, then steamed. Slices of pumpkin-custard are served with shaved ice and coconut milk drizzled over.
Where: Orussey Market, Street 182, Phnom Penh
YANGON, MYANMAR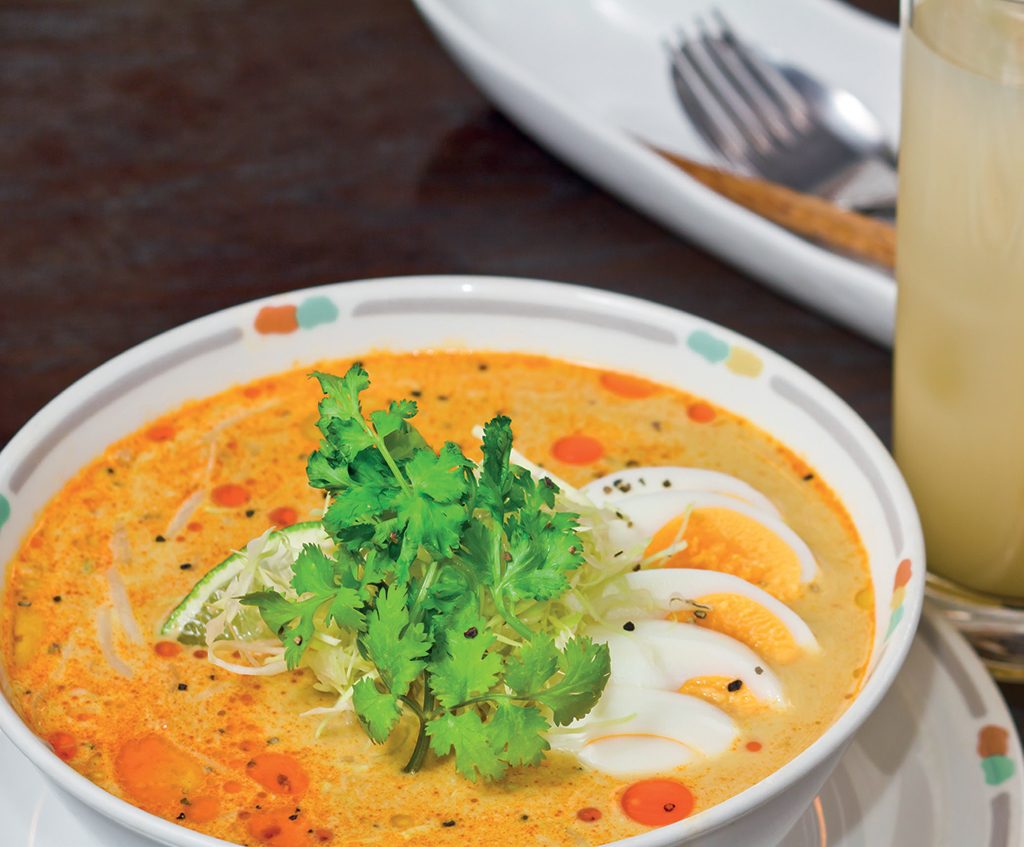 Downtown Yangon is a delicious chaos of street food, with temporary carts and makeshift eateries spilling onto the sidewalks, selling dishes that represent the different ethnic groups of Myanmar.
Must-try:
Mohinga
This is the unofficial national dish of Myanmar: thin glass noodles in a thick fish soup spiced with lemongrass, turmeric and pepper. Top your bowl with fresh cilantro, chilli flakes, deep-fried crackers and spring onions to give the dish extra kick.
Where: Myaung Mya Daw Cho, 118A Yay Tar Shay Old Street, Bahan
Mont lin ma yar
Translated roughly as 'husband and wife snacks', these semi-circular savoury cakes are made of rice flour batter topped with quail eggs or spring onions. When cooked, two are joined to make one ball. They make a tidy and delicious bite-sized snack.
Where: Street stalls along Anawrahta Road between 29th and 30th Streets, Dagon
Shan noodles
Shan noodles come from the Shan state in eastern Myanmar, where rice noodles are usually thicker and dry-tossed in a sweet and savoury sauce. It is topped with pieces of pork or chicken.
Where: 999 Shan Noodle Shop, 130/B 34th Street, Kyauktada township