It is no surprise that Sri Lanka is listed in several leading "Top 10 places to visit in 2019" list, as this island south of India serves up an abundance of rich sensory experience, and with style to spare. Here is why.
Firstly, few places with the size like Sri Lanka could offer so many distinctly different and authentic experiences to the visitor. Just think: there are highlands for cool air and panoramic views of tea plantations that have made Sri Lanka famous, complete with elegant bungalows which used to belong to tea planters; a dizzying array of wildlife -elephants, leopards, boar, sloth bears, countless bird species – at places like Yala National Park and the lesser-known and Wilpattu National Park; stunning beaches along long stretches dotted with coastal towns and villages, luxe hotels, simple villa stays, beach huts; hotel dramatically located on capes, on cliffs offering an endless soundtracks of crashing waves, dramatic drops-offs along narrow roads with hairpin bends, quietly elegant rooms in former colonial fortresses; wide beaches; six UNESCO World Heritage Sites; spicy and aromatic food to die for which, at its simplest, is so satisfying that you start dreaming of your next meal before you complete the one in front of you.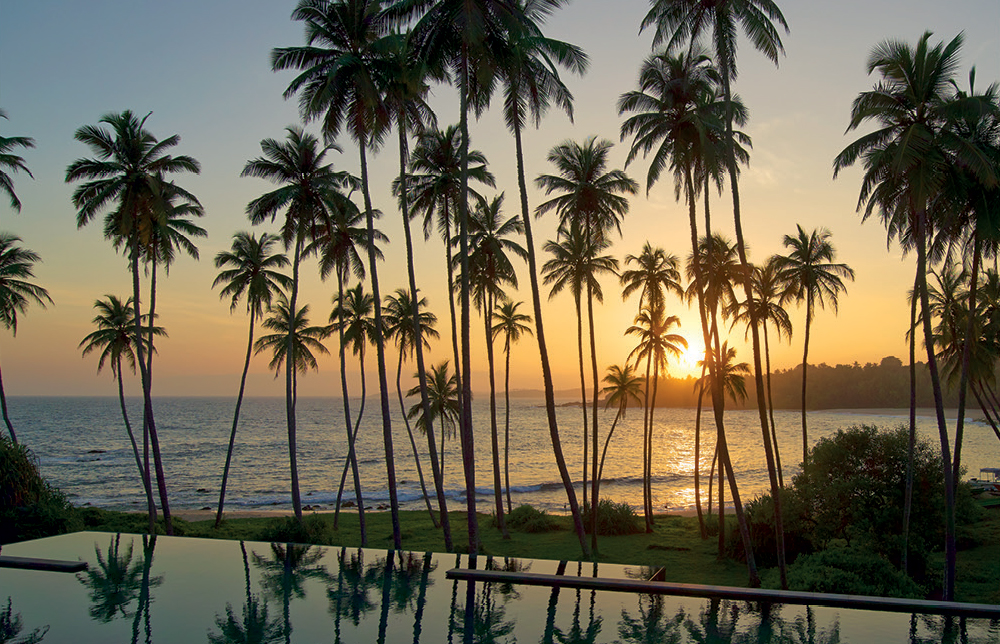 With so much going for it, you really need more than one visit to do justice to it all. Sri Lanka is not a place to be rushed through – not because you can't, but because its vibe just invites you to take your time, immerse and savour each moment; to enjoy do-nothing afternoons watching the surf come in or the mist coming down over the mountains.
Here are five picks to enjoy the luxury of Sri Lanka in different forms.
Enjoy a cup of tea, followed by a gin and tonic at sunset on the terrace of the Galle Face hotel



This is a deeply Sri Lanka luxury and has been a ritual for Colombia's well-heeled ever since the hotel was established in 1864. Secure a seat just feet from the Indian Ocean and watch the city's most spectacular show – the long Indian Ocean sunset.

Plunge into a private waterfall at Ashburnham Estate



This is a stunning but deeply understated hill country escape, a colonial bungalow set on 100 acres of working tea plantation. Flanked by jacaranda and flame trees, you'll find endless views over the less visited Knuckles range. It's an hour from Kandy, slightly off the beaten path and entirely worth a visit.

Spend the day at Wijaya Beach



The Galle insiders getaway on a white slice of reef-sheltered beach. Wijaya Beach is much more than your average beach bar. Powered by a passion for food and a deep respect for local produce, you'll find their inferno of a wood-fired oven producing light and extraordinarily flavorful pizza dotted with the fruits of the sea, and also fresh sashimi, carpaccio and buttery grilled skate; every morsel landed from the crystal-clear waters right at your feet.

Listen to the sounds of a jungle night with Leopards Trails


There is no greater luxury than being face to face with nature. But getting to the midst of Sri Lanka's diverse jungles with the knowledge of true experts, and the service of real connoisseurs – that's a privilege. Leopard Trails will take you in comfort, but with a sense of real adventure, into the island's truly wild spaces where you can see some of the island's real stars – leopards, sloth bears, and endless variety of birds, mammals, reptiles and of course, herds of magnificent elephants.

Take a deep breath under the Sri Maha Bodhi



In the evening – long after sunset – head to the heart of the 3,000 year old city of Anuradhapura. In the shadow of towering stupas, you'll find the Sri Maha Bodhi, grown from a cutting of the tree under which the Buddha was enlightened. It is the oldest documented tree in the world. Sitting under its branches, feel the slight chill of a late tropical evening, listen to the soft chanting of the day's last few pilgrims and contemplate the continuity of this sacred space of spiritual luxury.