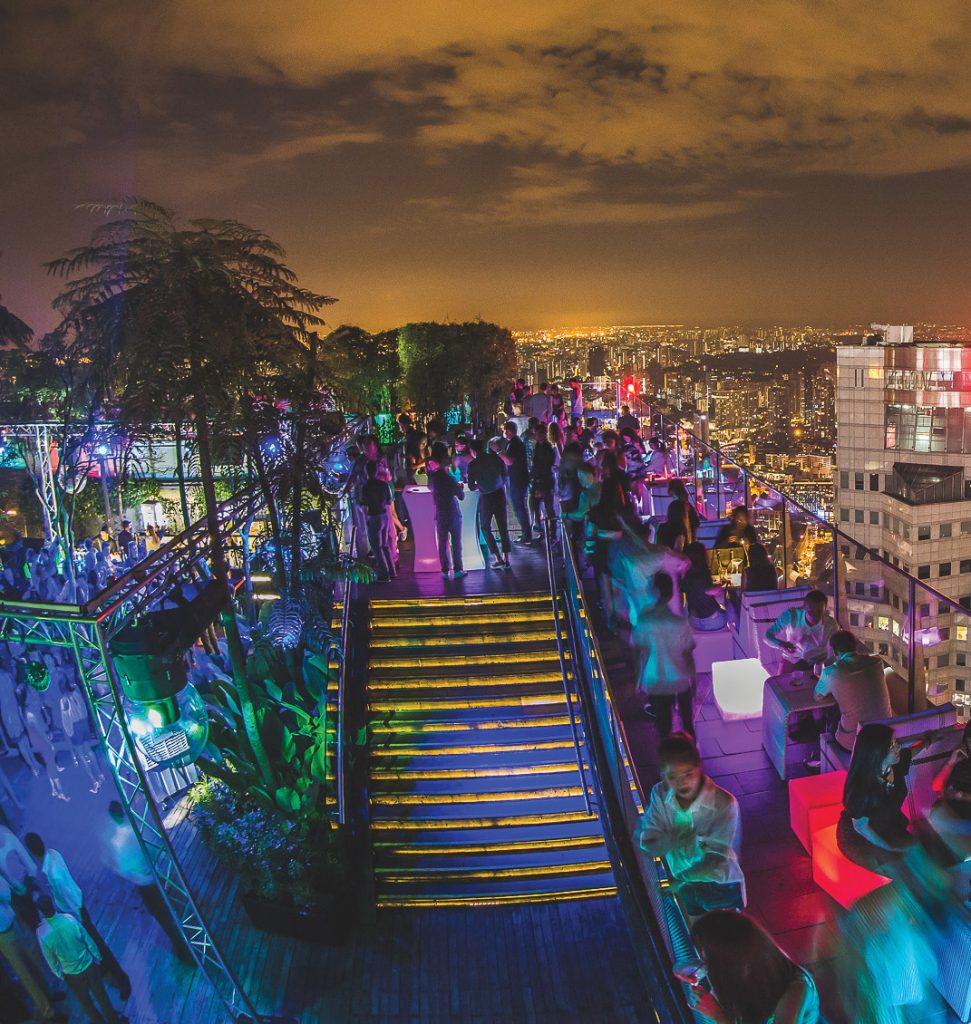 Some bars are choosing to focus on one class of alcohol. Others prefer to let their prime location on rooftops with scenic views do the talking for them. We list six spots we cannot get enough of.
Bōruto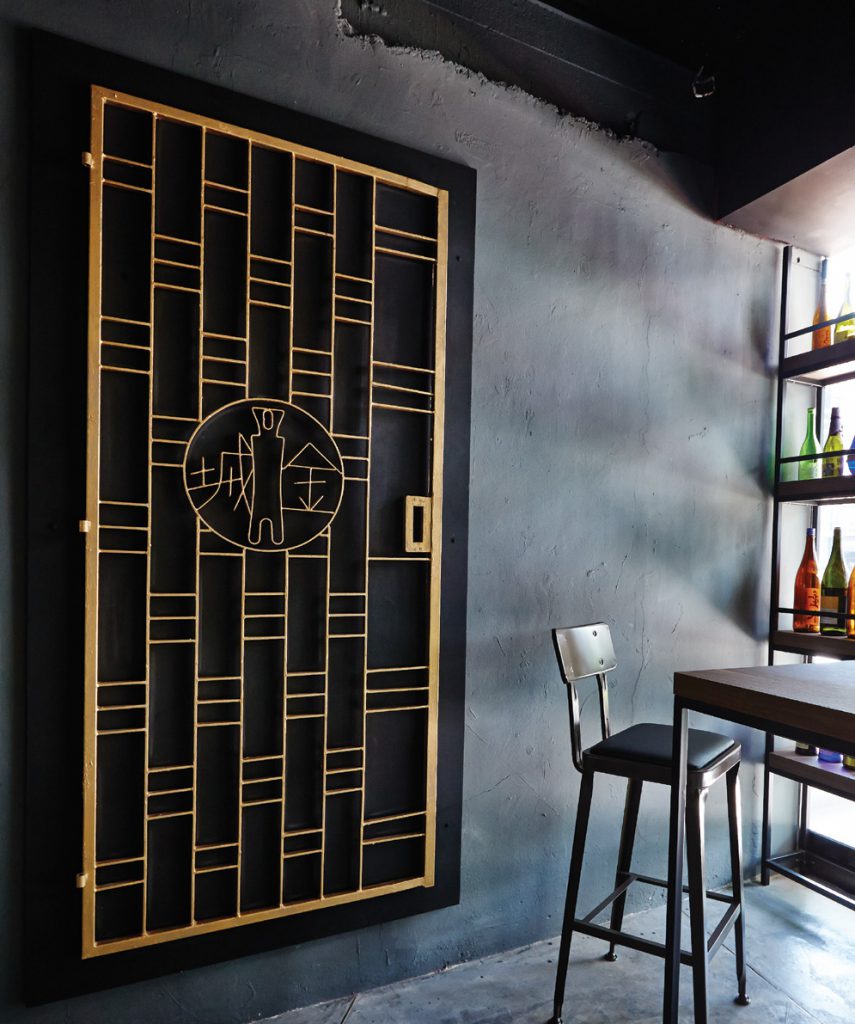 A stone's throw from the Central Business District (CBD), this industrial-chic izakaya stocks over 100 brands of sake. Bōruto pays tribute to the space by storing its 'treasures' — Juyondai, Isojiman and Nabeshima Black, among others — in the original vault of what was once a bank. The rare Gekkekan Retro is exclusively available at Bōruto and best enjoyed in the Private Room. Head Chef Angus Chow, also Chef of the Year at this year's World Gourmet Summit Awards of Excellence, churns out an extensive tapas menu, including Charcoal Karaage and Beef Short Ribs. Hidden Passion, a yuzu sake cocktail, is the sweet tipple of choice, the perfect starter before embarking on the true focus of Bōruto as reminded by the barrelled wall at the entrance: sake.
Cin Cin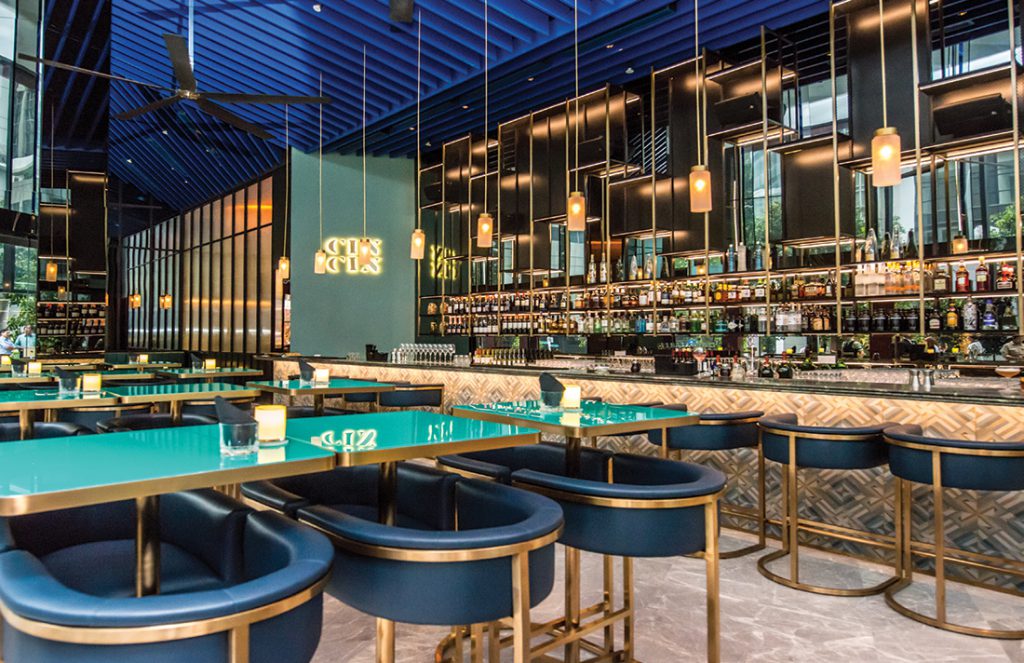 Situated in the heart of Tanjong Pagar, this 1920s art deco-style bar offers 100 labels of gin and 500 ways to customise your own martinis and G&Ts. Cin Cin, which means" cheers" in Italian, derives its name from the sound of clinking glasses. Head Bartender Fadly Sujebto enjoys the challenge of creating cocktails stirred rather than shaken as he discusses the science of proportions, mixing fresh ingredients and the room temperature. He shares, "You can't go wrong with shaken but the same may not be true for stirred concoctions." Perennial favourite Napue gin from Kyrö Distillery forms the base of the signature cocktail Aurora Polaris, which pairs perfectly with the Seared Ahi Tuna. Don't leave the high tables without tasting the Hel Sin Gin, available exclusively at Cin Cin.
Caffe Fernet
Set against Marina Bay, Caffe Fernet exudes a modern Italian trattoria vibe, juxtaposed with some classic elements such as the Leiter Chair and European-styled table bases. The square fluted columns and vaulted ceiling of the original structure at Customs House have been retained to pay homage to the architecture's history. The bar features inventive renditions of Italian classics such as Aperol spritz and Negroni alongside an extensive mod-Italian food menu that includes Crispy Golden Beetroot and Mafaldine Cacio E Pepe. Every seat in Caffe Fernet provides a view of the bar to highlight the craftsmanship and narrative behind every cocktail.
Kinki Restaurant + Bar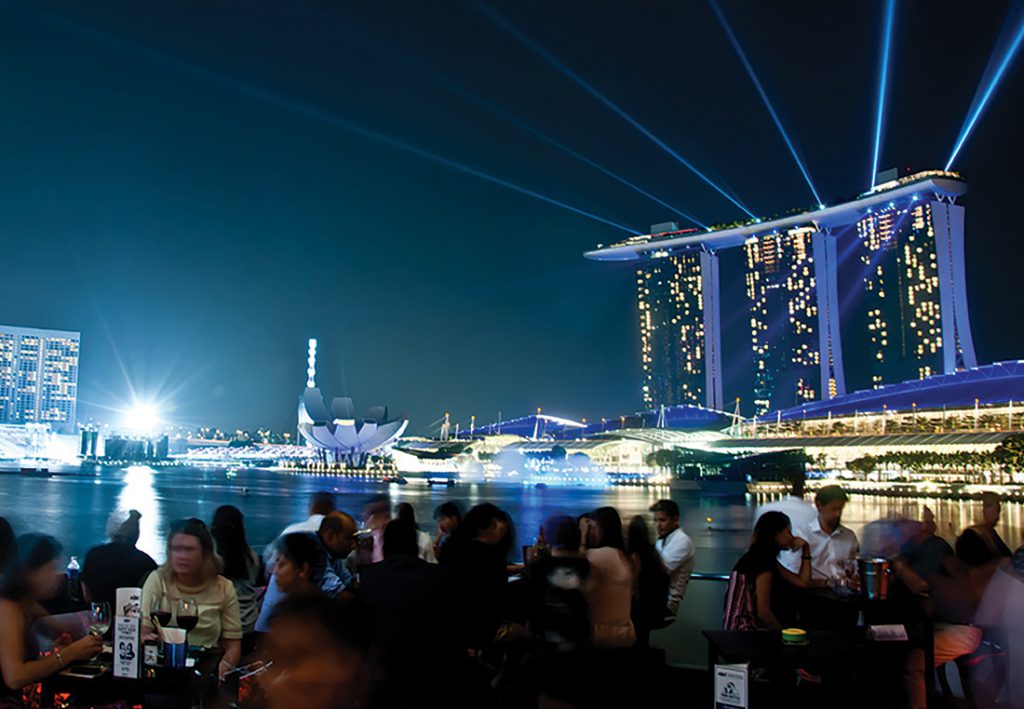 Overlooking Marina Bay Sands, this establishment's cheeky moniker belies a hip-urban atmosphere inspired by the unpretentious rooftops of shophouses in Tokyo, where friends unwind after a hard day at work. Check out the intricate Japanese tattoo designs of Miami Ink's Chris Garver sprawled on the floor mural as you knock back unique umeshu-infused cocktails such as Nippon Chi-Chi and Spicy Hachimitsu paired with hot favourites Temaki Bites and Spiced Miso Chamame. Adeline Koh, Marketing Manager at Refinery Concepts, tells us to stay tuned for the next Kinkilicious sundown party with Pop Tart, which takes place at least once every quarter.
Loof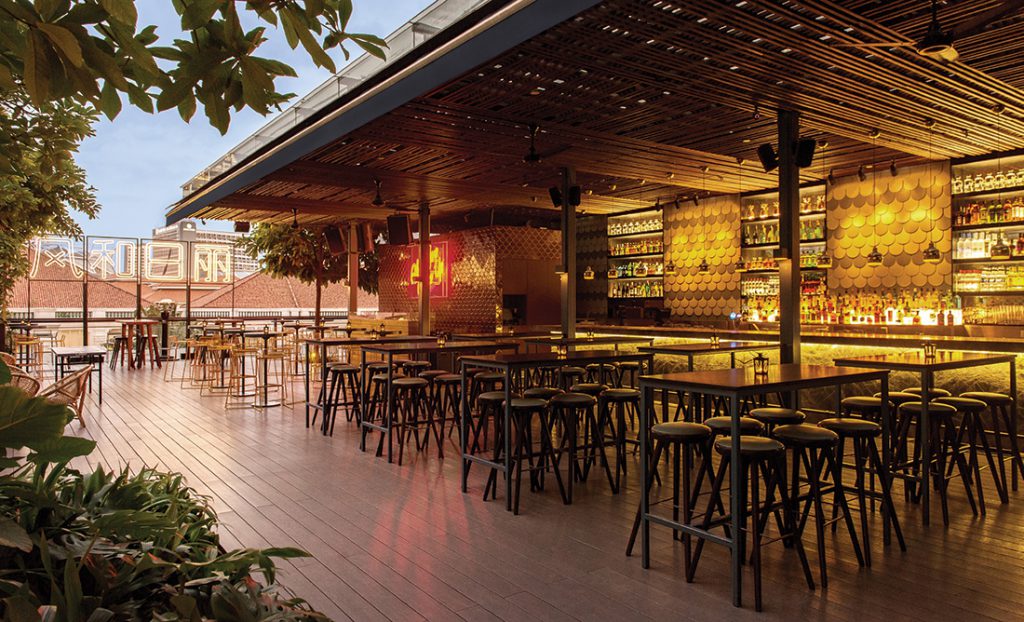 Loof epitomises the local culture as evident from its name, a Singlish pronunciation of "roof". Step into the urban garden and get whisked away to a whimsical escape with a touch of nostalgia. Grab the hottest seats — those facing the historic Raffles Hotel — and dig into Dude-Sin bar grub, such as Chilli Crab Waffle Fries and Loof Original Ramly, conceptualised by Chef Bjorn Shen. Locally inspired drinks, such as Kopi Cat, with salted caramel vodka, always brings on the smiles with its quirky presentation. Plus, pop by the Mamashop for a curated list of old-school knick-knacks and new-age local souvenirs.
1-Altitude Gallery & Bar
At 282m above sea level, 1-Altitude, the world's highest al fresco bar, offers a 360-degree view of the city from the heart of the CBD. Soak up its vibrant atmosphere after dusk with live music from top local bands and DJs. Join the crowd in getting a picture taken at the corner of the bar overlooking Marina Bay. Savour the refreshing signature Altitude Affair as you dig into a Beef Rendang Pizza or Chorizo Croquetas for a perfect party night out.