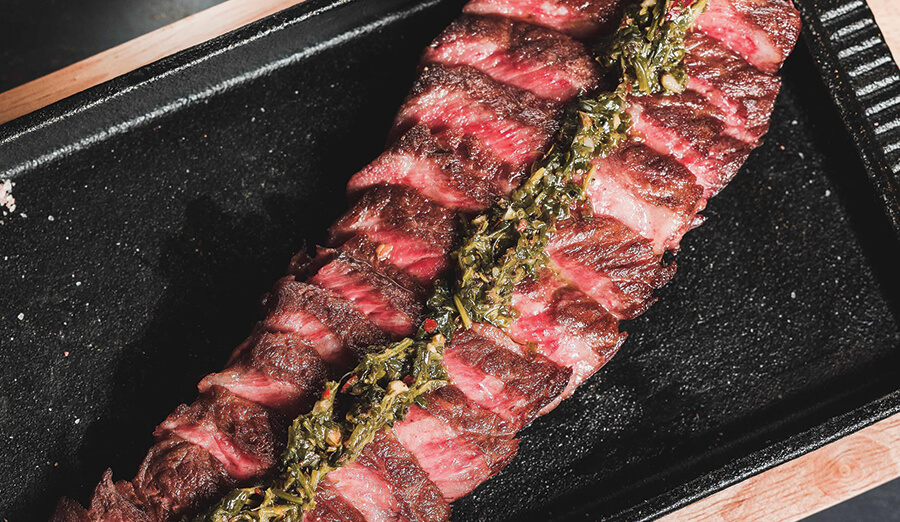 HAPPY BELLY, HEARTY GRUB
A F&B business strive to revitalize the local dining scene, a desert café that turns into a steakhouse by night has stepped into the spotlight.
If you are a foodie, you'd know that Serene Centre and its neighbourhood are peppered with gems. For starters, facing the main road sits an eatery with a signboard that screams 'SUGARHAUS'. Don't brush this off as just another dessert cafe; tarry in this 45-seater and you will discover its true appeal.
At 6pm, the place transforms into a speakeasy-style steakhouse known as Fat Belly. It serves lesser-known cuts of beef, which offer stronger and more robust flavours. This is where you can watch your choice of meat being grilled and even interact with the chef on duty.
A little history
Founded by banker-turned-entrepreneur Stanley Seow, Sugarhaus started as a take-out called Bing Qi Lin (which means 'ice cream' in Chinese) at Jalan Selaseh. After moving to Serene Centre, it underwent a revamp and was renamed Sugarhaus in October 2016. A year later, Fat Belly was launched as a sister brand; it shares the same space as Sugarhaus in the evenings, and offers a small but sublime menu.
Beef up
It's not every day you get a restaurant with only three main dishes on its menu. At Fat Belly, you get to sample alternative cuts of beef — namely USDA 150-day Grain-Fed Angus Flat Iron Steak, USDA Grain-Fed Angus Short Rib Steak and Wagyu Marble Score 7-9 Denver Steak.
The Flat Iron (also known as Oyster Blade or Butlers' Steak) is a cut from the cow's shoulder. With a deep, rich piquancy, this well-marbled cut is widely considered second only to the tenderloin in terms of tenderness. As recommended, we had our meat done medium-rare. According to the chef, beef at Fat Belly is not marinated in seasoning before it hits the grilling pan. And although all steaks come with a house salad and chimichurri sauce, the meat packed a punch in terms of flavour even without extra condiments.
Introduced in December last year, the Wagyu Marble Score 7-9 Denver Steak — a cut from under the shoulder blade bone — unleashed a flavour bomb each time we sank our teeth into it. The succulent meat coated the palate with greasy goodness and scrumptious pungency. This cut is extremely rare, making Fat Belly one of few places in Singapore that offers it.
Each portion of steak is just right to satisfy one's hunger while leaving a little stomach space for a side dish or dessert. For a small fee, customers can add side dishes, such as Creamed Kale, Sautéed Thyme Mushrooms or Truffle Fries. If you would like a tipple, wines and sangria are also available.
Fat Belly only seats 10 people at the bar counter, but you can ask for items from its menu even if you are sitting at other parts of the eatery. Among the array of sweet treats from Sugarhaus, one item is exclusive to Fat Belly — Foie Gras Chocolate Bar, which comprises foie gras ice cream, chocolate, caramel and apple jelly. Flavoursome without being overwhelming, it is a rather unusual creation that isn't likely to be found elsewhere.
Having a small menu also allows the chef to concentrate on perfecting his craft. Fat Belly may not be a fine dining destination, but its unique setup lends a refreshing experience. The quality of food and presentation, reasonable pricing and warm service will give the big names a run for their money.
Home-made happiness
Sugarhaus prides itself on its selection of home-made, European-inspired ice cream flavours. Even local ones like Gula Melaka are infused with Western elements.
Everything at Sugarhaus — from ice cream to pastries and cakes — is prepared in-house and made from scratch. At any one time, there are 18 flavours of ice cream available on a rotational basis so that customers will always have something new to look forward to.
The premium flavours are richer and creamier than most ice creams in the market, especially the bestselling Dutch Chocolate. Rather than the more common salted caramel, Sugarhaus offers a more robust and buttery rendition with Sea Salt Toffee. Our personal favourites include Sour Cherry (made with luscious amarena cherries from Italy) and Hibiscus Yogurt for an aromatic treat.
Apart from ice cream, there is also an assortment of fresh bakes. Besides the signature Rich Man's Chocolate Cake, the beautiful Galaxy Tart (a chocolate mousse cake with raspberry jelly on a crumble base and covered with a glossy mirror glaze) and the zesty Lemon Popsicle Tart (filled with lemon sable and lemon parfait, and coated with white chocolate) are sure to enliven your Instagram feed.
For families with children, a bouncy castle at the outdoor patio on weekends and public holidays ensures the little ones have fun while you dig into the gratifying grub.
On a separate note, Sugarhaus also offers some savoury menu options in the day. Even though brunch service ends at 5pm daily, we encountered a regular customer who wanted to order the Crab Linguine for her daughter during our visit. In view of this, the chef made an exception and whipped up a fragrant plate of pasta for the young girl. While we may not have directly benefited from this, witnessing such well-rounded service truly gives good reason to return.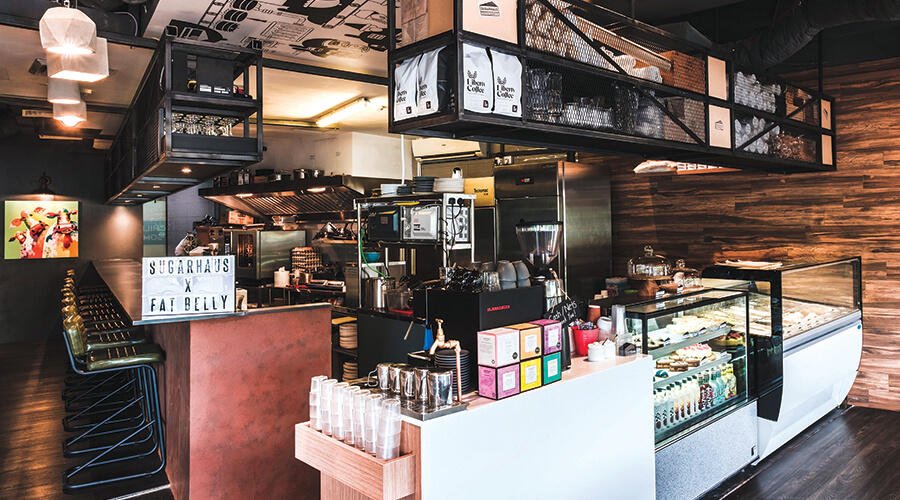 FAT BELLY SUGARHAUS
10 Jalan Serene
#01-03A Serene Centre Singapore 258748
Signature dishes:
Fat Belly: USDA 150-day Grain Fed Angus Flat Iron Steak, Wagyu Marble Score 7-9 Denver Steak
Sugarhaus: Rich Man's Chocolate Cake, Galaxy Tart, Dutch Chocolate and Sea Salt Toffee ice cream
KNOW YOUR MEAT
When it comes to steaks, most people typically pick from a repertoire of well-known varieties such as rib-eye, sirloin, filet mignon and New York strip. While these ubiquitous cuts are delicious in their own right, some of the most mouthwatering steaks often go unrecognised. Here are four underrated cuts of beef you should know:
Flat Iron


The Flat Iron is cut with the grain from the shoulder of the cow and contains a significant amount of marbling. Its name comes from its rectangular shape that resembles an old-fashioned metal flat iron. Uniform in thickness, the steak is perfect for grilling and best seared to medium-rare over high heat.

Denver Steak


Denver Steak, also known as Under Blade Steak, sits right above the centre of the chuck (shoulder and neck of the cow) like a little cap. When cut against the grain, it is remarkably tender and good for grilling in a sauté pan. It has more marbling than other areas of the chuck.

Hanger


Called skirt steak in the UK, it also earned the nickname of 'butcher's steak' as butchers of old often kept this cut for personal use rather than sell it. The Hanger literally 'hangs' from the diaphragm of the cow, which gives it an intense beefy flavour and richness due to its proximity to the internal organs. With a Hanger, you have the zest of a rib-eye and tenderness of a filet without the hefty price tag!

Sirloin Flap or Bavette


The Bavette sits right under the Flank. This cut of beef is highly versatile and ideal for Mexican-style grilled meats, French bistro steaks and Asian stir-fry. It is gaining popularity, particularly because it takes well to marinades. The Bavette is more chewy when sliced thinly across the grain and best cooked to medium-rare and medium over high heat.