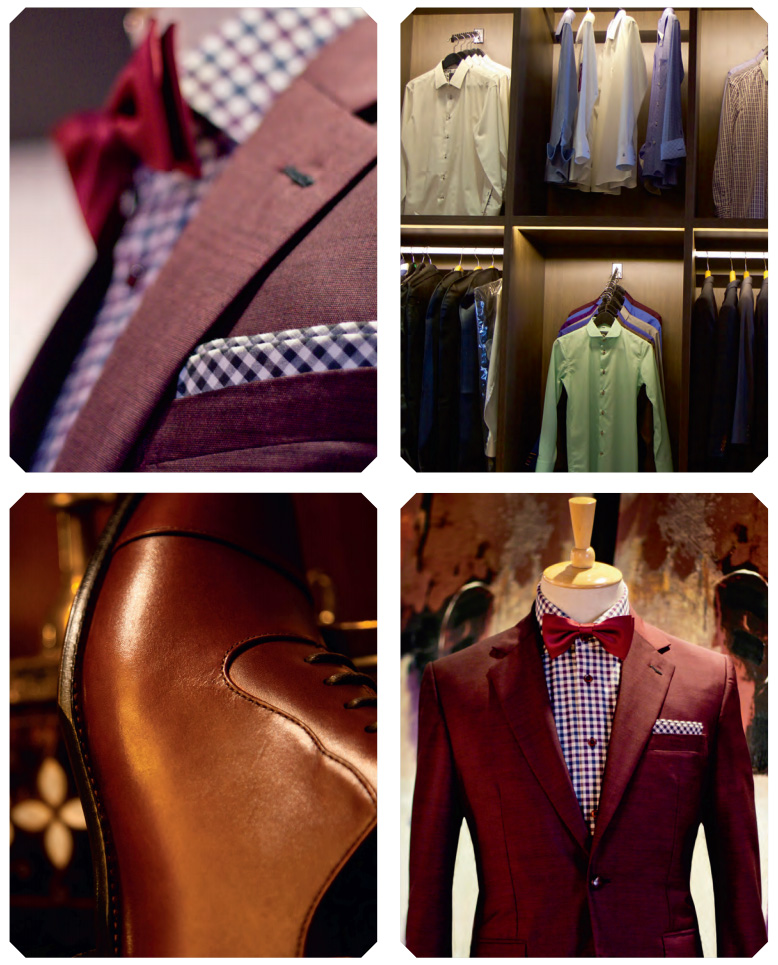 Tailor-made, custom-made, handcrafted – these are terms that have slowly but surely been winding themselves into our everyday vocabulary. Encompassing the spirit of all of the above descriptions is the word "bespoke".
Bespoke is not exactly a new term, but it appears to be gaining popularity. It means the opposite of off -the-rack. Bespoke items of clothing or articles embody individuality and exclusivity. It is not the made-to-measure (MTM) clothing featured by many good vendors.
When thinking of bespoke, picture clothing or items made from scratch that cater to your exact specifications. A powerful mark of luxury and seen by some as an anti-globalisation reaction, designing your very own shirt, suit, shoes or accessories is a way to embrace your personal flair. The pleasure of a perfectly fitted suit Everyone is familiar with the maxim, "a suit makes a man." With more men turning to personal trainers and therapists, it is no surprise that they are also turning to bespoke tailors to complete their cultivated image.
The bespoke suit – with its exquisite hand-sewn detail and luxurious fabric – was once upon a time only for wealthy style connoisseurs. But today, bespoke tailoring is fast becoming a staple among professional men, as prices fall and awareness grows. And among men, many will definitely agree that there can be few experiences more satisfying than the quiet pleasure of wearing a freshly pressed suit that has been made for you and you alone.
Fashion industry insiders are quick to point out that there is a clear difference between a true bespoke suit and a less expensive made-to-measure, custom suit. At Raphael Gabriel, bespoke customers go through a 16-point measurement process (instead of the standard eight-point process) with the luxury of unlimited fittings and discussions with the suit master. The price of a bespoke suit starts from $699, with more luxurious pieces costing up to $4,000. As each bespoke suit is hand-stitched, one can expect to wait around four to eight weeks for the completed piece.
"The price differs with the fabric. Higher-quality fabrics or branded mills use better dyes and processes. Coupled with top-quality wool or cotton, this is high-end luxury that lasts," explains Samuel Lim, Raphael Gabriel's design director. Many of his customers are trending towards blue suits – mostly midnight or royal blue. "I see a decrease in demand for greys and blacks although they are still the staple," he says. Individually crafted maroon and navy blue ties come highly recommended and are seen as a good investment; they're "good for every occasion and match most colours," says Lim.
The individualisation process sometimes comes in surprising forms. Samuel speaks of a customer who requested Raphael Gabriel to turn a Korean off -the-rack design into an individual suit. "The design was very complicated and not many local experts know how to construct the cutting for such a suit. With some research and time, we managed to meet the customer's requirements, although the price difference between purchasing the design off -the-rack and having it tailored from scratch was large," he recounts.
"I guess that customer really had trouble finding sizes off -the-rack that would fi t him given his unusual body proportions. With bespoke tailoring, we were able to give him a fi t that he could truly call his own."
Best foot forward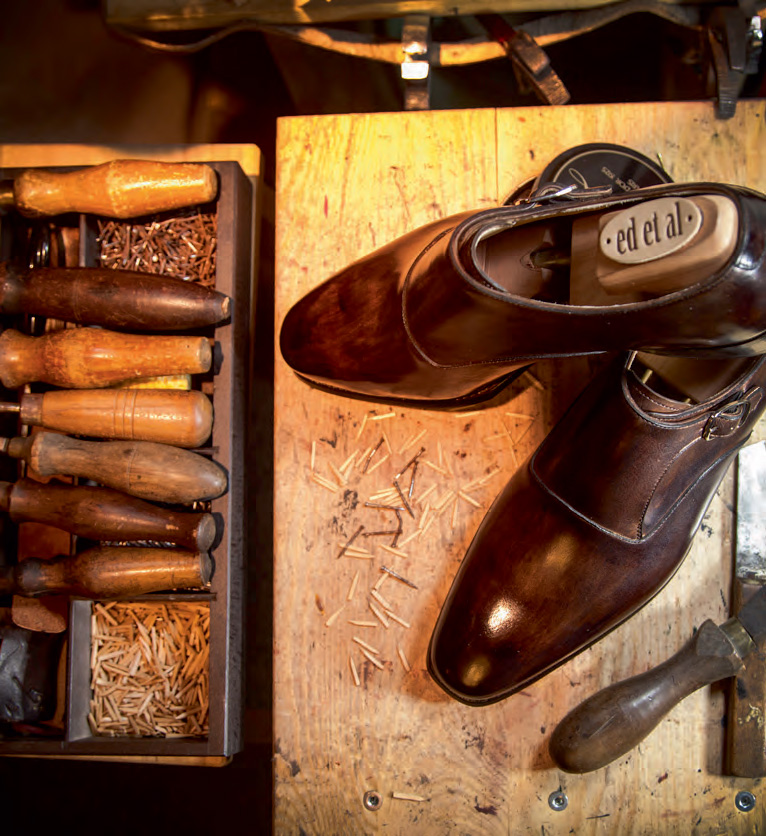 Bespoke footwear is also back in vogue. These are shoes made from scratch to a buyer's specifications. Like haute couture, it is a process so intense that your shoemaker will likely become your new best friend by the time you collect your shoes.
Ed Et Al 's workshop reveals a behind-the-scenes look into the world of bespoke cobbling with its dazzling array of options. "Our bespoke service means constructing a brand- new design which does not exist in any of our collections, where the client can decide what sort of design they like with minimal restrictions," explains Shaun Tan, Ed Et Al's retail manager.
"Because much of the actual shoe-making is done in-house by our shoemakers, we are able to create a pair of shoes from design stage. From there, our pattern and upper makers refi ne the design and create the uppers of the shoes, which are then made into shoes by craftsmen. "Ed Et Al favours crust leather also known by insiders as uncoloured leather – as it can be dyed to colours specified by clients. Their bespoke line starts at $2,500 per pair.
Commenting on emerging trends, Shaun notes that while black calf is still the must-have item in every gent's shoe cupboard, he is receiving more requests for shoes in vivid colours that incorporate exotic leathers. For those keen to get initiated into the world of hand-crafted shoes, do note that the standard fitting process takes up to three months or more.
Personalised straps and belts
J Myers lends the finishing touch to the definitive male wardrobe. Devoid of brand names and logos, its bespoke line of watch straps and belts is handmade locally and designed to gain character gracefully through wear and tear.
Like Ed Et Al, J Myers bespoke customers have a strong preference for leather. "This is because leather is a very unique material with almost no limitations in terms of finish, feel and look. It is also a material of value, and usually makes the item it accompanies look even better," explains founder Jeremiah Ang.
J Myers is a true purveyor of the artisanal – and that's not just a marketing strategy. Jeremiah does not offer a ready-made collection of watch straps and belts; each piece has to be handmade. "For our watch straps, we work mainly with alligator and calf leather. For our belts, mainly calf and cow hide. Every step is done by hand with minimal use of machines even the stitching is done by hand. After the whole strap is formed, we die cut it with a knife specific to our clients' measurements. The final touches are the edge dying that is layered and burnished by hand."
J Myers stores the client's die cut knife in their archives, much like Ed Et Al which stores their customers' lasts for future commissions. The commissioning costs for a bespoke alligator watch strap starts at $330 while a bespoke calf leather belt starts at $280. Clients typically wait four to eight weeks to collect the completed product.
Creating your signature look
With so much access to customisation, Singapore will hopefully one day be able to produce its own style icons who can rival the world's best, with a dash of local flair.